---
Album Info
Album Veröffentlichung:
2018
HRA-Veröffentlichung:
02.11.2018
Das Album enthält Albumcover
1

Light and Shadow

03:21

2

La Le Lu

02:17

3

I Bought Me a Cat

02:28

4

Sheperd Song

03:02

5

Sweet Baby James

02:59

6

Buba Zehava

03:40

7

Good Night

01:29

8

In stiller Nacht

04:02

9

Song for Hyacinth

01:25

10

Lullabye (Goodnight, My Angel)

03:24

11

Hushaby

04:14

12

Lullaby

02:48

13

Children's Song #6

02:41

14

With This Night

01:48

15

Guten Abend, gut' Nacht (Lullaby)

01:46

16

Layla (Bonus Track)

04:14

Total Runtime

45:38
Info zu The Family Songbook
Auf "The Family Songbook" vereinen Tamar Halperin und Andreas Scholl die Klänge des Mittleren Ostens mit klassisch-westlichen Kinderliedern, Cembalo mit Country-Music-Sounds und Lieder zum Mitsingen mit Liedern zum Einschlafen. Ein Familienalbum für die gesamte Familie.
Es waren heiße Tage Ende Mai in Kiedrich im Rheingau. Im Hause Halperin-Scholl fand ein einzigartiges und einzigartig musikalisches Familientreffen statt. Die israelische Pianistin und Cembalistin Tamar Halperin und ihr Ehemann, der weltberühmte Countertenor Andreas Scholl, luden ihre jeweiligen Familienhälften in das beschauliche Dorf voller Fachwerkhäuser nahe Wiesbaden ein: Tanten, Onkels, Cousins und Cousinen, Nichten, Neffen, Schwestern & Brüder, sowie nahestehende Freunde – insgesamt 15 Erwachsene und 9 Kinder – kamen zusammen, musizierten, feierten und genossen die Zeit miteinander. "The Family Songbook" ist das Ergebnis dieser besonderen Familienzusammenkunft.
Als Andreas Scholl der Familie seiner Frau Tamar Halperin in Israel vorgestellt wurde, war er beeindruckt von den ausladenden Shabbat-Dinnern von Tante Etui. Alle kamen zusammen, aßen und lachten miteinander und musizierten gemeinsam. "Vor zwei Jahren, nach einigen Gläsern köstlichen Rotweins von den Golanhöhen, kam mir zum ersten Mal die Ideen, eine Aufnahme zu machen, welche die Atmosphäre und die Freude am gemeinsamen Musizieren einfängt." Eine Idee war geboren. Anlass zur Umsetzung gab die Geburt ihrer gemeinsamen Tochter Alma: "Jeden Abend seit der Geburt unserer Tochter haben Andreas und ich ihr Lieder auf Deutsch und Hebräisch vorgesungen", so Tamar Halperin. "Als sie ein Jahr alt wurde und unser Repertoire eine beachtliche Größe erreicht hatte, schlug ich Andreas vor, die Lieder im Studio bei uns zuhause aufzunehmen."
"The Family Songbook" ist nicht nur das Resultat eines besonderen Familientreffens, sondern gleichzeitig ein musikalisches Abbild dieser internationalen Familie. Das Repertoire erstreckt sich von israelischen Folksongs wie Buba Zehava, Pizmon LaYakinton und Shir Eress über den Country-Hit Sweet Baby James zu Kinderliedern wie I Bought Me a Cat und La Le Lu. Es sind Lieder für die ganze Familie, von der ganzen Familie, die Halperin und Scholl ausgewählt haben. Zu hören sind nicht nur die herausragende Stimme einer der bekanntesten Countertenöre der letzten 20 Jahre und die brillante Pianistin Halperin, sondern ihre Geschwister an Gitarre und Bass, singende Cousinen und Cousins, enge Freunde am Schlagzeug und die Großmutter an der Mandoline. Intime und ungehörte Interpretationen zweier weltberühmter Wiegen- und Abendlieder runden das Album ab: Lullabye (Goodnight, My Angel) von Billy Joel und Guten Abend, gut' Nacht von Johannes Brahms.
Für Halperin und Scholl ist ihr "Family Songbook" etwas Besonderes. "In dieser Woche wurde ein lange gehegter Wunsch wahr und es freute mich riesig zu sehen, dass alle Familienmitglieder den Geist unseres Unterfangens spürten. Wenn wir alle nicht mehr da sind, können unsere Kinder und Enkel sich diese Aufnahme anhören und wir bleiben so Teil ihres Lebens", so Andreas Scholl.
Andreas Scholl, Tamar Halperin & Familie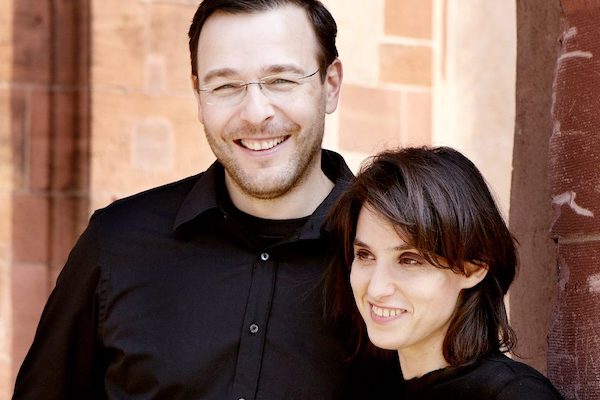 Tamar Halperin
The Israeli pianist and harpsichordist Tamar Halperin came to prominence through her work with jazz pianist Michael Wollny on the album "Wunderkammer" (ACT). Her repertoire embraces works from five hundred years of music history. As soloist she works with a wide range of international ensembles, including the New York Philharmonic Orchestra.
Tamar Halperin has a PhD form the Juilliard School, New York. She performs extensively as a soloist and as a chamber musician, both on the piano and the harpsichord and has a repertoire that ranges from the early Baroque to contemporary classical compositions.
She won the Eisen-Picard Performing Arts Award (2006-7); the Presser Doctoral Award (2005); the REC Music award (2005); an honorary prize at the International Harpsichord Competition in Bruges (2004), and was the recipient of the C.V. Starr Doctoral Fellowship and the America-Israel Cultural Foundation Scholarship. Tamar Halperin holds a Bachelor's degree with high distinction from Tel-Aviv University, and a Master's degree from the Juilliard School in New York, where she also worked as a teaching assistant.
Currently, she is researching music at the facility of Renaissance and Baroque Musical Practices at the Schola Cantorum Basiliensis in Basel, Switzerland.
Andreas Scholl
Born in Germany, Andreas Scholl's early musical training was with the Kiedricher Chorbuben choir. He later studied under Richard Levitt and René Jacobs at the Schola Cantorum Basiliensis. He has won numerous awards and prizes, including the prestigious ECHO Award for his composition for Deutsche Grammophon's audio-book of Hans Christian Andersen's The Emperor's New Clothes and The Nightingale.
Andreas has released a series of extraordinary solo recordings: the most recent being Wanderer – a disc of German Lied in partnership with pianist Tamar Halperin. Other notable releases include Bach cantatas with kammerorchesterbasel; O Solitude – an all-Purcell album with Accademia Bizantina, which won the 2012 BBC Music Magazine award; Arias for Senesino, Heroes – a disc of arias by Handel, Mozart, Hasse and Gluck; Robert Dowland's A Musicall Banquet; Vivaldi Motets with the Australian Brandenburg Orchestra; and Arcadia – a collection of rare and unpublished cantatas by composers from Rome's Arcadian Circle. All of these recordings are released on Decca.
Andreas' recorded work also includes Handel's Solomon and Saul with Paul McCreesh for Deutsche Gramophon, and for Harmonia Mundi, Vivaldi Stabat Mater; Caldara's Maddalena ai piedi di Cristo; and Crystal Tears – lute and consort songs by John Dowland. Andreas' DVD releases include productions of Giulio Cesare (for both Decca and Harmonia Mundi), Rodelinda (Warner) and Partenope (Decca).
Operatic roles include the title role in Giulio Cesare at Théâtre des Champs-Elysées and the 2012 Salzburger Festspiele (opposite Cecilia Bartoli) and Bertarido (Rodelinda) at Glyndebourne Festival Opera and the Metropolitan Opera (opposite Renée Fleming). His concert performances have included appearances with Berliner Philharmoniker, New York Philharmonic, Royal Concertgebouw Orchestra, Boston Symphony Orchestra, Dresdner Philharmonie, Akademie für Alte Musik Berlin, Freiburger Barockorchester, the Academy of Ancient Music and at the 2005 Last Night of the Proms – the first counter-tenor ever to have been invited.


Dieses Album enthält kein Booklet