---
Album Info
Album Veröffentlichung:
2016
HRA-Veröffentlichung:
13.12.2018
Das Album enthält Albumcover
1

Sloboda Narodu

03:13

2

Swedish Guns

05:35

3

We Got Game

04:14

4

Thieves of State

01:16

5

Occupied

07:19

6

This Thing Was Bound to Happen

03:12

7

Can't Be Guilty

04:35

8

Committed to the Cause

05:47

9

Running out of Love

03:30

10

Teach Me to Forget

06:08

Total Runtime

44:49
Info zu Running out of Love
Die schwedische Erfolgsband The Radio Dept. mit ihrem brandneuen Meisterwerk! Unwiderstehlicher, melancholisch gefärbter Indie- / Electronica-Pop trifft auf unmissverständliche gesellschaftspolitische Statements.
Ende der Neunziger im schwedischen Lund gegründet, zählen The Radio Dept. seit Jahren zu den einflussreichsten und international erfolgreichsten Acts ihrer skandinavischen Heimat. So gelang der Formation um Mastermind Johan Duncanson bereits mit ihrem 2003 veröffentlichten Debüt »Lesser Matters« (das 2009 vom britischen NME zu den besten 100 Alben des Jahrzehnts gewählt wurde) der Sprung in die musikalische Oberliga.
Begleitet von diversen Singles und EPs verstand es die Band, sich mit ihren beiden Erfolgsalben »Pet Grief« und »Clinging To A Scheme« ihre musikalische Pole-Position zu sichern und ihren Ruf als Garant für formvollendet perfekte Pop-Klänge zu festigen. Nach Veröffentlichung ihrer Compilation »Passive Aggressive« – einer Dokumentation ihrer musikalischen Großtaten im Single-Format – meldet sich die Formation jetzt nach sechsjähriger Wartezeit endlich wieder mit einem neuen Studioalbum fulminant ins musikalische Geschehen zurück.
Von ihrer letztjährig erschienenen 12-inch »Occupied« bereits vielversprechend angekündigt, veröffentlicht die Band jetzt mit »Running Out Of Love« ein neues Album. Verstärkt elektronischer gehalten als der Vorgänger, bietet dieses Album zehn melancholisch gefärbte und produktionstechnisch grandios in Szene gesetzte Highlight-Tracks, die durch ihren unwiderstehlichen, surreal entrückt anmutenden (Indie-) Pop-Appeal und ebensolchen Grooves restlos überzeugen und fesseln.
Gleichzeitig wartet das Trio als Ausdruck seiner Wut und tiefen Frustration über die zunehmend negativen gesellschaftlich-politischen Entwicklungen in seiner Heimat (Macht der Waffenindustrie, Polizeigewalt, Rassismus) mit ungewohnt heftigen lyrischen Statements auf. Hier geht es um all die Dinge, die in die falsche Richtung zu laufen scheinen, geht es um die Transformation von Ungeduld in Wut und Hass, bis letztendlich sozialer Rückzug und Apathie regieren und die Liebe für die (Um-)Welt ins Wanken gerät (wie der Albumtitel bereits andeutet). Meisterwerk!
The Radio Dept.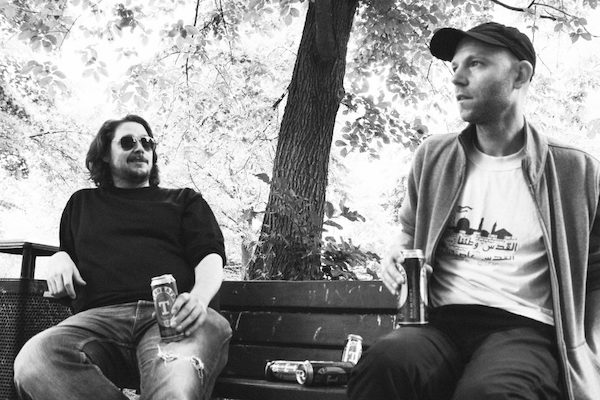 The Radio Dept.
is a pop group originating from Malmö, Sweden.
In the fall of 2001 Johan Duncanson and Martin Larsson (now Carlberg) decided to pull some people together and start a band. Johan had just recorded a bunch of songs that impressed Martin and having made sporadic home recordings together every once in a while since the winter of 1998/1999 they now wanted to make it more serious and to be able to rehearse and perform live. Out of sheer laziness the group's name was taken from a band that Johan had been a member of that wasn't active anymore.
In the spring of 2002 The Radio Dept. got a great review in the Swedish music magazine Sonic that made the Stockholm based label Labrador get in touch with the band. After a few eps, two self released ("Against the Tide" and "Annie Laurie"") on the band's own label Slottet and one ("Where Damage Isn't Already Done") by Labrador, the band's debut album "Lesser Matters" was released in January 2003 to much critical acclaim. It was subsequently re-released in 2004 by XL Recordings/Beggars and started to reach audiences internationally. The three singles XL put out from the album all made the prestigious Single of the Week page in NME and Lesser Matters was later featured on the same magazine's "Album of the decade" list.
The group enjoyed a slightly more widespread recognition after three tracks ("Pulling Our Weight", "I Don't Like It Like This" and "Keen on Boys") were included on the soundtrack for Sofia Coppola's film Marie Antoinette.
By early 2006, the bands second album Pet Grief was released, and some touring followed. Although it never quite received as much appraise in the music press as it's successor, the album gained much popularity throughout the world from an ever-growing fan base online.
The Radio Dept. has always been a very politically charged band and several singles and EPs with sharp political commentary have emerged throughout the years. "Freddie and the Trojan Horse" came out in 2008 and was aimed at the Swedish prime minister at the time, Fredrik Reinfeldt, and his right wing party Moderaterna, for posing as a workers party in order to trick workers into voting for them. Another stab at the right wing government came just days before the Swedish election in 2010 with the single "The New Improved Hypocrisy". The same year the band released its third album, "Clinging to a Scheme" which contained the singles "David", "Heaven's on Fire" and "Never Follow Suit" and was followed by a lot of international touring. To bridge the gap between albums Labrador decided to release a compilation album in 2011. It was named "Passive Aggressive" and contained all the single A-sides to date and a selection of B-sides and rarities.
During the process of writing and recording their fourth and final album under their deal with Labrador, the band got caught up in a lengthy legal battle against their label and publisher, which in distress ultimately made the band scrap the album they were working on, only to restart later on a blank page with new ideas. After a few one off singles, "Death to Fascism" in 2014 and "This Repeated Sodomy" in 2015, it was announced in July that the band will release their fourth album "Running Out of Love" on October 21st 2016.


Dieses Album enthält kein Booklet