---
Album Info
Album Veröffentlichung:
2022
HRA-Veröffentlichung:
03.03.2023
Das Album enthält Albumcover
Entschuldigen Sie bitte!
Sehr geehrter HIGHRESAUDIO Besucher,
leider kann das Album zurzeit aufgrund von Länder- und Lizenzbeschränkungen nicht gekauft werden oder uns liegt der offizielle Veröffentlichungstermin für Ihr Land noch nicht vor. Wir aktualisieren unsere Veröffentlichungstermine ein- bis zweimal die Woche. Bitte schauen Sie ab und zu mal wieder rein.
Wir empfehlen Ihnen das Album auf Ihre Merkliste zu setzen.
Wir bedanken uns für Ihr Verständnis und Ihre Geduld.
Ihr, HIGHRESAUDIO
1

Make It Back Home

05:06

2

Oil

04:27

3

Sparrow

04:51

4

Hot Damn

04:18

5

Keep On Giving, Jane

04:37

6

Growing Your Hands Back

04:45

7

Rewind

04:46

8

Rare Air

03:24

9

Divine Fall

06:17

10

Goodnight Song

03:46

Total Runtime

46:17
Info zu Silver Saturdays
25th anniversary: This is what happens when the band doesn't break up: a lifetime of shared effort and camaraderie coming to fruition. Master collaborators at the peak of their craft with near-telepathic cohesion. Silver Saturdays features 10 new songs that pay homage to a 25-year journey. All 4 members lend their distinctive vocals. Their concise, meticulously crafted songwriting is interwoven with Lebo's soaring guitar. Gill's tasty keyboard and Adams' bass married to Lipp's rhythmic flourishes.
On the project, Dan "Lebo" Lebowitz (guitar/vocals), Zach Gill (keyboards/vocals) and Steve Adams (bass/vocals) show their growth and longstanding chemistry that began while they were in grade school. Silver Saturdays also stands out as the first release featuring drummer and vocalist Ezra Lipp (Phil Lesh, Sean Hayes). The 10-track LP was recorded mostly live at Sun Machine studio in the hills of northern Marin County, Calif., and is a collaborative effort written by the band and co-produced alongside engineer David Simon Baker – furthering and refining ALO's self-ascribed "jam-pop" / "human music for humans."
"There's always a moment in the making of an ALO record when we ask ourselves, 'Why make another record?'" Gill reflected in the press release. "For me, the answer comes in waves over time. It has to do with the spirit of musical adventure and the rhythms of laughter. It's about the sweet release of a Lebo guitar lead over an Ezra drum beat as Steve and I weave the bass and keys around each other. Call it a jam, call it a song, call it a feeling, but it has to do with connection. For me, it feels like coming home."
Lebo added, "It's a palpable feeling when the four of us are in a room together creating music—having our individual sound waves collide as they transform and morph into one before even getting captured by the microphones. My hope for the listeners of ALO's Silver Saturdays is that they get to experience a bit of this invigorating feeling—and better yet, that it stirs up some inspiration of their own!"
The lead single, "Hot Damn," is a prime example of Lebo's hope being fulfilled. The feel-good bop flows between fluid instrumentation, simmering guitar rips and an earworm of a hook, ideal for connecting the band with just about any crowd.
"'Hot Damn' is the eureka moment, the soulful epiphany, the pot of gold at the end of the rainbow," said Gill of the track. "As we behold our respective treasures, be they love, wisdom or an actual chest full of gold, we say to ourselves 'Hot Damn!'"
The accompanying music video was created by animator and director Deren Ney, who is known for his work with Marcus King, Grace Potter and Tom Petty.
"The song explores the theme of digging around for the good stuff in life, so we reimagined the ALO origin story as a Goonies-style suburban adventure where the kids discover the greatest treasure of all: the power of rock and roll," added Ney.
ALO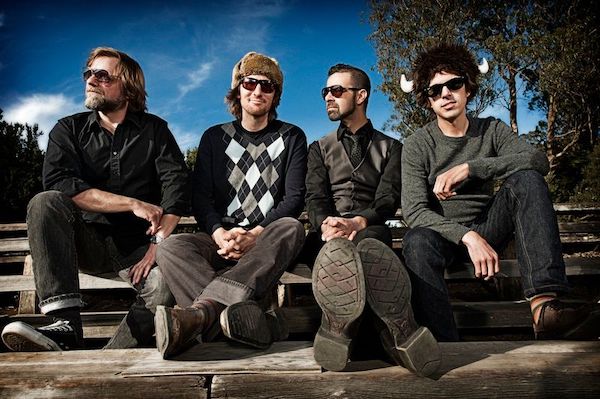 ALO
is more than a band. It's a musical relationship that has endured for over two decades, with band members playing in numerous projects together and apart. Following the 2012 release of their freewheeling Sounds Like This, the band took time off to work on various side projects. Zach Gill (keys/vocals) toured the world with the band's college pal Jack Johnson; Dan "Lebo" Lebowitz (guitar/vocals) played shows with the Grateful Dead's Phil Lesh; Steve Adams (bass/vocals) toured and recorded with Nicki Bluhm & the Gramblers; Dave Brogan (drums/vocals) joined up with Utah band, Mokie. These and other endeavors have influenced the band's new album Tangle Of Time.
More than previous releases, Tangle Of Time really taps into what makes ALO unique. It's that special blend of classic songwriting and the ability to stretch out jams and distill dance floor grooves. It's heartfelt lyrics that make you smile, reflect and just want to sing along either way. It's four great musicians who all write and sing. And four friends who've been through a lot together and still support, challenge and inspire one another.
Entering Allegiant Records in San Anselmo, California this past January with co-producer Dave Simon-Baker, the four members decided they'd take a different recording approach. Instead of spending pre-production days jamming and co-writing, each member brought in their own demos, roughly three dozen in total, for the group to listen to, pick apart and eventually whittle down to the 11 songs that make up Tangle Of Time. Once they narrowed their focus, they turned their attention to arrangements and production techniques. Songs were tightened up, layers made more experimental and the end results validated their new approach. Lebo described the shared respect and admiration the band felt during the recording process this way: "There are four strong opinions in the room, but playing together for so long we've all become pretty good at the empathy thing at this point; we can be very Zen about it. We truly value being together at this point in our careers, and whatever we get from our solo and side gigs, no matter how much fun we have, it's not this."
That sort of maturity, the ability to take stock of your friends, loved ones, and collaborators, and truly appreciate them is certainly one of the cornerstones of Tangle Of Time. Lebo, Adams and Gill first started playing music together in middle school, and then with Brogan right after college. Somehow, these relationships have lasted, evolved and been made stronger every year. One can almost hear the group releasing a satisfied existential sigh throughout the album, finding acceptance, love and contentment with the world they've built.
"I really appreciate the guys right now, more so than ever," Gill shared, excitedly adding, "Years ago the feeling was, 'I wanna get to my songs and see how they sound while we're all here', whereas now I'm rooting for everyone else's songs. It's great."
That approach of supporting each other's songs worked like a charm, capturing each member's distinct songwriting voice, while simultaneously expanding the notion of what an ALO song or album can be. Take for instance the one-two-punch of the synth-filled, spacey jam vehicle "The Ticket" and the pedal steel-driven easy-going happiness of "Simple Times". Although two ends of the sonic spectrum, both are classic Gill songs at their core but stretched wide and far by the band's collective effort.
Not to be outdone, Lebo's guitar epic "Undertow" is a song that practically begs to be stretched out live, with its swirling double guitar outro intoxicating the listener to such a degree that you might find yourself on the band's website, dreamily purchasing tickets for an entire run of shows just to see where the song ventures live. Lebo pairs this with "Push", a jaunty yet thoughtful number with a playful guitar riff that's basically the musical equivalent of joy.
"Not Old Yet" and "Keep On", Adams' contributions to the album, are also touchstones to the spirit of Tangle Of Time. The first is a light-hearted romp about keeping a positive perspective on life's long road of hurdles and surprises, while the second is an upbeat, forward-thinking sing-along with lines that could be the album's mantra: "Wherever this takes us, I know/That we've got each other, we've still got a long way to go."
Brogan's "Coast To Coast" is among the most intriguing songs on the record. He, along with co-writer buddy Ben Malan, came up with a layer-upon-layer soundscape consisting of beautifully esoteric textures. The funky but ominous track tells the surreal tale of a band on the run, with more ideas and energy than know-how. Brogan shared that the theme of "tangled time" materialized unexpectedly over the course of the sessions, elaborating: "There's a point where there is more behind you than ahead of you, and you realize that time becomes a limiting factor."
Put the record on your turntable, and you can clearly hear the band's excitement to get back on the road and explore these songs with their audience. Improvisation is a staple of what the band does, and as Adams stated: "Being in that unknown is such a great life lesson beyond just the music. For all the careful planning and preparing we do, being in the moment is really when it all matters."
The band is also planning new ways to expand the theatrical shenanigans that have become a fantastic complement to the live show. From confetti canons to 12-foot beach balls, pre-show skits to elaborate theme nights, bubble suits to a laser-shooting ukulele (yes, really)... ALO is always on the hunt for new and exciting ways to interact with fans to make their shows truly special. Gill, the band's head prankster, put it this way: "I want people to come to a show expecting to be engaged in a fun and creative way. When I see someone dancing or singing along or reaching out to hit a giant beach ball, I start playing to the dancer and at that point, it's really a circle of energy traveling back and forth from the stage. The larger theatrical concepts are ways of interacting with the audience on another level."
On Tangle Of Time the band has reached that other level, and are ready to bring everyone along.


Dieses Album enthält kein Booklet