---
Album Info
Album Veröffentlichung:
2020
HRA-Veröffentlichung:
14.08.2020
Das Album enthält Albumcover Booklet (PDF)
Sergei Rachmaninoff (1873 - 1943): Cello Sonata in G Minor, Op. 19:

1

Cello Sonata in G Minor, Op. 19: I. Lento - Allegro moderato

09:50

2

Cello Sonata in G Minor, Op. 19: II. Allegro scherzando

06:44

3

Cello Sonata in G Minor, Op. 19: III. Andante

05:56

4

Cello Sonata in G Minor, Op. 19: IV. Allegro mosso

10:37

Samuel Barber (1910 - 1981): Cello Sonata in C Minor, Op. 6:

5

Cello Sonata in C Minor, Op. 6: I. Allegro ma non troppo

08:52

6

Cello Sonata in C Minor, Op. 6: II. Adagio

05:03

7

Cello Sonata in C Minor, Op. 6: III. Allegro appassionato

05:47

Total Runtime

52:49
Info zu Rachmaninoff & Barber: Cello Sonatas
Cellist Jonah Kim and pianist Sean Kennard have been making music together since they were teenagers at the Curtis Institute of Music and together they have played almost every sonata in the standard repertoire. The Rachmaninoff Sonata and the Sonata by Samuel Barber hold a special place for them: The Rachmaninoff was the first sonata they worked on together, and Kim's teacher at Curtis was Orlando Cole, who premiered the Sonata with Barber himself at the piano.
Both Sonatas shine as big, romantic works with broad, rhapsodic strokes and superb melodies. Kim and Kennard give stunning performances, putting these young performers at the top of their generation for technique and interpretation.
Jonah Kim, cello
Sean Kennard, piano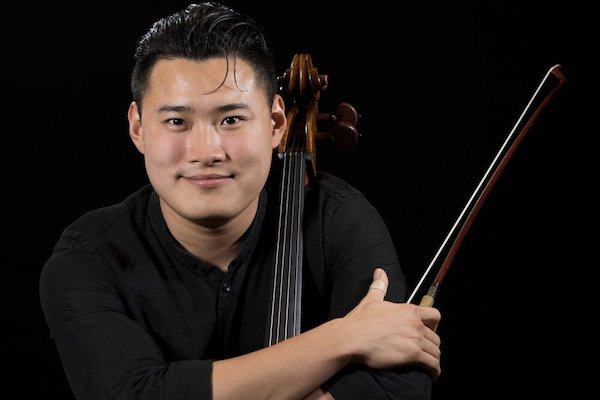 Jonah Kim
made his debut with Wolfgang Sawallisch and the Philadelphia Orchestra in 2002 after winning the top prize at the Philadelphia Orchestra's Albert M. Greenfield Competition. He also performed with the National Symphony Orchestra as a "Star of Tomorrow" in 2003. Joseph McLellan of the Washington Post called him simply, "the next Yo-Yo Ma." Mr Kim graduated from the prestigious Curtis Institute in spring of 2006 while still only 17 years old. He has appeared as soloist with the Philadelphia Orchestra, Philadelphia Chamber Orchestra, National Symphony Orchestra, New Philharmonia Orchestra, Symphony of the Americas, Palm Beach Symphony and the New Jersey Symphony Orchestra among others. He has performed recitals at the Kimmel Center (Philadelphia), the Kravis Center (West Palm Beach), and the Kennedy Center (Washington, DC). He has also appeared in radio and TV programs on WETA, WHYY, WITF, MPBN, WXEL, NPR, NBC and CBS. During summers, he has played at the Atlantic (Maine), Lancaster (Ohio), Encore (Ohio), Killington (Vermont), Sarasota (Florida), and Kneisel Hall (Maine) music festivals and has taught students from all over the world at Palm Beach Atlantic University's "Stringendo" summer music program.
Born in Seoul, Korea, Mr Kim immigrated to the United States at the age of seven. His father, a pastor at a Korean Presbyterian Church in New York, introduced Mr Kim to the cello that same year. Despite having no formal musical training, his father, who possesses a keen ear for music, coached his son's practice sessions. Mr Kim figured things out quickly by watching and imitating Pablo Casals from VHS tapes of his performance of Bach's solo cello suites. Within a year, he was accepted to the Juilliard School Pre-College Division with a full scholarship where he began his professional training with the veteran pedagogue Ardyth Alton.
During his first year at Juilliard, Mr Kim was unsure whether the cello and classical music were really for him. He was attending a New York City public school, learning to speak English, and adjusting to life in the United States. Mr Kim and his father wrote to Janos Starker at Indiana University for advice. Starker's invitation for Mr Kim to play at his masterclass that summer was pivotal, inspiring the young cellist to continue with renewed motivation. Starker later remarked, "Jonah is an exceptional talent. He is at the top of his generation."
Two years later, just before his tenth birthday, Mr Kim was accepted to the Curtis Institute of Music in Philadelphia. During his six years there, he studied under Peter Wiley, Lynn Harrell, and Orlando Cole, who wrote, "[Jonah] is one of the most accomplished cellists I have taught in my sixty five years on the Curtis faculty." He also received high praise in masterclasses with cellists Joel Krosnick, Timothy Eddy, Stephen Isserlis, Gary Hoffman, Marcy Rosen, Andre Diaz, and Ron Leonard among others. Mr Kim also discovered his passion for chamber music at an early age through constant collaborations with his friends at Curtis where he performed most of the standard piano trio literature with violinist Chen Xi and pianist Yuja Wang. His coaches at Curtis include Jaime Laredo, Joseph Silverstein, Aaron Rosand, Ida Kavafian, Gary Graffman, and Seymour Lipkin, as well as the Guarneri, Emerson, Vermeer, and the Takacs string quartets.
After graduating from Curtis, Mr Kim spent a few years wandering through Europe, living mostly in the UK, Italy and the Czech Republic. He returned to the United States at the invitation of South Florida's Lynn University to join the studio of his mentor and friend, David Cole. At the same time, Mr Kim was Principal cellist for the Miami City Ballet, and recorded for many pop artists at the Hit Factory in Miami. He has also played in live concert with pop figures such as the Beach Boys, Andrea Bocelli, Cristian Castro, Vic Damone, Regis Philban, Kenny Rogers, and the Tran-Siberian Orchestra. In addition to his solo engagements and collaborations with leading artists across an array of genres, Mr Kim is currently an associate Principal Cellist for San Francisco Ballet, of which he is the youngest member.
Sean Kennard
American pianist Sean Kennard has won top prizes in the Queen Elisabeth Competition (Belgium), the International Music Competition of Vina del Mar (Chile), the Vendome International Piano Competition (Portugal), the Sendai International Music Competition (Japan), the Hilton Head International Piano Competition (USA), the National Chopin Competition, the Iowa Piano Competition, the American Pianists Association, and the International Chopin Competition of the Pacific.
‍The Washington Post praised Kennard's "powerful and involved music making," describing him as "a strong luminous pianist." His 2011 debut album received a rave review in American Record Guide, which pronounced it "a hidden gem," attesting to its "perfect blend of lyricism and romantic passion," "huge romantic sound, and bold melodic vision." It proclaimed that he "plays the dickens out of the Stravinsky [Three Movements from Petrushka]" and "plays Chopin's Preludes with more poise and vision than most pianists who have recorded them." Fanfare affirmed the enthusiastic reception, naming the album "a very desirable disc" and citing "Kennard's mastery of Chopin's idiom," its "impression of complete effortlessness" and "emotional responsiveness." The review characterized his playing as "full of life and sparkle," summing up: "while I wouldn't necessarily say that Kennard outclasses Ashkenazy, Rubinstein, Moravec, Ohlsson…in this repertoire, he surely equals them."
‍Sean has appeared as soloist with orchestras around the world including the Prague Radio Symphony, NHK Chamber Orchestra, Yomiuri Nippon Symphony Orchestra, Osaka Symphony Orchestra, Sendai Philharmonic, National Orchestra of Belgium, Chamber Orchestra of Frankfurt, Morocco Philharmonic, Chile Symphony Orchestra, Montevideo Philharmonic, Sinfonia Perugina (Italy), National Symphony Orchestra (Dominican Republic), and many others throughout the United States and abroad. He has appeared in recital and chamber ensemble in such venues as Carnegie Hall, Lincoln Center, the Kennedy Center, Salle Cortot (Paris), Palais des Beaux-arts (Brussels), Gulbenkian Foundation (Lisbon), Chopin Society (Warsaw), Teatro Caio Melisso (Spoleto), Sala dei Notari (Perugia), Tokyo Opera City Hall, Seoul Arts Center, Hong Kong City Hall, Mohamed V Theater (Morocco), Teatro del Lago (Chile), and many more.
He received a Bachelor of Music from the Curtis Institute of Music in 2004. In his final year at Curtis he won the institute's Sergei Rachmaninoff Award, given to one graduating pianist each year. After subsequent work with pianist Enrique Graf he received a Master of Music from the Juilliard School (studios of Jerome Lowenthal and Robert McDonald) and spent the following two years in the studio of Richard Goode. In 2016 he completed the residential portion of the Doctor of Musical Arts degree program at Yale University working with Boris Berman and joined the faculty at Stetson University's School of Music as Assistant Professor and Piano Area Coordinator in 2017. He is the artistic director of the Great Pianists at Stetson recital series and the Stetson Piano Scholars festival. Sean is managed by Nahoko Hatano of Nippon Artists Management Inc.


Booklet für Rachmaninoff & Barber: Cello Sonatas