---
Album Info
Album Veröffentlichung:
2021
HRA-Veröffentlichung:
05.03.2021
Label: Aparté
Genre: Classical
Subgenre: Chamber Music
Interpret: Ophélie Gaillard, Morphing Chamber Orchestra & Frédéric Chaslin
Komponist: Wolfgang Amadeus Mozart, Vincenzo Bellini, Gioachino Rossini , Giacomo Donizetti, Giuseppe Verdi, Giacomo Puccini, Pyotr Ilyich Tchaikovsky, Richard Wagner, Jacques Offenbach, Antonin Dvorak, Moisés Simons
Das Album enthält Albumcover Booklet (PDF)
Wolfgang Amadeus Mozart (1756 - 1791):

1

Don Giovanni, K. 527: Deh, vieni alla finestra (Arr. for Cello & Orchestra)

01:56

2

Die Zauberflöte, K. 620: Ach, ich fühl's (Arr. for Cello & Orchestra)

03:58

3

Don Giovanni, K. 527: Dalla sua pace (Arr. for Cello & Orchestra)

04:00

Vincenzo Bellini (1801 - 1835):

4

I Capuleti e i Montecchi: Oh quante volte (Arr. for Cello & Orchestra)

04:24

Gioachino Rossini (1792 - 1868):

5

William Tell: Fantasy on William Tell (Arr. for Cello & Orchestra)

07:43

Giacomo Donizetti (1797 - 1848):

6

L'elisir d'amore: Una furtiva lagrima (Arr. for Cello & Orchestra)

04:25

Giuseppe Verdi (1813 - 1901):

7

Rigoletto: Un di, se ben rammentomi (Arr. for Cello & Orchestra)

04:07

8

Un Ballo in Maschera: Morrò, ma prima in grazia (Arr. for Cello & Orchestra)

04:34

9

Don Carlo: Ella giammai m'amò

09:13

Giacomo Puccini (1858 - 1924):

10

Tosca: E lucevan le stelle (Arr. for Cello & Orchestra)

04:20

11

Madama Butterfly, SC 74: Un bel di vedremo (Arr. for Cello & Orchestra)

04:29

Pyotr Ilyich Tchaikovsky (1840 - 1893):

12

Eugene Onegin, Op. 24: Kuda, kuda vï udalilis (Arr. for Cello & Orchestra)

06:12

Richard Wagner (1813 - 1883):

13

Tannhäuser, WWV 70: O! du mein holder Abendstern (Arr. for Cello & Orchestra)

03:33

Jacques Offenbach (1819 - 1880):

14

Les Contes d'Hoffmann: Scintille diamant (Arr. for Cello & Orchestra)

02:47

15

Les Contes d'Hoffmann: Fantasy on the Barcarolle (Arr. for Cello & Orchestra)

03:51

16

La Périchole: Air de la Griserie (Arr. for Cello & Orchestra)

02:07

Pyotr Ilyich Tchaikovsky:

17

The Queen of Spades, Op. 68: Polina's romance (Arr. for Cello & Orchestra)

03:12

Antonin Dvorak (1841 - 1904):

18

Gypsy Songs, Op. 55: Songs My Mother Taught Me (Arr. for Cello & Orchestra)

02:43

Moisés Simons (1889 - 1945):

19

Toi c'est moi: C'est ça la vie, c'est ça l'amour ! (Arr. for Cello & Orchestra)

03:10

Total Runtime

01:20:44
Info zu Cellopera (Deluxe Edition)
Ophélie Gaillard begibt sich mit dem Wiener Morphing Chamber Orchestra unter Leitung von Frédéric Chaslin auf Opernreise. Auf dem Programm stehen – in Transkriptionen für Violoncello und Orchester – beliebte Arien und persönliche Favoriten aus einem Jahrhundert der Oper von Mozart bis Puccini und Verdi, von Wagner bis Offenbach. Vorhang auf für ein Panorama der menschlichen Leidenschaften, dem die Stimme des Violoncellos, das der menschlichen besonders nahekommt, ganz wunderbar Ausdruck verleiht.
Ophelie Gaillard, Cello
Morphing Chamber Orchestra
Frederic Chaslin, Dirigent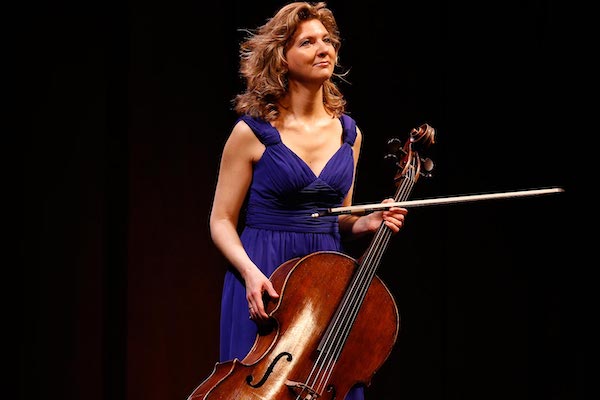 Ophélie Gaillard
Her "technical fluency is unimpeachable. Herintonation … is impeccable. She plays with a ripe, absolutely luscious tone. Her use of vibrato iscircumspect and period- appropriate. She isscrupulous about observing repeats and her use of ornamentation is elegant and understated. The fluidity and unself-conscious physicality of Gaillard's playing keeps the listener aware that, except for the preludes, this is sunny, dance-basedmusic."
So wrote the critic Stephen Eddins (Allmusic) of her recent Bach recording (2011), while back in 2007 The Times hailed her "wizardfingering, big lyrical heart and kaleidoscope of colours".
An insatiable curiosity, a taste for risk, an immoderate appetite for the whole of the concertedcello repertoire, complete disregard of limits and petty quarrels: those are no doubt the features thathave always set this brilliant Franco-Swissmusician apart. Her passion? Working from the sources, inquiring into the text, using her virtuosityto bring out the musical discourse and make the music loved by all.
Named "Revelation: Solo Instrumentalist of the Year" at the French Classical Music Awards(Victoires) in 2003, she has since appeared in recital at many prestigious venues: Concertgebouw Bruges and Amsterdam; Bozarand Flagey, Brussels; the theatres of Bordeaux, Avignon, Poissy, Aix-en-Provence; the Théâtre du Châtelet in Paris; Oji Hall, Tokyo; London'sWigmore Hall; and so on.
She also performs works of the twentieth and twenty-first centuries, and has recorded, for instance, Britten's complete Cello Suites and Piano Sonatas with Vanessa Wagner (Diapason d'Or, Choc du Monde de la Musique) and Pierre Bartholomée's Oraison for solo cello.
Her solo album Dreams (Aparté) recorded in 2009 at the legendary Abbey Road Studios in London with the Royal Philharmonic Orchestra, proved to be a great public success.
Versatile artist, Ophelie Gaillard also regularlyperforms as a soloist with orchestras such as the Japan Philharmonic, the Royal Philharmonic, the Polish Radio Orchestra and the National Radio Orchestra of Romania, the Franz Liszt ChamberOrchestra of Budapest, the Moscow ChamberOrchestra, the Toulouse Chamber Orchestra, the Monte-Carlo Philharmonic Orchestra, the SlovakPhilharmonic Orchestra, etc….
Ophélie Gaillard has won several prizes in major international competitions, including, most notably, The third prize of the J. S. Bach International CelloCompetition in Leipzig in 1998. In 2010 she wasinvited to sit on the jury for the ARD International Cello Competition in Munich.


Booklet für Cellopera (Deluxe Edition)