---
Album Info
Album Veröffentlichung:
2022
HRA-Veröffentlichung:
09.09.2022
Das Album enthält Albumcover
1

Horsepower For The Streets

02:23

2

You Make Me Feel This Way

03:28

3

Cut A Black Diamond

03:37

4

Small Mercies

03:41

5

The Rope

02:56

6

Restless Heart

03:05

7

Youngblood

03:34

8

Ten-storey Falling

04:16

9

Early Warning Sign

03:18

10

Lucky

03:32

11

Sirens In The Silence

03:42

Total Runtime

37:32
Info zu Horsepower For The Streets
Der hippieske Gestus der akustisch großartig in die Ewigkeit schrammelnden Gitarren und eines gern im Offbeat oder im Funk-Soul-Groove performenden Schlagzeugs treffen in nostalgischer Verklärtheit mit einem lichten Reverb auf ein immer wieder in Lalo Schifrin-Manier für zusätzliche Akzente setzendes 20-köpfiges Streichorchester und einen für eine weitere verklärte bis himmlische Ebene sorgenden Chor als Background. Der beseelt, aber dennoch immer mit leidenschaftlichem Retro-Feeling dem Folk zugewandte Jeremiah nahm sein 5tes Album in einer Kirche in Amsterdam mit monumentalem Album-Sound auf. Ein Konzeptalbum in elf Kapiteln, das von dem bleibenden Schmerz und der Zerbrechlichkeit lebt und dabei lehrt, unsere dunkelsten Dämonen zu akzeptieren.
"Auch auf Longplayer Numero fünf funktioniert Jonathan Jeremiahs patentierter Personalstil wieder einmal bestens.​" (Stereo)
Jonathan Jeremiah, Gesang
Amsterdam Sinfonietta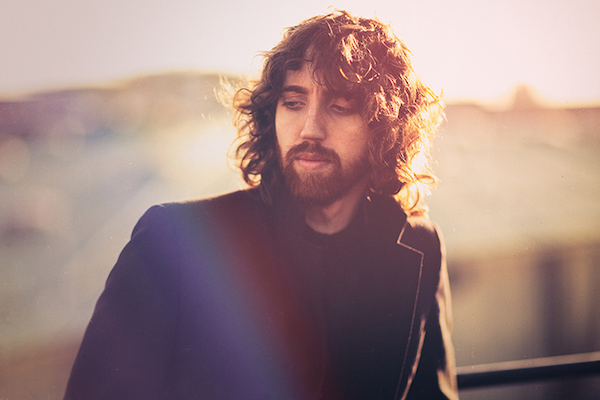 Jonathan Jeremiah
Jonathan's music originates from a world far from the fast fix, pre packaged production line. The North Londoner has actually invested the best part of a decade specifying an audio rooted in an abundant legacy of bespoke English individual as well as confessional soul. With a deep, naturally remarkable voice, amazingly organized orchestrations, delicate finger selected guitar and also tracks that make an enduring perception Jonathan's noise is the outcome of a trip that began with guitar lessons age 6.
It has actually absorbed household childhood years singalongs with his 5 siblings on summer holidays to his mother's indigenous Tipperary and also advanced via the exploration of influences by hearing his fathers considerable plastic collection. Musicians such as Scott Walker, Cat Stevens, Serge Gainsbourg as well as John Martyn made a formative and long lasting perception.
While his pals were listening to modern pop as well as Indie Jonathan dug deep right into the past, his own sensibility coming into flower. At 21 Jonathan made a journey across America – painting pointillist art in a New York hotel entrance hall and vocal singing for his keep in the eves setting for the west coast.
"I constantly assumed I was mosting likely to fulfill Carole King or Carly Simon but in LA I had not been hanging out with the 60s crew, there was no Mamas and also Papas. It was not just what I envisioned it to be. I would certainly gone there believing I 'd discover like minded individuals however I really felt fairly lonely coming back, it actually provided me a deeper gratitude of exactly what I already had."
That American journey had not been squandered though – songwriting ideas came as well as vital tracks Happiness as well as specifically Solitary Man, a track motivated by a 90 years of age Great Aunt he fulfilled in California, were composed there.
Back house the discovery of an analogue workshop in Dollis Hill gave the development he needed. An additional vital step came when he fulfilled The Heritage Orchestra, a young group of classical artists in harmony with his functioning approaches. With the string setups being taken care of by Jules Buckley, Jonathan produced and crafted the tracks one at a time.
"It was crucial to generate the album myself. If I claimed to a producer I want a 24 item band with flugelhorn they would say it can be done on a keyboard.
Working nights as a security guard at Wembley Arena aided finance the album he imagined.
"One night would certainly spend for a violinist, one more would certainly spend for a double bass player."
Studying traditional manufacturing techniques by The Beach Boys and Motown he understood the organic, analogue online method of functioning was obviously ideal suited to realising his tracks. He maintained the songs close to heart and also residence, the means he had actually constantly pictured it. Undoubtedly a major consider the sound is Jonathans abundant sonorous vocal.
"When I was 14 my voice developed an extraordinary deep baritone. At the time it had not been the greatest thing, everyone wished to sound like Jeff Buckley. I seemed like a man misplaced yet in time I welcomed the baritone."
The other considerable element is his luminous as well as proficient guitar, inseparable from the voice.
"I cannot picture singing without playing the guitar, I've attempted it and it just doesn't work. When tape-recording the vocals for the cd I played the guitar at the very same time, even. We really had to re-record the guitar components for the instrumentals as you can hear my voice behind-the-scenes! "
And also as the tunes developed they came to be extensive, complete bodied as well as mature.
On his debut cd Jonathan is experts in dramas of the heart as well as human hoping. Often his psychological landscapes are mapped from one of the most not likely beginnings. The Same Old Line, as an example, had its unlikely origins in Lee Horsley's 80s dream cult flick 'The Sword as well as The Sorcerer'.
"I thought of a King having issues with his Queen and the jester stage whisper in his ear 'tell her the usual line, like you made use of to'.".
Currently after all the browsing, the night shifts as well as the knowing from previous masters Jonathan has actually gotten to an album based in the deep wellsprings from where he first charted his course.
"I felt I had a task to keep the music as unblemished as it was at that time and also not be polluted with whatever else was available.".
Jonathan's live band has lately been broadened to consist of percussion and brass, but upfront its his naturalistic guitar as well as voice blazing a trail. Those stints at Wembley really did not just assist him finance the album, they fuelled and suffered his music dream.
"I've constantly treated playing live like a conversation, speaking with someone. When I was operating at Wembley you 'd see individuals like Bruce Springsteen as well as Neil Diamond up close. That most definitely rubbed off. In the center of the night after Springsteen was on the place was vacant as well as being locked up. I 'd go onstage and picture the crowd, how can you not be impacted by it?".
Proof that sometimes the best points take time, hard headed determination and also careful nurturing to come right into bloom Jonathan's music is ready to be unveiled. The moment to take his tracks into your body and soul is here.


Dieses Album enthält kein Booklet