---
Album Info
Album Veröffentlichung:
2022
HRA-Veröffentlichung:
18.11.2022
Das Album enthält Albumcover Booklet (PDF)
Ralph Vaughan Williams (1872 - 1958): Symphony No. 2 "London":

1

Williams: Symphony No. 2 "London": Ia. Lento - Allegro risoluto

04:40

2

Williams: Symphony No. 2 "London": Ib. —

04:47

3

Williams: Symphony No. 2 "London": Ic. —

03:35

4

Williams: Symphony No. 2 "London": IIa. Lento

01:29

5

Williams: Symphony No. 2 "London": IIb. —

04:45

6

Williams: Symphony No. 2 "London": IIc. —

03:22

7

Williams: Symphony No. 2 "London": III. Scherzo

07:10

8

Williams: Symphony No. 2 "London": IVa. Finale

05:00

9

Williams: Symphony No. 2 "London": IVb. —

05:13

Symphony No. 5 in D Major (1943 World Premiere):

10

Williams: Symphony No. 5 in D Major (1943 World Premiere): Ia. Preludio [Live]

05:07

11

Williams: Symphony No. 5 in D Major (1943 World Premiere): Ib. — [Live]

05:05

12

Williams: Symphony No. 5 in D Major (1943 World Premiere): Ic. — [Live]

00:52

13

Williams: Symphony No. 5 in D Major (1943 World Premiere): II. Scherzo [Live]

04:02

14

Williams: Symphony No. 5 in D Major (1943 World Premiere): IIIa. Romanza [Live]

04:11

15

Williams: Symphony No. 5 in D Major (1943 World Premiere): IIIb. — [Live]

05:13

16

Williams: Symphony No. 5 in D Major (1943 World Premiere): IVa. Passacaglia [Live]

05:08

17

Williams: Symphony No. 5 in D Major (1943 World Premiere): IVb. — [Live]

04:01

Symphony No. 5 in D Major:

18

Williams: Symphony No. 5 in D Major: I. Preludio (Live) [2022 Remastered Version]

11:47

19

Williams: Symphony No. 5 in D Major: II. Scherzo (Live) [2022 Remastered Version]

05:05

20

Williams: Symphony No. 5 in D Major: III. Romanza (Live) [2022 Remastered Version]

10:09

21

Williams: Symphony No. 5 in D Major: IV. Passacaglia (Live) [2022 Remastered Version]

10:18

Dona Nobis Pacem:

22

Williams: Dona Nobis Pacem: I. Lento (2022 Remastered Version)

03:23

23

Williams: Dona Nobis Pacem: II. Allegro moderato (2022 Remastered Version)

03:59

24

Williams: Dona Nobis Pacem: III. Reconciliation (2022 Remastered Version)

06:39

25

Williams: Dona Nobis Pacem: IV. Dirge for Two Veterans (2022 Remastered Version)

10:00

26

Williams: Dona Nobis Pacem: V. L'istesso tempo (2022 Remastered Version)

03:06

27

Williams: Dona Nobis Pacem: V. Poco animato (2022 Remastered Version)

07:21

Total Runtime

02:25:27
Info zu Vaughan Williams Live, Vol. 3 (Live) [2022 Remastered Version]
SOMM RECORDINGS celebrates the 150th anniversary of Ralph Vaughan Williams' birth with Vaughan Williams Live, Volume 3, featuring signature works conducted by the composer including the 1943 world premiere of his Fifth Symphony with the London Philharmonic Orchestra. All performances on this double-album set have been expertly restored and re-mastered by Lani Spahr.
Recorded during the BBC Proms, the Fifth Symphony is among live performances recorded off the air by engineer Kenneth Leech held in the British Library. Begun under the shadow of mounting fears of war in Europe, it is illuminated by Vaughan Williams' relationship with his second wife-to-be, Ursula Wood and served, as biographer Simon Heffer's booklet note says, as "a reminder of the pre-war England in which the composer's soul and creative spirit remained". Also from the Leech Collection, the London Symphony Orchestra's 1946 Proms account of A London Symphony (No.2), is an "historic performance of one of his greatest and most enduring works".
A Gramophone Award-winner in 2008 and newly re-mastered for reissue with this celebratory set, the LPO also feature in the Fifth Symphony from 1952, coupled with a 1936 Dona Nobis Pacem by the BBC Symphony Orchestra and Chorus and soloists, soprano Renée Flynn and baritone Roy Henderson.
Volume 1 of Vaughan Williams Live (SOMM Ariadne 5016) was hailed by All About the Arts as "beautifully remastered [and] sounding like pure gold" and was The Symphonist's Record of the Week. SOMM's Vaughan Williams recordings include the "compelling" (International Piano) The Piano Music of Ralph Vaughan Williams by Mark Bebbington and Rebeca Omordia (SOMMCD 0164).
Lani Spahr's acclaimed SOMM restorations include Elgar Rediscovered (SOMMCD 0167) and four-disc Elgar Remastered (SOMMCD 261-4) – "a fascinating achievement which will have you wishing for more" (Audiophilia). Volume 3 of Elgar from America (SOMM Ariadne 5015-2) was a Gramophone Editor's Choice declaring Spahr's "superb audio restorations bring the performances fully to life".
Renee Flynn, soprano
Roy Henderson, baritone
BBC Symphony Chorus
London Symphony Orchestra
London Philharmonic Orchestra
BBC Symphony Orchestra
Ralph Vaughan Williams, conductor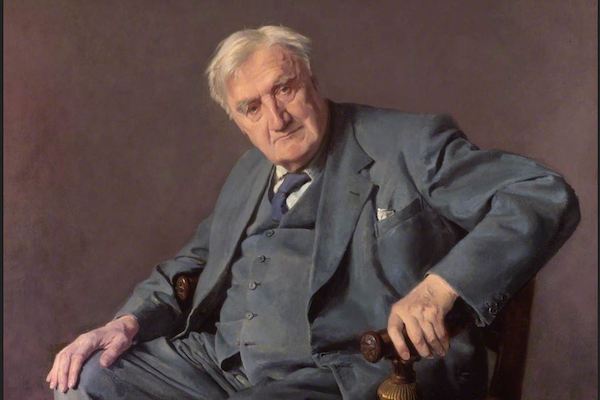 Ralph Vaughan Williams
(12.10.1872, Down Ampney, Gloucestershire; † 26.8.1958, London) gab sowohl als Wissenschaftler als auch als Komponist bedeutende Impulse für die moderne englische Musik. Ralph Vaughan Williams war Sohn eines Pfarrers und wuchs nach dem frühen Tod des Vaters bei seiner Tante auf, die ihm auch ersten Musikunterricht gab. Ernsthafte Studien führten ihn 1890 an das Royal College of Music, dann an das Trinity College in Cambridge. Er freundete sich mit Gustav Holst an, nahm 1897 Unterricht bei Max Bruch in Berlin und arbeitete zunächst als Organist. Fasziniert von der Kraft der Volksmusik begann Vaughan Williams, englische Lieder zu sammeln und zu editieren ("Bushes and Briars", 1903). Etwa zu selben Zeit entdeckte er die Musik der Tudorzeit und vor allem Henry Purcell für sich, dessen Oeuvre in den Folgejahren großen Einfluss auf sein eigenes kompositorisches Schaffen haben sollte.
Ralph Vaughan Williams' erstes umfassendes Werk war "A Sea Symphony" (1910), eine Kantate für Chor, Orchester und Solisten mit Texten von Walt Whitman. Kurz zuvor hatte er in Paris Unterricht bei Maurice Ravel genommen und sich in die impressionistische Klangwelt einführen lassen. Vaughan Williams wurde 1919 Kompositionslehrer am Royal College of Music in London, leitete 1920–28 den Bach Choir und war in der Folgezeit als Dozent, Komponist und Dirigent international unterwegs. Sein Engagement für deutsche Emigranten während der Nazizeit führte dazu, dass seine Werke bis 1945 in Deutschland nicht mehr aufgeführt wurden.
Die Kompositionen von Ralph Vaughan Williams tendieren zu einer transparenten und klar differenzierten Tonsprache, orientiert sowohl an der Alten Musik wie an spätromantischen und volksmusikalischen Elementen. Er schrieb insgesamt neun Symphonien, zahlreiche weiter Orchesterwerke und Kammermusik, Oratorien, Chorwerke, Lieder (darunter Zyklen wie "The House Of Life", 1903 und "Ten Blake Songs", 1957), Ballette, Bühnen- und Filmmusiken. Seine Opern waren wie "Hugh the Drover" (1910–14) oder "Sir John in Love" (1924–28) zu Lebzeiten wenig erfolgreich, allerdings entwickelte sich das unvollendete "The Pilgrim's Progress" (1949) zu einem viel rezipierten Werk. Vaughan Williams hatte großen Einfluss auf nachfolgende englische Komponisten wie Benjamin Britten oder Michael Tippett und gab auch als Essayist wichtige Anregungen ("National Music", 1934).


Booklet für Vaughan Williams Live, Vol. 3 (Live) [2022 Remastered Version]