---
Album Info
Album Veröffentlichung:
2020
HRA-Veröffentlichung:
06.01.2023
Das Album enthält Albumcover
1

Pressure

02:23

2

Hitchhiker

03:22

3

Crazy Days

03:49

4

Backbone

02:48

5

Holdin' My Breath

04:11

6

Like The Old Me

03:50

7

Automatic

02:53

8

Wildside

03:21

9

Misery

03:34

10

Fuel

02:49

11

Loner

03:33

12

Fever

03:31

13

Coastin'

02:30

Total Runtime

42:34
Info zu Pressure
Für Tyler Bryant & The Shakedown bestand der beste Weg, sich mit einer in Aufruhr geratenen Welt auseinanderzusetzen, darin, neue Musik zu schaffen; leichter gesagt als getan im Lockdown, aber für diese in Nashville ansässigen Musiker bestand die Herausforderung darin, alles zu begreifen.
"Crazy Days" war das erste Stück, das geschrieben und aufgenommen wurde. Mit einem Haus voller Ausrüstung und der Unterstützung von Produzent Roger Alan Nichols, einem langjährigen Freund, könnte vielleicht eine EP entstehen. 4 neue Songs, vielleicht sogar 6? Aber warum dort aufhören? Wie bei jedem Act lag auch der Live-Zeitplan von The Shakedown flach, so dass hier die Chance bestand, sich auf die 30 bis 40 neuen Songs zu konzentrieren, die sie in ihrem Repertoire hatten, um die EP in etwas Größeres zu verwandeln.
Das Ergebnis ist "Pressure", ihr viertes Studioalbum - 13 neue Nummern, darunter eine neu aufgenommene Version von "Crazy Days", plus Gastauftritte von Larkin Poe's Rebecca Lovell (3 Titel) und Blackberry Smoke's Charlie Starr ("Holdin' My Breath"). Eine Platte mit einem klaren Thema und einem "Gib niemals auf" Charakter. Es ging nicht um die Suche nach technischer Perfektion, sondern darum, den Moment einzufangen, Emotionen zu wecken und die ganze Bandbreite ihres Materials durchscheinen zu lassen, von volltönenden Rockern bis hin zu verwurzelten, atmosphärischeren Momenten. Das beste Werk ihrer Karriere, das in turbulenten Zeiten entstanden ist.
Tyler Bryant, Gesang, Gitarre, Bass (Track 3), Schlagzeug (Track 3)
Graham Whitford, Gitarre, Hintergrundgesang
Ryan Fitzgerald, Bass, Hintergrundgesang
Caleb Crosby, Schlagzeug
Rebecca Lovell, Gesang (Track 3), Gitarre (Track 3)
Charlie Starr, Gesang (Track 5)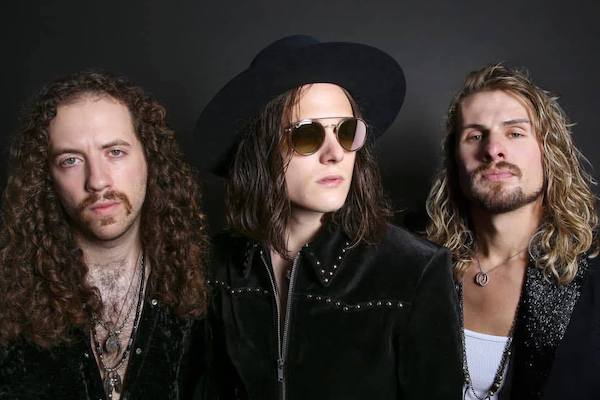 Tyler Bryant & The Shakedown
is a rock and roll band that forms in Nashville Tennessee in 2009. When it comes to their performances, you're really not sure what you're going to get when you see them live, but I can guarantee you're in for a good time! With a wide variety of rock infused blues that teeters on the edge of alternative and classic rock!
Their over the top performances leaves the fans wanting more, while leaving everything they got left on the stage. Their music is raw and rambunctious, with quality musicianship from each of the band members. But before we can talk about how great they are as a band, you need to check out their stories. There is a reason why this band is creating such a buzz and collecting fans along the way.
Tyler Bryant wanted to learn guitar so his parents went to a local guitar shop in Paris, Texas and while he got the guitar, while hanging out in the guitar store, an older gentlemen is playing the blues. Furthermore, he asked Bryant if he liked the blues and Bryant responds that he doesn't know the blues. The older gentlemen tells the kid that he will teach him. Bryant ends up taking lessons from him, which leads him to rock, and other genres.
When he turns fifteen they start a band called the "Blues Buddies.", they even got gigs as the opening act for the likes of Paul Simon and others. At seventeen, he quits school, moves to Nashville, gets noticed and talks his way into the local music scene and bullshitting his way into getting gigs. It worked because he got plenty of gigs this way including opening for Jeff Beck. Shortly after he meets drummer Caleb Crosby and starts performing locally around Nashville. Calling themselves "The Shakedown" after that, they meet Graham Whitford, (son of Brad -Aerosmith), a rocker kid from Boston.
As soon as Tyler heard Graham play, he asks him to join the band and move to Nashville right away. When push comes to shove, they manage to open for the likes of Aerosmith, Guns N' Roses, AC/DC, ZZ Top, along with B.B. King. But wait! There's more… Their song, "House on Fire," is featured an episode of "Sons of Anarchy" – "The Mad King" in 2013 which really gives the band a lot of attention! Finally In 2014, Tyler Bryant & the Shakedown get a deal with Republic Records, to record a full album with the group.
Currently, the group is still performing and already have four successful albums under their belt. Plus, they continue to tour quite often opening for bands as well as doing rock festivals. Over time there has been some line-up changes but the current members are Tyler Bryant (lead guitar & vocals), Graham Whitford (rhythm guitar), Ryan Fitzgerald (bass), and Caleb Crosby (drums).


Dieses Album enthält kein Booklet