---
Album Info
Album Veröffentlichung:
2019
HRA-Veröffentlichung:
03.10.2019
Das Album enthält Albumcover
1

Through Birds, Through Fire

05:51

2

Zero Point Five

08:52

3

Queenside

05:16

4

False Equivalency

04:06

5

Deep River

08:37

6

Nothing If Not

06:04

7

Quinine

05:31

8

Sanctuary City

03:48

Total Runtime

48:05
Info zu SuperBigmouth
With SuperBigmouth, the bassist and composer Chris Lightcap combines his two critically acclaimed ensembles, Bigmouth and Superette, into a powerhouse comprised of today's most accomplished and celebrated musical figures. The groups's ambitious, bold new recording is set for release the the fall of 2019 and features 8 of Lightcap's original compositions.
Lightcap's music explores the depth and versatility of the bands's wide-ranging musical personalities, juxtaposing joyfully infectious collective improvising, deep grooves from across the musical spectrum, intricate counterpoint, vast harmonic landscapes and gravity-defying solos.
Bigmouth, made up of keyboardist Craig Taborn, tenor saxophonists Tony Malaby, and Chris Cheek and drummer Gerald Cleaver has performed and recorded with Lightcap for the past 15 years, and the group's most recent CD, "Epicenter" was named one of the best releases of the year by the New York Times, NPR, Downbeat, the LA times and many other outlets. Together they have toured throughout the US and Europe, including festival appearances at Willisau, Saalfeden, North Sea, Ljubljana and Earshot.
Superette is Lightcap's electric band featuring drummer Dan Rieser and guitarists Jonathan Goldberger, and Curtis Hasselbring. The group's self-titled debut album was released in 2018 and features special guests guitarist Nels Cline and organist John Medeski. The album was dubbed the "best pure rock instrumental CD in years" by Goldmine Magazine and "superb" by All Music Guide, which also named "Superette" one of the best albums of 2018.
Lightcap has lent his huge sound, propulsive groove and creative vision to an impressively wide-ranging array of artists including Regina Carter, Tomasz Stanko, Julian Lage, Joe Morris, Marc Ribot and Matt Wilson. His playing can be heard on a diverse collection of critically acclaimed albums, including Taborn's latest release on ECM records, "Daylight Ghosts" and Carter's recent Sony albums.
SuperBigmouth was co-produced by David Breskin, recorded by Andy Taub, mixed by Ron Saint Germain and mastered by Scott Hull at Masterdisk. It was developed with support from Chamber Music America's New Jazz Works Commissioning and Ensemble Development program, funded through the generosity of the Doris Duke Charitable Foundation.
Craig Taborn, organ, piano, Wurlitzer
Tony Malaby, tenor saxophone (Solo: Queenside)
Chris Cheek, tenor saxophone (Solo: Deep River)
Jonathan Goldberger, guitar (Solo: Queenside)
Curtis Hasselbring, guitar (Solo: Quinine)
Chris Lightcap, bass
Gerald Cleaver, drums
Dan Rieser, drums
Recorded at Brooklyn Recording by Andrew Taub

Mixed by Ron Saint Germain at Saint's Place, Kinnelon, NJ
Mastered by Scott Hull at Masterdisk, Peekskill, NY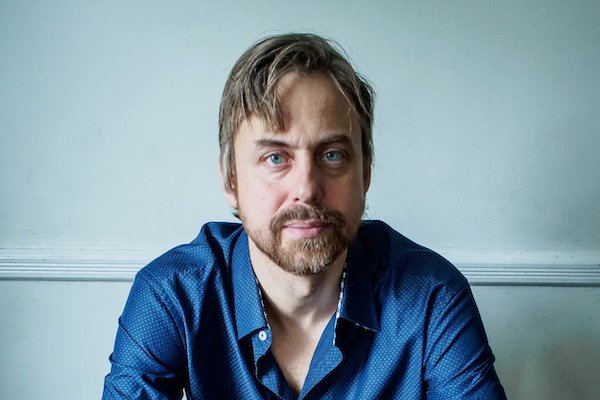 Chris Lightcap
is an accomplished bassist and composer with a wide-ranging performing and recording career. He has worked with Marc Ribot, Regina Carter, Craig Taborn, Glen Hansard, Mark Turner, John Medeski, Jason Moran, Tomasz Stanko, Chris Potter, Paul Motian, John Scofield, Dave Liebman, Paquito D'Rivera, Anthony Braxton, Joe Morris, Sheila Jordan, James Carter, Butch Morris, Ben Monder and many other artists. His playing is featured on over 80 albums and as a bandleader/composer he has produced six critically acclaimed albums of original music.
Born and raised in Latrobe, Pennsylvania, Chris played violin and piano before taking up the electric bass at fourteen. As a senior in high school he started to study the upright bass and the following year he enrolled at Williams College. During this period he studied bass, composition and improvisation with Milt Hinton, Cameron Brown, Robert Suderburg, Alvin Lucier, and Bill Dixon. He also had the privilege of studying and performing with master drummer Edward Blackwell shortly before his death in 1992. Upon graduating from Williams with the school's Hutchinson arts grant he moved to his current home, New York City.
Lightcap soon found work with a wide array of material and musicians. He performed weekly with the Cecil Taylor Big Band in 1995 and was invited to perform in a trio with Archie Shepp and Sunny Murray in Paris the following year. For the next two years he worked regularly throughout New York City in a trio led by saxophonist George Garzone. In 2000 Chris joined the ensemble of Regina Carter, an association that continues today. He has performed and recorded extensively with Carter throughout four continents and has been featured alongside the rest of her group with the Boston, Atlanta and Minnesota Symphonies. He has also toured and played major festivals with such bandleaders as Julian Lage, Mark Turner, Tomasz Stanko, Ravi Coltrane, Joe Morris, Ben Monder, Terrel Stafford, Ralph Alessi, and Rob Brown. Since 2013 he has played both upright and electric bass with Craig Taborn's Quartet which released its acclaimed "Daylight Ghosts" on ECM in 2017. He has played in drummer Matt Wilson's well-travelled quartet since 1998 and also worked with singer-songwriters like Glen Hansard and Ruper Orodorkia, country/rock artist Smokey Hormel and the Brazilian surf guitarist Joao Erbetta.
Throughout his performing career Lightcap has has also been a prolific composer. In 1998 he began to write for his own group, a quartet featuring Gerald Cleaver on drums and Tony Malaby and Bill McHenry on tenor saxophones. Lightcap's two recordings with this group, "Lay-Up" (2000) and "Bigmouth" (2003) were released on Fresh Sound Records. Both CDs were on CMJ's top 10 radio chart and received critical acclaim in the New York Times, Jazztimes, Cadence, the Village Voice, and All About Jazz.
In 2005 Lightcap expanded the band to include Craig Taborn on keyboards and named the group Bigmouth. He went on to released two albums with this group on the Clean Feed Label: 2010′s "Deluxe and "Epicenter" in 2015. Both records were named top releases of the year by such outlets as The New York Times, NPR, Downbeat Jazztimes the Village Voice and The Wall Street Journal. In addition to numerous US appearances, Bigmouth has performed at major festivals throughout Europe including Willisau, Saalfelden, North Sea, Porto, Geneva, Ljubljana, Maribor and Edinburgh.
In 2014 Lightcap assembled Superette, an experimental all-electric band that explores the nexus of of harmolodics, surf, West African music, psychedelia and beyond, featuring Jonathan Goldberger and Curtis Hasselbring on guitars and Dan Rieser on drums. The group performed at the 2017 NYC Winter Jazz Fest and in 2018 released its debut recording on Royal Potato Family Records featuring guests Nels Cline and John Medeski. All Music Guide called the album "superb" and Goldmine Magazine named it the "best pure rock all instrumental CD in years."
Lightcap's next and most recent album as a bandleader and composer is SuperBigmouth, an octet that combines both the Bigmouth and Superette ensembles. This album was released on October 4, 2019 on Pyroclastic Records and features eight new original compositions by Lightcap. Singles for the album were premiered by Dowbeat Magazine, Jazziz and WBGO.
In 2011 and 2016 Lightcap was awarded Chamber Music America's "New Jazz Works" commission grants. He has also received generous composing and production grants from The Shifting Foundation. In 2006 Lightcap was comissioned to write "Wiretap" for the contemporary chamber ensemble counter)induction and he has also contributed compositions and arrangements to albums released by Regina Carter, Chad Taylor Rob Brown and others.
Notable recordings featuring Lightcap include releases by Craig Taborn ("Light Made Lighter," Daylight Ghosts"), Regina Carter ("Southern Comfort", "Reverse Thread", "Pagannini: After a Dream"), the Swell Season ("Strict Joy"), Matt Wilson ("Gathering Call", "That's Gonna Leave a Mark"), Chad Taylor ("Circle Down"), Gerald Cleaver ("Detroit"), and Joe Morris ("Underthru", "A Cloud of Blackbirds"(Aum Fidelity), and "At the Old Office"). He has also appeared on recordings with Tom Harrell, Dianne Reeves, Marc Ribot, Anthony Coleman, Steven Bernstein, Roy Campbell, Mat Maneri and Joshua Bell.


Dieses Album enthält kein Booklet