---
Album Info
Album Veröffentlichung:
2023
HRA-Veröffentlichung:
10.02.2023
Das Album enthält Albumcover
1

Back of Your Hand (Demo Version)

03:55

2

Brambles and Briars (Demo Version)

03:41

3

Luminary (Acoustic Version)

02:23

4

Any Other Way (Demo Version)

03:18

5

The Big Sky (Live Version)

04:23

6

Snakeskin (Demo Version)

02:26

7

Sullen Volcano (Poem)

02:15

8

Bracklesham Bay (Demo Version)

03:49

9

Tired Old Eyes (Piano Version)

06:09

10

Dirty Circus (Live at The Cambridge Folk Club)

03:07

11

Robin (Live at The Cambridge Folk Club)

04:18

Total Runtime

39:44
Info zu When Violent Hot Pitch Words Hurt
"When Violent Hot Pitch Words Hurt" ist Polly Paulusmas neuestes Schwesteralbum. Der Titel ist ein Anagramm von The Pivot On Which The World Turns", das im September über die One Little Independent Folk-Tochter Wild Sound veröffentlicht wurde. Es ist möglicherweise ihr bisher verletzlichstes Begleitstück, das frühe Demos, Textänderungen, musikalische Veränderungen, Entwürfe und sogar gesprochene Originalgedichte offenbart, die den Songs vorausgingen.
Was ist ein Schwester-Album? Im Jahr 2004 veröffentlichte Paulusma Scissors In My Pocket" und erntete dafür internationales Lob. Wie viele erste Alben war es das Ergebnis jahrelanger Schreib- und Aufnahmearbeit, die größtenteils in ihrem Gartenschuppen stattfand, und es gab eine Fülle von überflüssigem Material und ein lautstarkes Interesse der Fans an mehr.
Im Jahr 2005 veröffentlichte Paulusma ein Schwesteralbum für "Scissors", ein Album mit alternativen Versionen der Songs. Sie nahm eine Live-Aufnahme von einer ihrer Shows im Vorprogramm von Jamie Cullum und schob sie zwischen vier acapella mit einem Streichquartett aufgenommene Songs, um "Cosmic Rosy Spine Kites" zu schaffen. Der ungewöhnliche Titel wurde aus einem Beinahe-Anagramm von "Scissors" geschmiedet, um die Beziehung zwischen ihnen zu verdeutlichen - und eine Tradition war geboren.
Da "Pivot" Songmaterial aus einem Jahrzehnt enthält, gab es eine Menge Arbeit hinter den Kulissen. Tatsächlich wurden mehr als 50 Songs für das Album geschrieben, von denen viele unveröffentlicht blieben. Dieses Alterno-Album enthält sie nicht, sondern beschäftigt sich ausführlicher mit den Songs, die es geschafft haben. Es bietet Paulusma einen einzigartigen Raum, um die verschiedenen Vorstellungen des Materials zu offenbaren, das sie auf ihrer Reise durch die Zeit, durch verschiedene Instrumente und Präsentationen begleitet hat. Hier wird ein Prozess für alle Studenten des Liedes gezeigt, und es ist eine Einladung, in die Welt dieses "Meisters der Liedermacherei" (Folk Radio) einzutreten.
When Violent Hot Pitch Words Hurt" gesellt sich zu Cosmic Rosy Spine Kites", Fights and Numbers" (Schwesteralbum zu Fingers and Thumbs") und The Small Feat Of My Reverie" (zu Leaves from the Family Tree"), um die Reise dieser Lieder bis zum Endprodukt zu beleuchten.
Shire Folk bezeichnete 'The Pivot On Which The World Turns' als "möglicherweise ihr bestes Album".
Paulusma tourte um die Welt im Vorprogramm von Bob Dylan, Jamie Cullum, The Divine Comedy und Marianne Faithfull, spielte unter anderem in Glastonbury, T in the Park, V Festival und Cambridge Folk Festival und tourte durch die USA und Italien. Sie stand bei Sony/ATV in LA unter Vertrag und eröffnete für Coldplay deren Geheimkonzert im The Troubadour in West Hollywood.
Polly Paulusma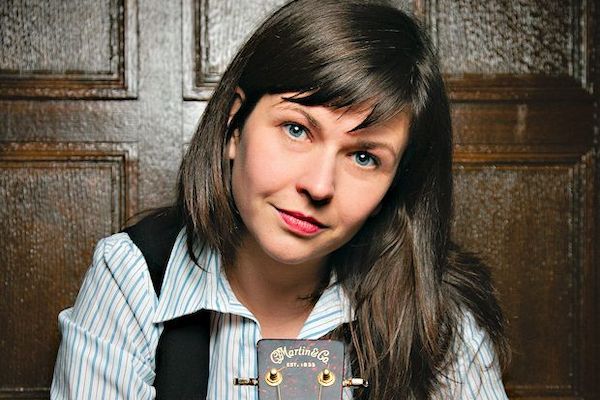 Polly Paulusma
Back in 2003, tucked away in her garden shed, the 28-year-old Polly Paulusma was putting the finishing touches to her self-recorded debut album 'Scissors In My Pocket' when indie record label One Little Indian signed her up.
'Scissors In My Pocket', a work of aching acoustic tenderness, received immediate widespread critical acclaim upon its international release in 2004.
She was catapulted around the world supporting Bob Dylan, Jamie Cullum, Coldplay, The Divine Comedy, Marianne Faithfull, Joseph Arthur and Gary Jules, and played Glastonbury, T in the Park, V Festival and Cambridge Folk Festival among many others, touring the USA and Italy twice. She released its sister-album, 'Cosmic Rosy Spine Kites', in 2005.
In 2007, she released the darker, more electric 'Fingers & Thumbs', produced by Ken Nelson (Coldplay, Gomez, Badly Drawn Boy, Kings of Convenience) and recorded in Liverpool's Parr Street studios. She toured the UK extensively for this album and made the cult Youtube Guitar Shop Tour videos along the way. Its sister-album 'Fights & Numbers', was released shortly afterwards.
In 2011 she founded the record label Wild Sound on which in 2012 she released 'Leaves from the Family Tree' and its sibling album 'The Small Feat of My Reverie'. In the same year she played Cambridge Folk Festival, and toured the UK in her caravan Ella. This album featured collaborations with US singer-songwriter Erin McKeown, acclaimed violinist Anna Phoebe and the film and tv music composer Michael Price (Sherlock). She also scored and released a film soundtrack for the Canadian indie movie starrring Roddy Piper, 'Clear Lake'.
Paulusma's Wild Sound label subsequently released not just her own albums but those of notable acoustic folk artists including Maz O'Connor, Dan Wilde, Mortal Tides, Harry Harris, Stylusboy, Matthew The Oxx and others. The label became a folk imprint at newly named One Little Independent in 2017.
In 2021 Paulusma releases an album of traditional folk songs and spoken word readings, 'Invisible Music: folk songs that influenced Angela Carter', which was the product of her recently completed PhD research into Angela Carter's influence from folk singing in the 1960s.
In 2022, Paulusma is slated to release her eagerly-anticipated ninth album, an album of her own songs penned since 2012, which will include songwriting collaborations with Kathryn Williams, David Ford, Danny Wilson (Grand Drive, Danny & The Champions of the World), Astrid Williamson and the novelist Laura Barnett.


Dieses Album enthält kein Booklet