---
Album Info
Album Veröffentlichung:
2019
HRA-Veröffentlichung:
01.02.2019
Das Album enthält Albumcover Booklet (PDF)
1

She can measure the history of dreams

05:30

2

Lucia's young night

02:00

3

Dancing with sweetness, tonight

04:32

4

Perfect math, in a model bronx childhood

02:23

5

Our reflection in the turbulent heat

01:27

6

Silvana laughs at the film noir shadows

03:33

7

Andy laughs at one of the few golden veins

06:06

8

We were not alone

06:36

9

Name us light

02:34

10

Sometimes I can go for nights, forgetting

02:03

11

She and He describe the exact same intimate moment

06:38

12

A naked woman, comfortable

00:30

13

A more naked man, frightened

00:29

14

The dusk coming to a moving rest

01:01

15

Somewhere in the deepest blue

04:31

16

The heat changed the colors of my eyes

01:37

17

The night finding it's form

01:54

18

Some Scottish Lullaby

00:43

19

In Olinda, she calmly explained the use of the reflexive

03:48

20

All us working class boys

05:11

Total Runtime

01:03:06
Info zu Waning Crescent Moon
The enigmatic producer-composer-percussionist Kip Hanrahan developed his own A renowned composer, bandleader, visionary producer, and creative instigator, Kip Hanrahan has long been known for intensely passionate music that is both tender and hard-driving, with a deep poetic edge. 'Crescent Moon Waning' is the first Kip Hanrahan album since his 2011 release 'At Home in Anger'. Fans of forward-thinking, outernational music will no doubt be thrilled to hear that Hanrahan is back!
The cast of musicians includes such luminaries as vocalist/bassist Jack Bruce, tenor saxophonists Chico Freeman, JD Allen and Craig Handy, bassists Steve Swallow and Andy González, plus many others.
Kip Hanrahan has experienced a lot. He was an assistant with Nouvelle Vague director Jean-Luc Godard, the video artist Nam June Paik and the innovative composer Carla Bley, made from the early eighties wonderful records like "Coup de Tete", "Desire Develops An Edge" and "Exotica "for which he formed fantastic, exciting all-star bands with Jack Bruce, Milton Cardona, Charles Neville, Henry Threadgill, David Murray, Arto Lindsay, Billy Bang, Taj Mahal, Astor Piazzolla and even Sting.
Today Kip Hanrahan moves between Rio de Janeiro and Reston, Virginia, swinging cross boundaries acts as a catalyst again, less as a jazz musician in the usual sense. On his 14th album percussionist and producer, poet and visionary Kip Hanrahan compensates his vivid anger about oppression and exclusion: "Crescent Moon Waning" - a fascination with excitement, relaxation, warmth and magic.
"There is nothing quite like Mr. Hanrahan's music ? a steamy blend of rhythmic and melodic tensions, drawn from musicians of different traditions (Latin, jazz, rock), yet with something very much his own." (Jason Weiss, The New York Times)
"The music of Hanrahan, and of the American Clavé label which he runs, is rich beyond compare." (Phil Johnson, The Independent)
"He leads the band, and doesn't really play, but Kip Hanrahan is a forward thinker and an incredible organizer of all-star progressive bands. The founder of the American Clave label, his style is a blend of Latin rhythms and avant-garde."(AllMusic)
Kip Hanrahan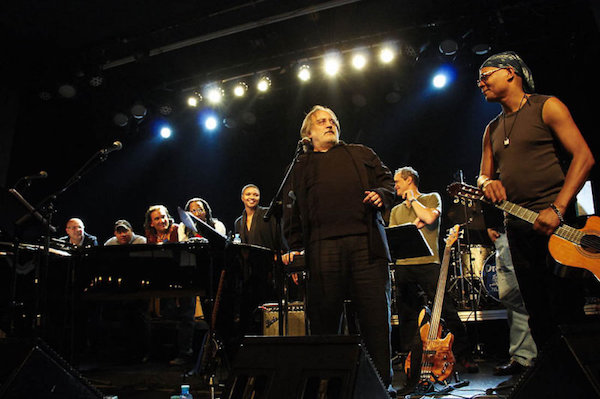 Kip Hanrahan
A producer, a composer, a percussionist and facilitator, Kip Hanrahan has an uncanny ability to assemble remarkable musicians and apply their talents in interesting ways. The results are often magical.
Kip Hanrahan started out as a percussionist, a fairly left-field occupation for an Irish-Jewish boy, even if he did grow up in a Puerto Rican neighborhood of the Bronx, New York.
After gaining a fellowship in sculpture at the Cooper Union Arts in New York, Kip began collect several musical hats: those of producer, director, writer/arranger and conductor. However, his most apt role would be one of facilitator, for Kip has the knack of being able to connect artists to his musical ideas. Drawing on a myriad of influences and genres, from rock, funk, jazz and blues, as well as the Latin sounds of his formative years, Kip conjures a distinctive meld of music.
Passion for the music and an uncontrollable verbal volubility gives Kip's personality an irascible edge.


Booklet für Waning Crescent Moon