---
Schubert: Late Piano Works, Vol. 3 (Andrea Lucchesini plays Schubert's Piano Sonatas Nos. 18 & 19) Andrea Lucchesini
Album Info
Album Veröffentlichung:
2020
HRA-Veröffentlichung:
01.10.2020
Das Album enthält Albumcover Booklet (PDF)
Franz Schubert (1797 - 1828): Piano Sonata No. 18 in G Major, D. 894 'Fantasia':

1

Piano Sonata No. 18 in G Major, D. 894 'Fantasia': I. Molto moderato e Cantabile

17:57

2

Piano Sonata No. 18 in G Major, D. 894 'Fantasia': II. Andante

08:21

3

Piano Sonata No. 18 in G Major, D. 894 'Fantasia': III. Menuetto. Allegro Moderato

04:45

4

Piano Sonata No. 18 in G Major, D. 894 'Fantasia': IV. Allegretto

09:08

Piano Sonata No. 19 in C Minor, D. 958:

5

Piano Sonata No. 19 in C Minor, D. 958: I. Allegro

11:40

6

Piano Sonata No. 19 in C Minor, D. 958: II. Adagio

08:42

7

Piano Sonata No. 19 in C Minor, D. 958: III. Menuetto. Allegro

03:19

8

Piano Sonata No. 19 in C Minor, D. 958: IV. Allegro

10:00

Total Runtime

01:13:52
Info zu Schubert: Late Piano Works, Vol. 3 (Andrea Lucchesini plays Schubert's Piano Sonatas Nos. 18 & 19)
Auf der abschließenden Aufnahme seiner dreiteiligen Reihe mit Klavierwerken aus Franz Schuberts Spätzeit widmet sich Andrea Lucchesini zwei höchst unterschiedlichen Werken: der sanft ausschwingenden Sonate G-Dur (D 894) und der dramatischen Sonate c-Moll (D 958).
Andrea Lucchesini gehört zu den profiliertesten Pianisten Italiens und hat sich vor allem durch Aufnahmen sämtlicher Beethoven-Sonaten sowie von Kammermusik (u.a. bei audite) einen Namen gemacht. Die jüngste Beschäftigung des 1965 in der Toskana geborenen Musikers gilt dem Klavierwerk aus den letzten Lebensjahren von Franz Schubert - einem höchst vielfältigen musikalischen Kosmos, in dem sich Schubert von Ludwig van Beethovens Einfluss frei macht und weit in die Moderne vorstößt.
Das trifft auch für die beiden Werke zu, die Lucchesini jetzt auf seiner dritten und letzten CD der vielfach gepriesenen Schubert-Reihe vorlegt. Man könnte sie sich nicht gegensätzlicher denken: Während die Sonate G-Dur D 894 mit sanften, lange ausschwingenden Klängen beginnt, die wie improvisiert wirken, erinnert die Sonate c-Moll D 958 mit ihren kernigen Anfangsakkorden an Beethovens Klavierstil - für Schubert ein bewusst gewählter Ausgangspunkt, um dann sein eigenes Konzept einer zeitgenössischen Sonate zu entwickeln.
Andrea Lucchesini, ein Schüler der legendären Maria Tipo in Florenz, wird der Gegensätzlichkeit der beiden Werke auf magische Weise gerecht: Er versenkt sich geradezu in die Klavierschwingungen des einen Werkes und verleiht dem anderen eine drängende, dramatische Kraft.
Andrea Lucchesini, Klavier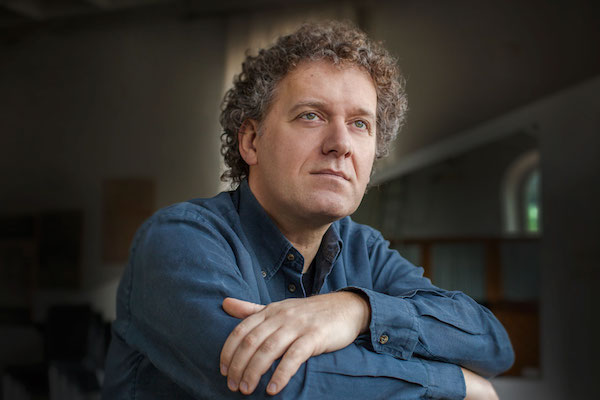 Andrea Lucchesini
Born in 1965, Andrea Lucchesini studied piano with Maria Tipo and graduated in 1982. In 1983 he became the first Italian prize winner of the Dino Ciani International Piano Competition, which launched him on a brilliant international career. Since then he has performed with major orchestras under famous conductor, among which Claudio Abbado, Semyon Bychkov, Roberto Abbado Riccardo Chailly, Dennis Russell Davies, Charles Dutoit, Daniele Gatti, Gianluigi Gelmetti, Daniel Harding and Giuseppe Sinopoli.
In 1994 a jury of international musicologists, having considered the results achieved so far in his career, awarded Lucchesini the prestigious Accademia Chigiana Prize and, in 1995, the Critics Prize F. Abbiati.
In July 2001 Andrea Lucchesini premièred the new Piano Sonata by Luciano Berio at the Zurich Festival, continuing the close relationship with the composer established when Andrea Lucchesini performed Berio's Piano Concerto Echoing Curves all over the world, later recorded for BMG with the London Symphony Orchestra. Lucchesini's interest for the XX century repertoire is demonstrated, besides his choice of programs, also by his registration of Schönberg Pierrot Lunaire and Berg Kammerkonzert with the Dresden Staatskapelle and Giuseppe Sinopoli for Teldec.
Deeply committed to chamber music as well, Andrea Lucchesini participates in the Lockenhaus and Moritzburg Chamber Music Festivals and from September 2005 he is the Artistic Director of the Chamber Music Festival in Florence.
In the season 2005-2006 we remind in particular the concerts with the London Philharmonic and Wladimir Yurowski, with the Galicia Orchestra and Carlo Rizzi, with Italian Radio National Orchestra and Yutaka Sado and with the BBC Orchestra in Manchester.


Booklet für Schubert: Late Piano Works, Vol. 3 (Andrea Lucchesini plays Schubert's Piano Sonatas Nos. 18 & 19)