---
Album Info
Album Veröffentlichung:
2023
HRA-Veröffentlichung:
05.10.2023
Das Album enthält Albumcover
Samuel Barber (1910 - 1981): Mélodies passagères, Op. 27:

1

Barber: Mélodies passagères, Op. 27: I. Puisque tout passe

01:41

2

Barber: Mélodies passagères, Op. 27: II. Un cygne

02:40

3

Barber: Mélodies passagères, Op. 27: III. Tombeau dans un parc

01:55

4

Barber: Mélodies passagères, Op. 27: IV. Le clocher chante

01:13

5

Barber: Mélodies passagères, Op. 27: V. Départ

01:51

Florence Price (1887 - 1953): Hold Fast to Dreams:

6

Price: Hold Fast to Dreams

01:50

We have tomorrow:

7

Price: We have tomorrow

01:17

Johannes Brahms (1833 - 1897): Zwei Gesänge, Op. 91:

8

Brahms: Zwei Gesänge, Op. 91: I. Gestillte Sehnsucht

06:26

9

Brahms: Zwei Gesänge, Op. 91: II. Geistliches Wiegenlied

05:31

Amy Beach (1867 - 1944): Three Songs, Op. 19:

10

Beach: Three Songs, Op. 19: No. 2, Ecstasy

02:31

Three Songs, Op. 21:

11

Beach: Three Songs, Op. 21: No. 1, Chanson d'Amour

05:03

Two Songs, Op. 100:

12

Beach: Two Songs, Op. 100: No. 1, A mirage

02:52

13

Beach: Two Songs, Op. 100: No. 2, Stella viatoris

03:26

Arthur Shepherd (1880 - 1958): Triptych for High Voice and String Quartet:

14

Shepherd: Triptych for High Voice and String Quartet: I. He it is

06:19

15

Shepherd: Triptych for High Voice and String Quartet: II. The day is no more

04:32

16

Shepherd: Triptych for High Voice and String Quartet: III. Light, my light

04:10

Gabriel Faure (1845 - 1924): La bonne chanson, Op. 61:

17

Faure: La bonne chanson, Op. 61: I. Une sainte en son auréole

02:16

18

Faure: La bonne chanson, Op. 61: II. Puisque l'aube grandit

02:05

19

Faure: La bonne chanson, Op. 61: III. La lune blanche luit dans les bois

02:59

20

Faure: La bonne chanson, Op. 61: IV. J'allais par des chemins perfides

01:57

21

Faure: La bonne chanson, Op. 61: V. J'ai presque peur, en vérité

02:23

22

Faure: La bonne chanson, Op. 61: VI. Avant que tu ne t'en ailles

02:49

23

Faure: La bonne chanson, Op. 61: VII. Donc, ce sera par un clair jour d'été

02:46

24

Faure: La bonne chanson, Op. 61: VIII. N'est-ce pas?

02:48

25

Faure: La bonne chanson, Op. 61: IX. L'hiver a cessé

03:30

Total Runtime

01:16:50
Info zu We have tomorrow
Der gefühlvolle junge amerikanische Tenor Eric Ferring liefert eine bewegende und ambitionierte Sammlung von Kunstliedern mit kammermusikalischem Schwerpunkt. Auf dieser Folgeveröffentlichung seines hochgelobten Debütalbums No Choice but Love (Lexicon Classics) wird Ferring von der Pianistin Madeline Slettedahl und dem französischen Ensemble Quatuor Agate wirkungsvoll unterstützt.
Der in Iowa geborene Ferring, der noch am Anfang seiner Gesangskarriere steht, hat bereits zahlreiche Auftritte an der Metropolitan Opera absolviert und ist an der Santa Fe Opera, beim Spoleto Festival und an der Lyric Opera of Chicago aufgetreten, wo er für seine Darbietung in Pagliacci mit einem Emmy Award ausgezeichnet wurde. Ferring sang auch viel in Europa, unter anderem an der Opéra de Rouen, der Opéra de Paris und der Opéra national du Rhin. Er nahm auch an einer Welttournee von Rodelinda mit The English Concert teil.
We have tomorrow ist eine beeindruckende Übersicht mit wichtigen Zyklen von Samuel Barber, Gabriel Fauré und Arthur Shepherd sowie mit Liedern von Florence Price, Johannes Brahms und Amy Beach. Ferrings zuweilen ungewöhnliche Materialauswahl zeigt, dass er ein Musiker mit breit gefächertem Geschmack und Interessen ist.
Ferring und Slettedahl, mit dem er seit einigen Jahren eng zusammenarbeitet, haben dem Album eine originelle Besetzung gegeben, indem sie sechs Werke aufgenommen haben, die Streicher erfordern. Das in Paris ansässige Quatuor Agate - Adrien Jurkovic und Thomas Descamps (Violinen), Raphaël Pagnon (Viola) und Simon Iachemet (Violoncello) - demonstriert auf eindrucksvolle Weise die Affinität des Kunstlieds zu kleinen Instrumentalbesetzungen.
Eric Ferring, Tenor Madeline Slettedahl, Klavier Quatuor Achat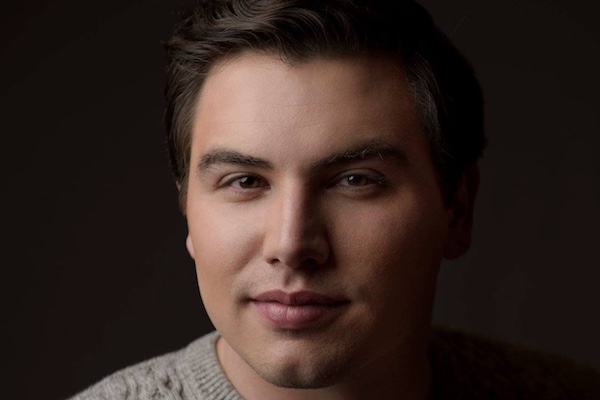 Eric Ferring
Emmy-winning, Billboard-charting American tenor Eric Ferring is known internationally as "a prodigiously gifted lyric tenor" (Opera News) for his "fine, gleaming tenor" (New York Classical Review), as well as for having "a beautifully round and warm timbre, expressive, and with great finesse" (Olyrix). His expertise ranges from early bel canto repertoire and the music of Handel and Mozart to the origination of contemporary operatic roles.
Eric Ferring made his anticipated Metropolitan Opera debut during the 2021-2022 season singing Pong in Turandot, followed by Tamino in The Magic Flute, Arturo in Lucia di Lammermoor, a Royal Herald in Don Carlos, and covering Grimoaldo in Rodelinda. He made his debut at Santa Fe Opera, singing Fenton in Sir David McVicar's new production of Falstaff,as well as his Spoleto Festival (USA) debut in Beethoven's 9th Symphony. In the fall of 2022, Ferring released his solo debut album with pianist Madeline Slettedahl titled No Choice but Love: Songs of the LGBTQ+ Community with Lexicon Classics. His performance in Chicago Lyric Opera's production of Pagliacci was nominated and won a 2022 Emmy Award. The 2022-2023 season includes a return to Opéra de Rouen and debuts with the Opéra de Paris as Lurcanio in Ariodante and the Opéra national du Rhin as Tamino. This season includes a return to Opéra de Rouen, debuts with Opéra de Lille, Haymarket Opera, and the Dubuque Symphony, as well as a world tour of Rodelinda with The English Concert.
Ferring's numerous awards include top prizes at many competitions including the George London Foundation for Singers, Glyndebourne Opera Cup, Gerda Lissner Foundation International Voice Competition, American Opera Society of Chicago, the National Society of Arts and Letters, the Metropolitan Opera Laffont Competition, as well as grants and awards from the Richard Tucker Foundation, Sullivan Foundation, Santa Fe Opera, and Opera Theatre of Saint Louis.
He is a native of Dubuque, Iowa and graduated from Drake University with his Bachelor of Music in Vocal Performance and The Boston Conservatory with his Master of Music in Opera Performance. Ferring is a graduate of the Lyric Opera of Chicago's Ryan Opera Center and the Pittsburgh Opera Resident Artist Program.
Ferring is also the Project Curator for Lexicon Classics, Soloists Vice President at the American Guild of Musical Artists (AGMA), and the Executive Director of the Collaborative Arts Institute of Chicago (CAIC).
This season, Mr. Ferring releases his second album, We have tomorrow, with his dear friend and collaborative pianist Madeline Slettedahl and string quartet, Quatuor Agate. This album will be released with DELOS on October 6. He makes his house and role debut as Don Ottavio in Don Giovanni at Opéra de Lille and role debut as Grimoaldo in Rodelinda in a world tour with The English Concert conducted by Harry Bicket. He will also debut with his hometown symphony, the Dubuque Symphony, and have house and role debuts with Haymarket Opera. Ferring will perform in Paris and Aix-en-Provence with the Insula Orchestra in a staged production of Mozart Requiem. Ferring makes a return to Florentine Opera in recital, to Opéra de Rouen Normandie for Don Ottavio in Don Giovanni, and to the Tampa Oratorio Singers for Beethoven's Mass in C.


Dieses Album enthält kein Booklet