---
Album Info
Album Veröffentlichung:
2021
HRA-Veröffentlichung:
09.04.2021
Das Album enthält Albumcover
Entschuldigen Sie bitte!
Sehr geehrter HIGHRESAUDIO Besucher,
leider kann das Album zurzeit aufgrund von Länder- und Lizenzbeschränkungen nicht gekauft werden oder uns liegt der offizielle Veröffentlichungstermin für Ihr Land noch nicht vor. Wir aktualisieren unsere Veröffentlichungstermine ein- bis zweimal die Woche. Bitte schauen Sie ab und zu mal wieder rein.
Wir empfehlen Ihnen das Album auf Ihre Merkliste zu setzen.
Wir bedanken uns für Ihr Verständnis und Ihre Geduld.
Ihr, HIGHRESAUDIO
1

Do It Fast

03:18

2

Get Em Up

03:05

3

Bar Band

03:25

4

River Kids

03:31

5

Doing Everything Right

03:04

6

Don't Wait Up On Me

03:34

7

Gone Looks Better

02:47

8

Stronger Than You

03:08

9

Long Shots

03:28

10

Cars On Blocks

03:09

11

Be A Cowboy

03:21

12

To An End

03:48

Total Runtime

39:38
Info zu Long Shots
After hustling for many years, Country rocker Tim Montana today announces his first album as a signed artist, Long Shots, will be released on April 9 via Music Knox Records/BBR Music Group. The Montana native blends Country with rock electric guitar and influences from the West to deliver a collection of 12 songs that embraces hard and fast-living, the American experience and the blue-collar way.
The music is unapologetic, relatable and raw as it draws stories and imagery from Tim's days growing up in a single-wide north of Butte, Montana without electricity, grinding it out by taking odd jobs just to pay the bills (like cleaning kennels, operating a carousel, being a ranch hand) and hard living on the road. The album title is a nod to the hard road Montana had to take to arrive at this moment and how as improbable as his ambitions may have seemed, he overcame his struggles and all of the odds—and he did it his own way. As a whole, this album is an ode to the underdogs and screams "hard work pays off."
"I heard 'no' from just about every record label around (more than once from some), but all my life I've never let outside factors stand in the way of my aspirations—instead the rejection fueled me to dig my heels in more, get a little scrappier and work even harder," said Tim Montana "The fact that I'm now about to put out an album as a signed artist kind of blows my mind in the best way—I'm lucky enough to be six feet up instead of six feet under and I celebrate that every day."
An off-the-grid thrill-seeker and hell raiser, Montana has more than a few stories to tell. To bring those tales to life, he teamed up with award-winning producer, Michael Knox (Jason Aldean, Kelly Clarkson, Thomas Rhett) build upon his sound which draws influence from the rural lifestyle with a hint of adrenaline. The music is Country—but don't mistake it for southern. With geography impacting Tim's musical influences, he's located somewhere between Seattle and its grunge, Texas' roadhouse, Nashville's Country, Wyoming's Chris LeDoux, and the Heartland's rock.
Across the album Montana embraces the rough-and-tumble and folks who aren't afraid to do the dirty work. "Get Em Up," available today is an anthem for the blue collar that celebrates the camaraderie amongst their fellowmen. The high-energy track takes off with heavy Western influences, as if you can hear the spurs jangling as a boot stomps, before a chorus of electric guitars and loud drums kick in.
Armed with an unmatched magnetism, Montana has an uncanny relatability that has made him fast friends from people from all walks of life including rock legends, tribesman, rappers, CEOs, NFL players, ranchers, fellow country artists (including Travis Tritt who just released a song written by Tim) and everybody in between. It's with this genuine charisma that Montana tackles each song, whether high octane (like his Evel Knievel-inspired "Do It Fast") or sweet and nostalgic, leaning into his seasoned past to deliver authentic vocal performances highlighted by his gritty tones.
Chiefly considered an artist, Montana is a true Renaissance man, moonlighting as a TV personality, marksman, father, husband, foodie, hell-raiser, businessman and—he'll soon add film actor to his resume (he recently wrapped filming for The Last Son alongside Heather Graham, Machine Gun Kelley, Thomas Jane and Sam Worthington). In addition to starring in his own show, "Tim Montana's Wild Side" on Velocity Outdoor Channel, Tim is involved in Ravin, CenterPoint, Crosman, Benjamin, Polaris, Black Rifle Coffee, Fender, Gerber, Bicycles, Indian Motorcycles, Kicker Performance Audio, Orange Amplifiers, Snap On and Traeger Grills, in addition to his own companies Whisker Bomb Original Foods (with ZZ Top's Billy Gibbons), Tim Montana's Vigilante Cigars (with Big Sky Cigars) and Ol' Boy Apparel.
Tim Montana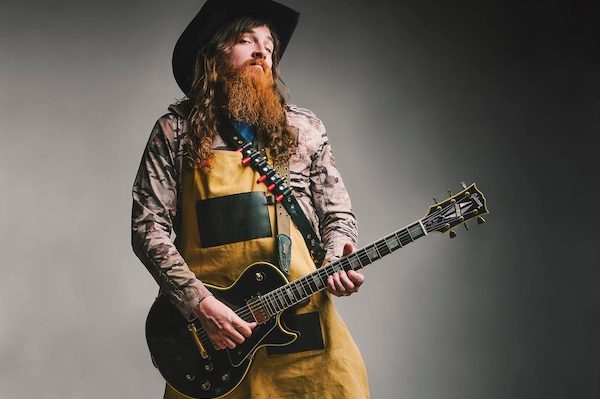 Tim Montana
Whether he's performing onstage with ZZ Top in front of a crowd of thousands, kicking it with his friend Dave Grohl at a Foo Fighters gig or racing ATVs with extreme-sports star Travis Pastrana, Tim Montana has a knack for always being in the right place at the right time. But don't chalk it up to luck. Rather, it's Montana's innate talent, unrelenting hustle and magnetic charisma that have made the country-rock singer-songwriter a dude that everyone — from the famous to the blue-collar — wants to be around. Raised in the wilds near Butte, Montana, Tim Montana (yes, it's his real name), entered the world as an off-the-grid thrill-seeker. He and his buddies would take to the nearby mountains to fish, hunt and raise hell as an escape from their rustic home lives — Montana grew up without electricity. Soon, however, he sought out a different high: the kind that only comes from performing live music. Eager to perfect the guitar playing he began when he was just 6 years old, he moved to Los Angeles to put his time in studying his craft.
"Music was an escape from being secluded in the woods. When I played guitar and closed my eyes I was leaving Butte and seeing the world," Montana says. "When I moved to L.A., I went from having no electricity to living on Hollywood Boulevard. It was quite the culture shock."
In a uniquely Tim Montana way, he somehow found himself in the company of David Letterman during a trip back home to Montana, and the talk-show host personally invited him to perform on his show. In 2008, Montana sang his song "Butte, America" for a national audience on the Late Show.
Eventually, he ended up in Nashville, where he formed his band the Shrednecks and established himself as a thrilling live performer. He's a gregarious personality and struck up friendships with such diverse figures as Kid Rock and the Navy SEAL who led the raid to take down Osama bin Laden, Rob O'Neill. In Kid Rock, Montana found a kindred rebel spirit and began one of his most prolific creative periods, opening for the rap-rock icon and co-writing two charting singles for Rock's Sweet Southern Sugar album: the Top 10 country hit "Tennessee Mountain Top" and the Number 16 rock anthem "Greatest Show on Earth."
"We have a lot in common," he says of his relationship with Rock. "The way we write songs is very similar, our performance style is full throttle and we instantly hit it off."
But it's ZZ Top's legendary Billy F. Gibbons with whom Montana has formed his longest and most prosperous relationship. Natural collaborators, the pair has written, recorded and performed together countless times, co-writing songs like "Weed and Whiskey," "Rust and Red" and "Fifty Fifty." In 2013, the hirsute rockers penned "This Beard Came Here to Party," which became the theme song of the Boston Red Sox as they fought to a World Series championship, and later Music City's NHL franchise the Nashville Predators. "Billy and I bonded over beards, and now he is part of the family," Montana says.
Now, as the Whisker Brothers, Montana and Gibbons are gearing up to launch their own hot sauce company, Whisker Bomb Pepper Sauce, with the backyard anthem "Good Ol' BBQ." Barbecue is a cornerstone of Montana's life, and he regularly gives followers the meat sweats with epic grill photos posted to his Instagram. As the brand ambassador for Traeger Grills, he recently performed with Dave Grohl at the company's all-star weekend in Memphis and taught a how-to-barbecue class to music-industry executives in Nashville. In addition to Traeger, Montana is a spokesperson and influencer for Black Rifle Coffee, Snap-On Tools, Polaris and Weather Guard, and remains a passionate advocate for the U.S. military, helping tell the stories of patriots like Rob O'Neill and the late "American Sniper" Chris Kyle.
"Working with brands is something I never set out to do, but it happened because I genuinely love products that fit my outdoor lifestyle. I couldn't sell teeth-whitening stuff, but I can sell a grill," he quips. "And my heroes have always been soldiers. I love getting to help those guys and acknowledge their sacrifice. I'll always support the military."
But while Montana may be a foodie, a marksman, an adrenaline junkie and a TV personality, it's music that remains at the core of the man. In the fall, he'll release his new full-length album American Thread. The video for the LP's supercharged title track, featuring Montana in his snowy home state, is currently in rotation at CMT and shortly he'll unveil a video for another album cut, "Mostly Stoned." Unable to do anything small, Montana enlisted notorious Hollywood bad boy Charlie Sheen to direct the clip, garnering national headlines for the project.
And he has yet more irons in the fire. His song "Asphalt Throwdown" is being used by Fox Sports for its NASCAR telecasts, the raucous "Hillbilly Rich" appears in the Action Figures 2 film, and the original composition with Gibbons "American Dresser" soundtracks the Tom Berenger movie of the same name. All of this builds on what Montana has already accomplished since breaking out of Butte all those years ago.
But he's nowhere near finished.
"It wasn't easy for me on Music Row, so I had to work a little bit harder," he says. "Now we're doing things in Nashville in a way that hasn't been done before."
For Montana, the Big Sky is the limit.


Dieses Album enthält kein Booklet