---
Album Info
Album Veröffentlichung:
2023
HRA-Veröffentlichung:
03.02.2023
Das Album enthält Albumcover
Johann Sebastian Bach (1685 - 1750): Chromatic Fantasia & Fugue in D Minor, BWV 903:

1

Bach: Chromatic Fantasia & Fugue in D Minor, BWV 903: I. Fantasia

05:03

2

Bach: Chromatic Fantasia & Fugue in D Minor, BWV 903: II. Fugue

05:00

Toccata in F-Sharp Minor, BWV 910:

3

Bach: Toccata in F-Sharp Minor, BWV 910

09:28

Prelude & Fugue in A Major, BWV 896:

4

Bach: Prelude & Fugue in A Major, BWV 896: I. Prelude

00:44

5

Bach: Prelude & Fugue in A Major, BWV 896: II. Fugue

02:14

Prelude & Fugue in A Minor, BWV 894:

6

Bach: Prelude & Fugue in A Minor, BWV 894: I. Prelude

05:22

7

Bach: Prelude & Fugue in A Minor, BWV 894: II. Fugue

03:59

Suite in E Minor, BWV 996:

8

Bach: Suite in E Minor, BWV 996: I. Praeludio. Presto

02:16

9

Bach: Suite in E Minor, BWV 996: II. Allemande

02:56

10

Bach: Suite in E Minor, BWV 996: III. Courante

02:03

11

Bach: Suite in E Minor, BWV 996: IV. Sarabande

02:56

12

Bach: Suite in E Minor, BWV 996: V. Bourrée

00:59

13

Bach: Suite in E Minor, BWV 996: VI. Gigue

02:31

Fantasia in G Minor, BWV 917:

14

Bach: Fantasia in G Minor, BWV 917

02:15

Prelude, Fugue & Allegro in E-Flat Major, BWV 998:

15

Bach: Prelude, Fugue & Allegro in E-Flat Major, BWV 998: I. Prelude

02:46

16

Bach: Prelude, Fugue & Allegro in E-Flat Major, BWV 998: II. Fugue

04:27

17

Bach: Prelude, Fugue & Allegro in E-Flat Major, BWV 998: III. Allegro

02:43

Total Runtime

57:42
Info zu J.S. Bach: Works for Harpsichord
Harpsichord player and organist Jiang Yushan revisits the composer Bach's rarely performed pieces for keyboards.
Often eliciting curiosity from audiences, the appearance of Jiang Yushan's harpsichord is usually met with comments like "it looks different from piano", and, "the keyboard looks strange with the inverted black and white keys".
For Jiang, the curiosity opens a door to new audiences that also discover the harpsichord is a joy to listen to.
iang released his new album, Johann Sebastian Bach: Works for Harpsichord, featuring seven musical works by Bach, his favorite composer of the Baroque era.
Bach was a master in the art of composing fugues. On his new album, Jiang recorded Chromatic Fantasia and Fugue in D Minor, BWV 903, and Prelude and Fugue in A Major, BWV 896.
Jiang adds that two of the music pieces on the new album are very special: Suite in E Minor, BWV 996 and Prelude, Fugue and Allegro in E-Flat Major, BWV 998, since they were written by Bach for lute.
He once considered recording an album featuring only Bach's early musical works. However, due to Jiang's love for Prelude, Fugue and Allegro in E-Flat Major, BWV 998, which was composed by Bach during his final years, he was keen to include it on the new album.
"When I prepared for this album, I tried to select works written throughout the composer's life, from different eras and in different styles, which were rarely performed," says Jiang, 34.
"When I compare those pieces, I realize that though they come from different eras and have been written with different techniques in mind, they all speak for the composer. He is mysterious and both he and his music intrigue me very much."
Jiang's relationship with Bach is a deep one.
When he was a child, Jiang loved going to bookstores, influenced by his parents who both love to read.
"I still remember that I saw Bach's name in Chinese on a music score in a bookstore when I was a little boy. I could only read the first part of his name in Chinese but I didn't know the second, so I asked my father how to read it," recalls Jiang, who was born in Tianjin.
Yushan Jiang, harpsichord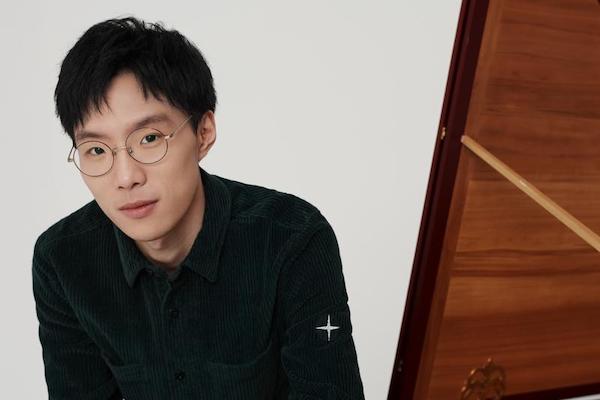 Yushan Jiang
Like many children in China, Jiang started to learn to play modern piano at the age of 6. His parents hoped that the piano lessons would rein in Jiang's energetic and noisy temperament. He played Bach's music and read about the composer and the keyboard instruments that he wrote music for.
At the age of 13, he performed Edvard Grieg's Piano Concerto in A Minor, Op 16, with the Tianjin Symphony Orchestra and then, at 15, went to Moscow to further his musical studies.
After graduating from the Central Music School at the Moscow State Tchaikovsky Conservatory, Jiang went on to seek further education there, as well as at Folkwang University of the Arts in Germany and Zurich University of the Arts in Switzerland, where he trained in harpsichord and organ with eminent teachers, including German organist and harpsichordist Christian Rieger and Swiss organist and harpsichordist Jean-Claude Zehnder.
"It's not purely about presenting music works which were written for old instruments like harpsichord. It is more about reimagining a piece of music over the notes on the page," says Jiang.
In 2014, over the course of nearly three months and 29 concerts in Zurich, Jiang played all the keyboard works of Bach. In the summer of 2016, in Duisburg, Germany, Jiang, with his teacher Rieger, played the works composed by Bach and his sons for two harpsichords.
He founded the Baroque ensemble, Z Leonis, in 2012, whose members are Chinese musicians specializing in baroque that live in Europe. As Jiang says, playing beautiful music with talented people is always an amazing experience.
Away from the harpsichord, as an organist, Jiang is particularly an expert in works from the late Renaissance to Baroque periods. He is one of the few organists able to perform large organ recitals in China.


Dieses Album enthält kein Booklet