---
Album Info
Album Veröffentlichung:
2022
HRA-Veröffentlichung:
02.12.2022
Das Album enthält Albumcover Booklet (PDF)
Heinrich August Marschner (1795 - 1861): Der Kiffhäuser Berg, Op. 89:

1

Marschner: Der Kiffhäuser Berg, Op. 89: Overture

08:40

Schön Ella, Op. 27 (Excerpts):

2

Marschner: Schön Ella, Op. 27 (Excerpts): Overture

06:21

3

Marschner: Schön Ella, Op. 27 (Excerpts): Entr'acte to Act II

02:32

4

Marschner: Schön Ella, Op. 27 (Excerpts): Ballet

12:04

5

Marschner: Schön Ella, Op. 27 (Excerpts): Entr'acte to Act III

01:29

6

Marschner: Schön Ella, Op. 27 (Excerpts): Entr'acte to Act IV

03:23

7

Marschner: Schön Ella, Op. 27 (Excerpts): Marsch der Krieger und Mädchen

02:40

8

Marschner: Schön Ella, Op. 27 (Excerpts): Entr'acte to Act V

04:08

Ali Baba, Op. 26 (Excerpts):

9

Marschner: Ali Baba, Op. 26 (Excerpts): Overture

07:23

10

Marschner: Ali Baba, Op. 26 (Excerpts): Melodrama

01:42

11

Marschner: Ali Baba, Op. 26 (Excerpts): Schluss to Act II

02:09

12

Marschner: Ali Baba, Op. 26 (Excerpts): Ballet

06:16

13

Marschner: Ali Baba, Op. 26 (Excerpts): Schluss to Act III

01:30

Der Holzdieb:

14

Marschner: Der Holzdieb: Overture

04:40

Die Wiener in Berlin:

15

Marschner: Die Wiener in Berlin: Overture

06:11

Total Runtime

01:11:08
Info zu Marschner: Overtures & Stage Music, Vol. 1
Heinrich Marschner, der führende deutsche Komponist der romantischen Oper zwischen Weber und Wagner, war ein fortschrittlicher Erneuerer, der seiner Musik eine neue Dimension verlieh – den übernatürlichen Antihelden, der in das Grauen verstrickt ist, wie der Protagonist von Der Vampyr (1828). Vor seinen psychologischen Opern komponierte Marschner jedoch eine Reihe von Ouvertüren und Bühnenwerken, die sich mit eher konventionellen Stoffen befassten. Diese sind lange Zeit übersehen worden. In diesem ersten Band repräsentiert Schön Ella Marschners Beherrschung der Form, seine geschickte Orchestrierung und seine melodische Begabung, während die Auszüge aus Ali Baba sein Gespür für theatralische Prägnanz und Stimmungsbildung offenbaren.
Czech Chamber Philharmonic Orchestra Pardubice
Dario Salvi, Dirigent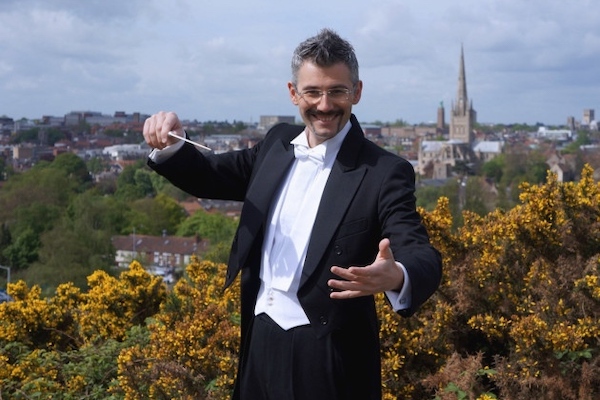 Dario Salvi
is an Anglo/Italian orchestral conductor, musicologist and researcher specialized in the restoration and performance of rare works. His main area of interest is Viennese Music and the works of Meyerbeer and Auber. Maestro Salvi was born in Brescia, Northern Italy, in 1975. From a very young age, he displayed a great interest in music and it was not long before he started studying soprano saxophone with the S.Cecilia Philharmonia. After years of studying performance and music theory as a teenager, he soon became an in-demand saxophonist and alto clarinet player and worked with many bands and big-bands, for which he also acted as an arranger. During his 20's and early 30's he toured the world playing bass for orchestras and bands until he decided to perfect the arts of conducting which he had started learning during his time as Director of Music in the Army. A Master of Music from the University of East Anglia followed.
Maestro Salvi has conducted opera and operetta across Europe and the USA. He is currently busy recording all of Auber's operatic works for the classical label Naxos as well as preparing the world premiere of Johann Strauss' comic Opera "Blindekuh" with the Sofia Philharmonic and Chorus, Antonio Bazzini's "Turanda" for an Italian tour, Rumshinky and Thomashefsky's Yiddish Operetta "The Broken Violin" for the USA, Portuguese Fado music and much more. He is also music director for the celebrations of Edith Cavell's centenary with another world premiere, Maltese composer Vassallo's grand Opera entitled "Edith Cavell". Further projects include a mimodrame with music by Vittorio Monti as well as conducting ballet for the UK and Far East Asia. Salvi has published three books on Viennese Operetta on Cambridge Scholars Publishing and music for Musica Mundana and DaVinci publishing. With his wife Hannah, Salvi is also writing the biography of American musician, actor, songwriter and Academy Award and Golden Globe winner Paul Jabara. (www.dariosalvi.co.uk)
Maestro Salvi is the founder of the Imperial Vienna Orchestra in Norwich. It is the only orchestra in the UK to specialize in the authentic reproduction of 19th-century Viennese music, and to regularly perform at Viennese balls.
Maestro Salvi is also a guest conductor and partner of Metamorphosis Chamber Orchestra in New York and principal guest conductor for Concert Operetta Theater in Philadelphia. He has worked amongst others with Neue Preussische Philharmonie (D), Prague Philharmonia (CZ), Prague Chamber Orchestra (CZ), Sofia Philharmonic Orchestra and Chorus (BG), Zagreb Philharmonic (HR), Ruse State Opera (BG), and more, as well has worked with singers like Markus Werba, Andrea Chudak, Gaia Petrone, Franscisco Brito and Ira Lauren.
Maestro Salvi is a Lifetime Honorary Member of the Johann Strauss Society of Great Britain and a recording artist with Naxos Records.
A busy arranger and researcher, Dario has a particular interest in reviving lost works including comic operas and orchestral music.


Booklet für Marschner: Overtures & Stage Music, Vol. 1