---
Album Info
Album Veröffentlichung:
2022
HRA-Veröffentlichung:
25.11.2022
Das Album enthält Albumcover
1

Creamed

05:48

2

Theme from an Imaginary Western

05:29

3

A Letter of Thanks

04:43

4

L'angelo Misterioso

05:55

5

Rope Ladder to the Moon

04:40

6

One Without a Word

06:01

7

Smiles Story and Morning Grins

07:40

8

Folk Song

05:39

9

Traintime Time

06:01

10

Fuimus (We Have Been)

05:38

Total Runtime

57:34
Info zu Jack Songs
Jeff Berlin, who has been called "the greatest bass player in the world," was a personal friend of Jack's and wanted to record his songs in remembrance of how Jack helped Jeff to find his own musical path.
"Jack Songs" isn't a cover album, not in the literal sense. Except for a couple of tunes from his Cream period (arranged in ways that should surprise people) most of the songs on this album come from other periods in Jack's musical life after Cream. Jack's solo career represented a multitude of musical styles. This recording will be a new revamp of some of those songs, some of the best music that I heard from one of the greatest musicians of the last fifty years. In arranging the music, I was inspired by Giles Martin's production of The Beatles 'Love' album. His production work on this album is fantastic. I tried to follow his example of his fitting various Beatle song quotes from different tunes into each tune by doing a similar thing by combining different Jack songs. Rather than computerized manipulation of music that was already recorded, I arranged the music so that each song on 'Jack Songs' would end up as an individual work comprised of various parts of other songs in them. I never would have thought of this without Giles showing me this path." ...
Jeff Berlin first came to prominence in the 1970s as a member of the band Bruford led by drummer Bill Bruford, countless collaborations followed. For over 40 years, Jeff Berlin has stood as one of the most innovative electric bassists. Known for his one-of-a-kind tone, jaw dropping technique and highly advanced harmonic approaches to the bass, Jeff Berlin has been one of the major figures in firmly establishing the electric bass as a solo instrument well deserving of its own distinct place in modern music.
Jeff's recording and performance credits include a who's who of jazz and rock. They include: Bill Bruford, Allan Holdsworth, Larry Coryell, Pat Martino, John McLaughlin, Anderson Wakeman Bruford Howe, Frank Zappa, Patrick Moraz and many more.
Engineered and produced by John McCracken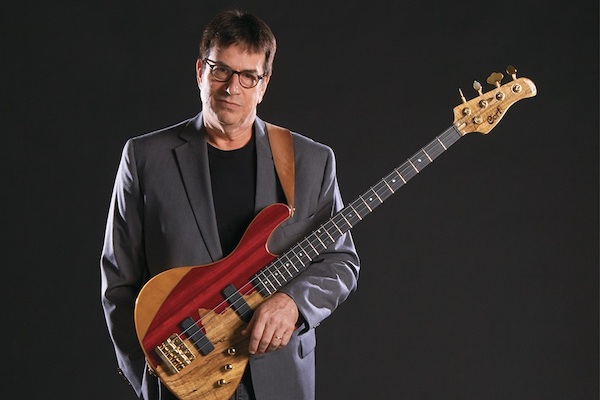 Jeff Berlin
For over forty years Jeff's innovative approach to the electric bass has been heard on dozens of recordings and in performances with an unprecedented array of diverse artists. From Jazz/Fusion virtuosos such as Allan Holdsworth, Bill Bruford Larry Coryell, Yes, Billy Cobham, Scott Henderson, Dennis Chambers, John McLaughlin, and Michael and Randy Brecker, Jeff established himself as one of the world's most influential bass players.
A child prodigy on violin, Jeff Berlin began appearing with orchestras in New York City from the age of nine. However, when he was 14 he switched directions and began playing electric bass, citing Jack Bruce as an early influence (Jack Bruce would later call Jeff, "The best bass player I ever heard"). After a short stint at the Berklee College of Music, Jeff began performing with guitar legend Pat Martino, and Yes keyboard player Patrick Moraz.
Jeff continued to develop his reputation as a versatile and dynamic player with exceptional sight-reading skills, and gained the attention of Bill Bruford after the release of Swiss keyboard virtuoso Patrick Moraz's landmark record "The Story of i", which featured Jeff's legendary proficiency. This led to his role in "The Bruford Band", where for a period in the late '70's he recorded four albums with the legendary drummer along with Allan Holdsworth and Dave Stewart.


Dieses Album enthält kein Booklet