---
Album Info
Album Veröffentlichung:
2023
HRA-Veröffentlichung:
03.02.2023
Das Album enthält Albumcover Booklet (PDF)
Franz Joseph Haydn (1732 - 1809): Piano Trio No. 35 in C Major, Hob. XV:

1

Haydn: Piano Trio No. 35 in C Major, Hob. XV: 21, Op. 71 No. 1: I. Adagio pastorale

05:12

2

Haydn: Piano Trio No. 35 in C Major, Hob. XV: 21, Op. 71 No. 1: II. Molto andante

04:52

3

Haydn: Piano Trio No. 35 in C Major, Hob. XV: 21, Op. 71 No. 1: III. Finale. Presto

04:07

Piano Trio No. 33 in G Minor, Hob. XV:

4

Haydn: Piano Trio No. 33 in G Minor, Hob. XV: 19, Op. 70 No. 2: I. Andante – Presto

08:10

5

Haydn: Piano Trio No. 33 in G Minor, Hob. XV: 19, Op. 70 No. 2: II. Adagio ma non troppo

03:37

6

Haydn: Piano Trio No. 33 in G Minor, Hob. XV: 19, Op. 70 No. 2: III. Presto

03:43

Piano Trio No. 7 in G Major, Hob. XV:

7

Haydn: Piano Trio No. 7 in G Major, Hob. XV: 41: I. Allegro

04:03

8

Haydn: Piano Trio No. 7 in G Major, Hob. XV: 41: II. Menuet – Trio

03:19

9

Haydn: Piano Trio No. 7 in G Major, Hob. XV: 41: III. Adagio

05:05

10

Haydn: Piano Trio No. 7 in G Major, Hob. XV: 41: IV. Finale. Allegro

03:23

Piano Trio No. 21 in B-Flat Major, Hob. XV:

11

Haydn: Piano Trio No. 21 in B-Flat Major, Hob. XV: 8, Op. 40 No. 3: I. Allegro moderato

07:02

12

Haydn: Piano Trio No. 21 in B-Flat Major, Hob. XV: 8, Op. 40 No. 3: II. Allegro moderato

05:34

Piano Trio No. 45 in E-Flat Major, Hob. XV:

13

Haydn: Piano Trio No. 45 in E-Flat Major, Hob. XV: 29, Op. 86 No. 3: I. Poco Allegretto

08:35

14

Haydn: Piano Trio No. 45 in E-Flat Major, Hob. XV: 29, Op. 86 No. 3: II. Andantino ed innocentemente

02:47

15

Haydn: Piano Trio No. 45 in E-Flat Major, Hob. XV: 29, Op. 86 No. 3: III. Finale in the German Style

05:50

Leonid Gorokhov (b. 1967): For Gaspard:

16

Gorokhov: For Gaspard: No. 1, Hiding D

03:26

17

Gorokhov: For Gaspard: No. 2, Minuett

01:57

Total Runtime

01:20:42
Info zu Haydn: Complete Piano Trios, Vol. 2
Der erste Band des Haydn-Zyklus des Trio Gaspard wurde von Käufern und Kritikern gleichermaßen enthusiastisch aufgenommen und von Gramophone als "ein Album fröhlichen, phantasievollen Musizierens, das Appetit auf weitere Folgen macht" beschrieben. Wie für den ersten Band hat das Trio auch für den zweiten Band ein Programm zusammengestellt, das in sich stimmig ist und Trios aus allen Schaffensperioden Haydns enthält. Drei spätere Werke (Nr. 33, 35 und 45) wurden alle 1794/95 komponiert und kontrastieren mit dem frühen Trio Nr. 7 aus der Zeit um 1760, während das Trio Nr. 21 aus der mittleren Periode des Komponisten 1784/85 entstanden ist. Wie in Band 1 beschließt das Trio Gaspard das Programm mit einem weiteren zeitgenössischen Werk, das das Programm widerspiegelt - in diesem Fall For Gaspard des Cellisten und Komponisten Leonid Gorokhov. Der erste der beiden Sätze (eine übliche Struktur in Haydns Trios), "Hidden D" (eine Anspielung auf den populären Verweis auf Haydns D-Dur-Cellokonzert), verarbeitet zahlreiche Themen aus diesem Stück, neben vielen anderen!
Trio Gaspard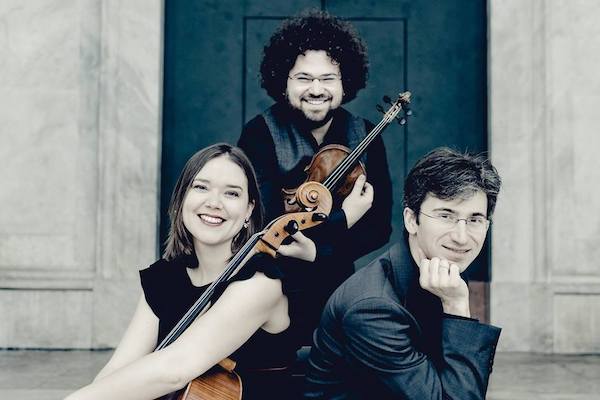 Trio Gaspar
Winners of three major international competitions since their inception in 2010, Trio Gaspard is rapidly proving to be one of the most exciting young piano trios to emerge in recent years. In February 2012 The trio won 1st Prize and Special Prize for the best interpretation of a modern work at the International Joseph Joachim Chamber Music Competition in Weimar. They were awarded 1st Prize at the 5th International Haydn Chamber Music Competition in Vienna in February 2012, as well as receiving the Special Prize for the best interpretation of a work by Joseph Haydn. Additionally, the Trio won 1st Prize at the 17th International Chamber Music Competition in Illzach, France in March 2011. Founded in October 2010, Trio Gaspard has already given acclaimed recitals at the Wigmore Hall, London-; the historic Schlosstheater of Schönbrunn Palace, the ORF Kulturhaus in Vienna-; and at Salle Moliere in Lyon, France. Their performances have been broadcasted for SWR (German South West Radio) , ORF (Austrian Radio) and on Korean radio and television (KBS 'Classical Odyssey').
Trio Gaspard, whose members hail from South Korea, Greece and the UK, works regularly with the internationally renowned musician and one of the founding members of the Alban Berg Quartet, Professor Hatto Beyerle. Mr Beyerle describes them as 'The best Piano Trio I have ever had, or heard', and invited them to join the European Chamber Music Academy. As members of this prestigious organisation Trio Gaspard has given concerts in Germany, France, Paris, England and Vienna and had coaching sessions with many renowned teachers, including Johannes Meissl(Artis Quartet), Gerrit Zitterbart(Trio Abegg), Ferenc Rados, Avedis Kouyoumdjian and Peter Cropper(Lindsay Quartet).
All three players are successful soloists in their own right and continue to pursue their solo careers, giving recitals and performing concertos in prestigious halls across Europe, Asia and the USA. These venues include the Konzerthaus Berlin, Concertgebouw Amsterdam, Lincoln Center New York, Auditori de Madrid, Opera City Hall Tokyo, Megaron Music Hall Athens, Salle Garnier Montecarlo, Teatro Verdi di Firenze, Schubert-Saal Konzerthaus Vienna, Auditorio San Barnaba Brescia Teatro dei Rozzi Siena, Rudolfnium Hall Prague, Royal Festival Hall and Barbican Hall London. They are prize winners at international solo competitions including the Queen Elizabeth Piano Competition, the 'Prague Spring' Cello competition, and the Wieniawski Violin Competition.
Members from the trio have also performed individually with other chamber groups, collaborating with eminent artists such as Hillary Hahn, Mischa maisky, Salvatore Accardo, Bruno Giuranna, Grigory Zhislin, Tanja Tetzlaff, Radovan Vladkovich, Paul Neubauer, Bengt Forsberg, the Quartetto di Cremona and the Hermitage String Trio.
This season, the trio performed at the 'Louis Spohr' Festival in Braunschweig, for the SWR2 concert series in Edenkoben and made a concert tour of South Korea. Upcoming performances include a recital at the Haydn Festspiele in Eisenstadt, Austria, the Bronnbacher Musikfruehling in Germany and at the Wigmore Hall in January 2013.


Booklet für Haydn: Complete Piano Trios, Vol. 2