---
Album Info
Album Veröffentlichung:
2023
HRA-Veröffentlichung:
24.02.2023
Das Album enthält Albumcover
1

Tora

01:57

2

Enteka

04:17

3

Disoriented

06:06

4

Xehorismata

06:33

5

South by Southeast

06:48

6

Menexedes

05:26

7

Hariklak

04:39

8

Sybethera

04:54

9

Osmantakas

05:56

10

Milo Mou Kai Mantarini

04:04

Total Runtime

50:40
Info zu Tora Collective
Unique instrumentation bridges Greek folkloric and modern jazz worlds, with Klampanis (bass, artistic direction), Areti Ketime (vocals), Thomas Konstantinou (oud, laouto), Giorgos Kotsinis (clarinet), Kristjan Randalu (piano), Ziv Ravitz (drums, electronics, co-production) and more.
Following up his acclaimed recent outings Rooftop Stories and Irrationalities, bassist and composer Petros Klampanis creates one of his most inventive musical settings to date with Tora Collective, his sixth album as a leader. For Klampanis, who grew up in Athens, Greece surrounded by the confluence of Mediterranean and Balkan folk cultures, making music has always meant navigating cultural crossroads. With Tora Collective ("Tora"="Now") he puts traditional Greek music at the centre, even as he presents it from a bold new angle.
In addition to the two new originals "Disoriented" and "South By Southeast," Klampanis and his compact hybrid jazz/Greek folk ensemble interpret popular Greek songs such as "Xehorismata," "Sybethera," "Hariklaki" and "Menexedes ke Zoumboulia." These songs, Klampanis asserts, are "not just part of Greek cultural heritage or a fragment of the past, but also as part of the future: they live into the present, breathe into the 'here and now,' while constantly evolving in a dynamic state and in dialogue with contemporary music."
"For me it's a personal thing," he says. "I want to reflect on what Greek music and culture offer the world. How can music from the Aegean to Epirus and from the Ionian Islands to Crete, meet and speak to the hearts and minds of musicians and audiences from different parts of the world, different traditions and backgrounds?"
To that end, Tora Collective draws on regional characteristics, as Klampanis explains: "Every region has a strong identity. In Epirus the clarinet is more prominent and the music has this slow, groovy, meditative vibe. The islands are lighter sounding, Macedonia is groovier, faster tempos and energetic dances. Music from Asia Minor or Istanbul is more sophisticated. Greeks often refer to Istanbul as 'Poli,' from Constantinopoli, so the songs from there are called 'Politika.'"
There is magic in the clear and consistent voice of Areti Ketime throughout Tora Collective, as can also be said for the supremely voice-like articulation of Giorgos Kotsinis on clarinet. Ziv Ravitz, on drums and electronics, also plays a pivotal role as coproducer: "He added so much in the orchestration," says Klampanis. "His knowledge of electronics, all these non-acoustic sounds and keyboards, treatments of the acoustic instruments, it's all because of Ziv. He brought a new perspective on the whole thing."
The string element in Tora Collective is also strong: in addition to Klampanis' bass there is Thomas Konstantinou on oud and the traditional Greek laouto, as well as Kristjan Randalu (the pianist in Klampanis' Irrationalities trio) providing an anchor and bringing Klampanis' inventive arrangements into harmonic focus. Additional guests appear: Alexandros Arkadopoulos on clarinet for "Disoriented," Laura Robles on percussion for "South by Southeast" and trumpeters Sebastian Studnitzky and Andreas Polyzogopoulos on "Milo Mou ke Mandarini" and "Hariklaki," respectively. ("Milo Mou" is slated as a post-release bonus track.)
Using traditional Greek music to discover a common new voice, the project aims to build dialogue, spark creativity, cultivate respect for the past, pave a path forward, discover a new musical storytelling powerful enough to reach and touch audiences in many countries. This is an experiment that bridges worlds: the east and the west, the traditional and the modern, the nostalgic and the forward-looking, using the power of music and improvisation.
Areti Ketime, voice
Giorgos Kotsinis, clarinet
Thomas Konstantinou, oud
Kristjan Randalu, piano
Petros Klampanis, bass
Ziv Ravitz, drums
Special Guests:
Laura Robles, percussion
Sebastian Studnitzky, trumpet
Andreas Polyzogopoulos, trumpet
Alexandros Arkadopoulos, clarinet
Recorded by George Kariotis at Sierra Recording Studios, Athens
Mastered by Christoph Stickel
Produced by Ziv Ravitz & Petros Klampanis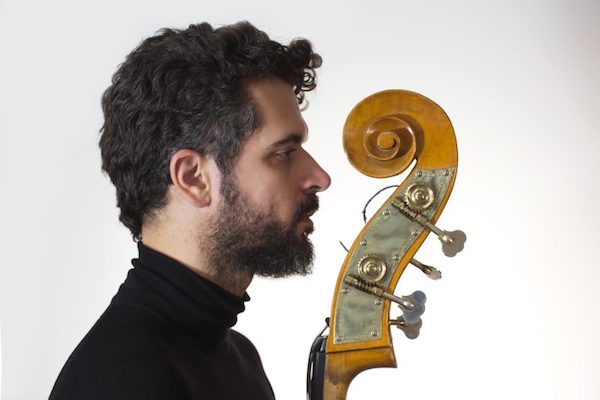 Petros Klampanis
Described by JazzTimes as a "formidable bassist and composer," Petros Klampanis grew up on the Greek island of Zakynthos, surrounded by the confluence of Mediterranean and Balkan folk music. To pursue his musical passions, he dropped out of the Polytechnic School in Athens and in 2005 he began his double bass performance studies at the Amsterdam Conservatory. In 2008, he completed his formal studies at the Aaron Copland School of Music in New York.
Since his relocation to New York City, Klampanis has performed alongside some of the city's renowned jazz musicians, including saxophonist Greg Osby, pianist Jean-Michel Pilc, and drummer Ari Hoenig. In addition to his extensive list of appearances in USA, including the storied venues of Carnegie Hall and Lincoln Center in New York and Kennedy Center in Washington DC, he has performed at the internationally acclaimed North Sea Jazz Festival and the Palatia Jazz Festival in Germany.
His relationship with Greg Osby led to the release of his début album, Contextual, on the saxophonist's Inner Circle Music label. The album was praised by acclaimed bassist Arild Andersen as "one of the most exciting projects I have heard from a bass player in years." Klampanis has received equal praise for his playing and composing. Fellow bassist Drew Gress notes his "aggressive melodicism, beautiful intonation, and uniquely personal string writing." In 2012, Klampanis was invited by the Liepaja Symphony Orchestra for a series of concerts throughout Latvia. His arrangement of the Greek folk song "Thalassaki" was recently performed by the Greek Public Symphonic Orchestra in Athens, with whom Klampanis will perform in December 2013.
Petros Klampanis is also an in-demand educator. He has given workshops internationally, and serves as a guest lecturer at Oberlin Conservatory in Ohio and the Ionian Academy of Music in Greece. He is currently working on his second album, to be released in 2014, with Contextual bandmates Jean-Michel Pilc, guitarist Gilad Hekselman, percussionist John Hadfield, and a string quartet formed by violinists Megan Gould and Maria Manousaki, violist Lev "Ljova" Zhurbin and cellist Yoed Nir.


Dieses Album enthält kein Booklet