---
Album Info
Album Veröffentlichung:
2018
HRA-Veröffentlichung:
21.06.2018
Das Album enthält Albumcover Booklet (PDF)
Clarice Assad (1978):

1

I. Abracadabra!

02:54

2

II. Shamans

04:14

3

III. Klutzy Witches

04:39

Mary Kouyoumdjian (1983 - ):

4

Byblos

09:21

Courtney Bryan

5

Soli Deo Gloria

05:34

Golfam Khayam: Night Triptych:

6

I. Improvisatory

03:54

7

II. Quasi furioso

02:47

8

III. Rubato - Amoroso - Molto cantabile

04:14

Gity Razaz: 4 Haikus:

9

No. 1, Moderato

03:42

10

No. 2, Andante

02:52

11

No. 3, Largo

02:28

12

No. 4, Energetic

01:39

Gabriella Smith:

13

Loop the Fractal Hold of Rain

09:06

Total Runtime

57:24
Info zu Night Triptych
In this wonderful collection of works for two guitars by a group of composers hailing from many spots on the globe, Duo Noire provides a compelling snapshot of the range of expression in contemporary chamber music for the instrument. "Night Triptych" opens with Clarice Assad's (of the famed Assad guitar family) Hocus Pocus, a dynamic work blending the rhythmic intensity and rich harmonic color of the music from her native Brasil with an encyclopedic understanding of the timbral possibilities on the instrument. Percussive effects and brilliant arpeggios mark the opening movement, and a brooding second movement leads into a driving finale. Mary Kouyoumdjian's Byblos is inspired by the ancient Lebanese city of the same name, and involves an accompanying electronic track that subtly deconstructs a Mediterranean traditional dance in hazy washes of sound. The guitar writing at times evokes the figurations of its regional cousin, the oud, and the relationship between live performers and the atmospheric backing track frames the push and pull between past and present in Kouyoumdjian's engagement with this city that has seen multiple civilizations come and go. With its title, Courtney Bryan's Soli Deo Gloria signals its alignment with centuries of work dedicated to the glory of a higher being and purpose. The composition's journey is framed in terms of Bryan's relationship to the stages of prayer — Contemplative, Unsettled and Searching, Questioning and Hoping, a Prayer, Pursuing, Realization, Acceptance. Bryan's incorporation of jazz and gospel elements is subtle, integrated elegantly into her evolving compositional argument. Iranian composer Golfam Khayam's title work is in three movements, "Improvisatory", "Quasi Furioso", and "Rubato, Amoroso, Molto Cantabile." As with Kouyoumdjian's work, we hear echoes of the oud and Middle Eastern music in fleet, ornamental slurred passages and pointed grace notes. But despite the hints at a geographically specific orientation, overall Khayam's work comes from a place of universal contemplation, a style consistent to those familiar with ECM, the revered German label on which she has been featured. Also of Iranian heritage, Gity Razaz's work is more squarely within the modernist compositional tradition, and her Four Haikus are four tightly crafted pieces, reminiscent in language and approach to the great late 20th century repertoire for guitar commissioned by Julian Bream. These works give the listener a chance to hear Duo Noire's cultivated ensemble blend, well considered interpretative approach, and particularly in the second and final movements, rhythmic vibrancy. Gabriella Smith's Loop the Fractal Hold of Rain engages with popular music more overtly than the other music on the recording, opening with an ostinato figure articulated with a slide that gives way to an insistent groove with engaging polyrhythmic counterpoint in harmonics. Shades of bluegrass and slide guitar inflect the minimalist structure.
Duo Noire's playing throughout is virtuosic, sensitive, and calibrated beautifully to the style of each work. "Night Triptych" contributes an hour's worth of important new music into the repertoire, presenting works that will surely make their way into the programs of other guitar duos. Moreover, the program beautifully frames the aesthetic and stylistic diversity of these works within a common sensibility that prioritizes narrative shape and transparent expression.
Duo Noire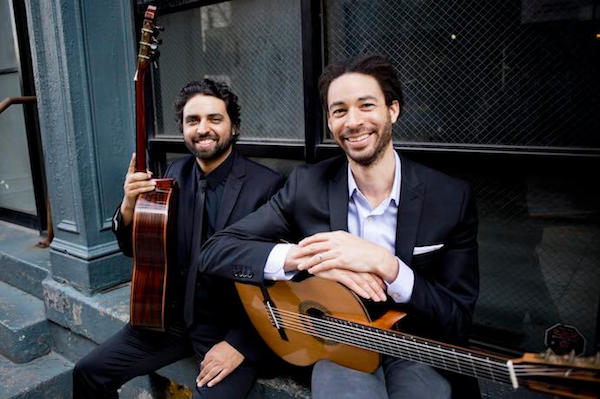 Duo Noire
is an innovative classical guitar ensemble that is breaking new ground through their genre-bending programming choices, commissioned premieres, and original arrangements. Consisting of the pioneering American classical guitarists Thomas Flippin & Christopher Mallett, Duo Noire has been hailed as a "virtuosic pair" (I Care if You Listen) and has performed across the world in distinguished venues such as the Norfolk Music Festival, the 92nd Street Y, Peking University (Beijing), the Times Center, and the Avaloch Farm Music Institute as Resident Artists.
Duo Noire has been featured in Chamber Music Magazine, Acoustic Guitar Magazine, Classical Guitar Magazine, Gendai Guitar, and on the cover of the Guitar Foundation of America's quarterly journal Soundboard. Their debut album was the premiere recording of FIGMENTS, "a substantial piece...recorded in crystalline sound (Soundboard)." It was written for them by the award-winning Juilliard professor Raymond Lustig. The album was praised for its "impressive technique," stating that "Flippin and Mallett definitely don't disappoint (I Care if You Listen)." FIGMENTS has been broadcast on WNYC, WQXR, Inside Classical Guitar with Radio Arts Foundation St. Louis, and Classical Guitar Insider with Bret Williams.
In 2015 the duo began their "Women of Guitar Commissioning Project," to remedy the lack of gender diversity in classical guitar repertoire. Made possible through a grant from NYC's Diller-Quaile School of Music -where Flippin is on faculty- Duo Noire has commissioned several of the most talented female composers of their generation to write for two guitars, including Clarice Assad, Courtney Bryan, Gabrielle Herbst (GABI), Golfam Khayam, Mary Kouyoumdjian, Gity Razaz & Gabriella Smith. The project will culminate in a full length album and tour in 2017-2018.
Collectively, Flippin & Mallett's playing has been called "lovely" (New York Times), "beautiful" (Classical Guitar Magazine), and "superb" (Soundboard). They have each collaborated with an array of acclaimed musicians, including MacArthur Genius pianist Jason Moran and Grammy-winning guitarist Bill Coulter. Both Flippin & Mallett have gathered a number of awards, including prizes from the National Federation of Music Clubs Competition, the Brownsville Guitar Competition, the East Carolina University Guitar Competition, the University of Chicago's Olga and Paul Menn Composition Prize, and Yale University's Eliot Fisk Prize for an "outstanding guitarist."
As educators, Duo Noire have given lectures & master classes at Juilliard, Yale, St. Louis University and many more respective institutions. In 2008, they were awarded a highly competitive Yale Alumni Ventures grant which funded an outreach tour across New England and reached over 2,500 underserved students. Currently, Flippin is additionally on faculty at Concordia College in NY, and Mallett is faculty at the University of California Santa Cruz and is the director of the California Conservatory of Guitar. They both play 2016 Glenn Canin guitars.


Booklet für Night Triptych