---
Album Info
Album Veröffentlichung:
2015
HRA-Veröffentlichung:
20.01.2023
Das Album enthält Albumcover
1

Dead End

07:38

2

Rozalinda's Dance

11:21

3

The Architect

07:20

4

Icon

04:11

5

Erotic Warfare

10:20

6

Cavo Dimo

10:08

7

The Last Dance

03:15

Total Runtime

54:13
Info zu 2
After the successful release of their album '2' feat. grammy winner saxophonist Tivon Pennicott, the contemporary jazz band from Greece are back with the release of their 3rd official album entitled 'At the Zoo', this time as a Quartet.
"I am listening to this second album of Next Step Quintet and I am wavering in front of a not so unknown crossroads. I realize that 2 is a well-established album, with vitality, good playing and internal consistency. In the big picture, however, this judgment begins to become relative. And if we want to arrive at something more substantial than an aphorism of the "for Greeks, they're good" variety, I think we ought to ask ourselves about the ways in which Next Step Quintet place themselves in the wider context of today's jazz: how they "learn" its rules and then "unlearn" them to find their own personal stamp.
But let's take things from the beginning. The 4 of the 5 members of the quintet, namely Vassilis Podaras (drums), Dinos Manos (bass), Thodoris Kotsifas (guitar) and Yannis Papadopoulos (piano), met in 2011 in Corfu, while they were studying at the Department of Music Studies of the Ionian University - I think the only one in the country that offers academic-level studies in jazz. One of them (Podaras) even participated in the Baby Trio, a peculiar project directed by Ionian University professor and renowned musician George Kontrafouris, of which 2/3 of them (except for Kontrafouris, that is) "retire" as soon as they turn 25, to give their place to the younger ones.
The beginning of the thread, then, is in Corfu, but the Next Step Quintet's founding stamp bears the emblem of the city of Athens: it was here that the four met saxophonist Orpheus Tsoukalas and with this composition they recorded their eponymous debut album (Puzzlemusik, 2013). Later, Tsoukalas waved his handkerchief and his place is now covered by the alto of Takis Paterelis and the tenor of New Yorker Tivon Pennicott (who participates as a guest in most - if not all - of the 7 compositions on the album). So much for the general scheme of things, back now at that crossroads.
This is a crucial question. Because, okay, we can single out the Next Step quintet within the domestic scene as one of the groups that successfully interplay with jazz synchronicity: take Kurt Rosenwinkel, Esbjörn Svensson, Brad Mehldau or Christian Scott as reference points, among the many musicians who embody - each in their own way - what we mean here by "contemporary jazz". The harmonization with international developments is certainly not something negligible, but it doesn't tell us much beyond the fact that Greek jazz can sound just as well polished and modern.
For it seems quite obvious that serving a modern form (instead of a much-used one) does not a priori free one from the trap of formalism; it simply adds an essence of freshness to a music that in the small picture may seem modernistic or even daring, but in the big picture seems almost conventional.
Equally understandably, the flight from form is not really necessary either. But a subversive mood is useful, that noble tendency of many musicians to headache themselves by constantly rearranging what is in front of them. The action doesn't have to happen on the outside to achieve this; but it does need a certain bump, a creative contradiction or something unexpected that will make an idea take a different path from the one that emerged. The Next Step Quintet generally do quite a bit on 2, but I think they do little in that direction. The album is the result of methodical thought, it's well-read and relatively open-eared to the musical world around it. Perhaps, however, it is perhaps not sufficiently open to the possibility of subversions and thus to the possibility of breaking free from the disciplines of a form that is becoming quite specific.
Nevertheless, the album finds a certain vibrancy and, although its compositions usually don't (un)go off the straight and narrow, it can become quite charming. Tracks like "Dead End", "Rosalinda's Dance", "The Architect" and "Erotic Warfare" are indicative of the latter. 2 also shows the band's maturation compared to their debut two years ago. Both on the level of writing (which is now undertaken by Papadopoulos and Kotsifas), as well as on the level of performance, the quintet has made significant steps of widening, but also of deepening. Add also the groove, which now seems much more flowing and "natural", with Next Step relying heavily on the ways in which they circulate it among themselves."
Thodoris Kotsifas, guitar
Yiannis Papadopoulos, piano
Takis Paterelis, saxophone
Tivon Pennicott, saxophone
Ntinos Manos, double bass
Vassilis Podaras, drums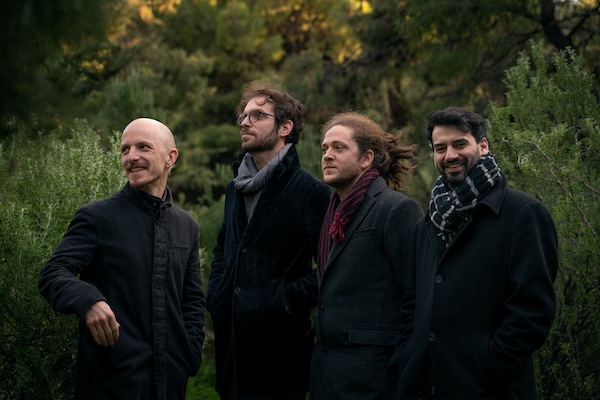 The Next Step Quintet
was created in the fall of 2011 by five young and talented musicians: Orfeas Tsoukalas, Thodoris Kotsyfas, Giannis Papadopoulos, Ntinos Manos and Vasilis Podaras. They met as students at the Music Department of the Ionian University where they participated in a variety of projects.
In Athens they met by chance with the Greco-origin Orpheus Tsoukalas (Sweden) and realized that the five had a common vision of music.
In 2012 they released their debut album called 'the next step quintet' by the greek label called Puzzlemusik. The album release led to great reviews on the greek press and magazines,and followed by many concerts and festivals in Greece. Some of the latest performances featured JD Walter (Jante Jazz Festival in summer 2014) and Tivon Pennicott (two sold out concerts in fall).
The band released in November 27, 2015 their second album («2»), in which they present their new sound.
Winners of the international competition "Made In New York Jazz Competition 2016″, Category: Small Band.
"At the Zoo", the 3rd Next Step album and their first as a Quartet, was released in June 5, 2020. The album includes 6 new tracks recorded live across a 5-night, sold-out residency at The Zoo Jazz Club, their musical home of Athens.


Dieses Album enthält kein Booklet