---
Album Info
Album Veröffentlichung:
2017
HRA-Veröffentlichung:
22.09.2017
Das Album enthält Albumcover Booklet (PDF)
Johann Sebastian Bach (1685-1750): Cello Suite No. 1 in G Major, BWV 1007:

1

Cello Suite No. 1 in G Major, BWV 1007: I. Prelude

02:35

2

Cello Suite No. 1 in G Major, BWV 1007: II. Allemande

04:45

3

Cello Suite No. 1 in G Major, BWV 1007: III. Courante

02:58

4

Cello Suite No. 1 in G Major, BWV 1007: IV. Sarabande

03:22

5

Cello Suite No. 1 in G Major, BWV 1007: V. Menuets I & II

03:46

6

Cello Suite No. 1 in G Major, BWV 1007: VI. Gigue

01:50

Cello Suite No. 2 in D Minor, BWV 1008:

7

Cello Suite No. 2 in D Minor, BWV 1008: I. Prelude

04:59

8

Cello Suite No. 2 in D Minor, BWV 1008: II. Allemande

04:06

9

Cello Suite No. 2 in D Minor, BWV 1008: III. Courante

02:10

10

Cello Suite No. 2 in D Minor, BWV 1008: IV. Sarabande

05:32

11

Cello Suite No. 2 in D Minor, BWV 1008: V. Menuets I & II

03:02

12

Cello Suite No. 2 in D Minor, BWV 1008: VI. Gigue

02:58

Cello Suite No. 6 in D Major, BWV 1012:

13

Cello Suite No. 6 in D Major, BWV 1012: I. Prelude

03:35

14

Cello Suite No. 6 in D Major, BWV 1012: II. Allemande

04:20

15

Cello Suite No. 6 in D Major, BWV 1012: III. Courante

03:43

16

Cello Suite No. 6 in D Major, BWV 1012: IV. Sarabande

04:55

17

Cello Suite No. 6 in D Major, BWV 1012: V. Gavottes I & II

04:14

18

Cello Suite No. 6 in D Major, BWV 1012: VI. Gigue

03:33

Cello Suite No. 3 in C Major, BWV 1009:

19

Cello Suite No. 3 in C Major, BWV 1009: I. Prelude

04:06

20

Cello Suite No. 3 in C Major, BWV 1009: II. Allemande

04:55

21

Cello Suite No. 3 in C Major, BWV 1009: III. Courante

04:00

22

Cello Suite No. 3 in C Major, BWV 1009: IV. Sarabande

04:45

23

Cello Suite No. 3 in C Major, BWV 1009: V. Bourrées I & II

05:12

24

Cello Suite No. 3 in C Major, BWV 1009: VI. Gigue

02:47

Cello Suite No. 4 in E-Flat Major, BWV 1010:

25

Cello Suite No. 4 in E-Flat Major, BWV 1010: I. Prelude

06:24

26

Cello Suite No. 4 in E-Flat Major, BWV 1010: II. Allemande

02:17

27

Cello Suite No. 4 in E-Flat Major, BWV 1010: III. Courante

03:58

28

Cello Suite No. 4 in E-Flat Major, BWV 1010: IV. Sarabande

05:33

29

Cello Suite No. 4 in E-Flat Major, BWV 1010: V. Bourrées I & II

02:31

30

Cello Suite No. 4 in E-Flat Major, BWV 1010: VI. Gigue

02:31

Cello Suite No. 5 in C Minor, BWV 1011:

31

Cello Suite No. 5 in C Minor, BWV 1011: I. Prelude

04:54

32

Cello Suite No. 5 in C Minor, BWV 1011: II. Allemande

08:26

33

Cello Suite No. 5 in C Minor, BWV 1011: III. Courante

04:06

34

Cello Suite No. 5 in C Minor, BWV 1011: IV. Sarabande

05:19

35

Cello Suite No. 5 in C Minor, BWV 1011: V. Gavottes I & II

04:22

36

Cello Suite No. 5 in C Minor, BWV 1011: VI. Gigue

04:13

Total Runtime

02:26:42
Info zu Bach: 6 Cello Suites, BWV 1007-1012
Bach's Six Cello Suites There are a few iconic works in the core repertory with a special quality that makes them instantly recognizable, even after hearing just a few notes. The first G major Cello Suite is one of them. I like to think of the opening measures as a kind of entrance into the sound world of the cello; the open strings lift our spirits, resonating with the quintessential voice and depth of sonority we all know and love. It is so simple in its design, but so far-reaching in its vision, almost as if Bach is on a quest to discover the true potential of this instrument that has for too long been left in the background. As such, a feeling of birth and youthful discovery permeates the mood of this opening suite—a blissful disregard of any trials to come. And yet at the same time one gets the sensation that this is just the beginning of a larger journey. Richard's Approach: "For this recording, I use a modern setup: specifically a 1930 Carl Becker cello made in Chicago, and a modern bow. I admit that such a setup is quite far off from the sound world that Bach must have imagined when composing these suites. I have done my best, however, to balance this modern setup with a thorough understanding of Baroque stylistic principles, particularly in regard to sound production, bow strokes, vibrato, slurring, voicing, and ornaments. I think nowadays, our performance decisions tend to be too black and white; one either performs with total commitment to historical performance practice (by using gut strings, a baroque bow, lower tuning and no endpin) or one forgets all about it. I don't think it is so simple! There is plenty of room, I think, to combine an understanding of historical stylistic principles with current trends in modern performance practice. It is by no means as simple as choosing one way or the other. I think ultimately, regardless of what kind of setup one uses, how much one vibrates and so on, the most important thing is that the spirit of the music comes to life, which is often more a matter of phrasing, sound, character, tempo and attention to harmony, than of specific issues of Baroque tuning and style. The very fact that Bach's suites can still reveal their secrets through so many varied approaches is a testament to the genius of this music. This is not to say that one should disregard any helpful musicological research that sheds light on performing traditions of the time. On the contrary, I think this is absolutely essential! There is nothing wrong with informing ourselves if the goal is to become more convincing, thoughtful artists. The information is there; why ignore it? At any rate, this kind of knowledge should not be confining. Rather, it should liberate us, for it offers an opportunity to open our minds and creative palettes to more colors and possibilities." Recognized for his stylistic versatility and wide-ranging musical interests, Australian cellist Richard Narroway has proven himself to be equally at home with repertoire both new and old. He has appeared as a soloist with the Grand Rapids Symphony and the HanZhou Philharmonic Orchestra, and in recital on Chicago's WFMT Dame Myra Hess Series and the Keys to the City Piano Festival at Chicago's Symphony Center. In addition he has given performances in Australia, China, Germany, Canada and the United States, in prestigious venues such as the Kennedy Center, Chicago Symphony Center, Preston Bradley Hall and the Sydney Opera House.
Richard Narroway, cello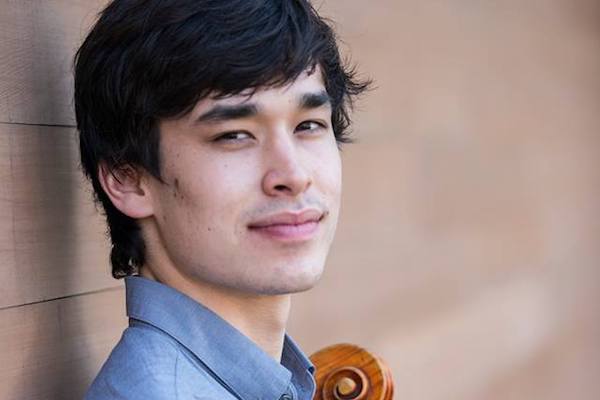 Richard Narroway
Recognized for his stylistic versatility and wide-ranging musical interests, Australian cellist Richard Narroway has proven himself to be equally at home with repertoire both new and old. He has appeared as a soloist with the Grand Rapids Symphony and the HanZhou Philharmonic Orchestra, and in recital on Chicago's WFMT Dame Myra Hess Series and the Keys to the City Piano Festival at Chicago's Symphony Center. In addition he has given performances in Australia, China, Germany, Canada and the United States, in prestigious venues such as the Kennedy Center, Chicago Symphony Center, Preston Bradley Hall and the Sydney Opera House.
Richard has garnered top prizes in numerous competitions, including the Third Beijing International Cello Competition, the Samuel and Elinor Thaviu Competition in String Performance and the Gold Medal in the 2010 Stulberg International String Competition, where he was also awarded the Bach Award for the best interpretation of a Bach solo work. Festival appearances include the Piatigorsky Cello Festival in Los Angeles, the Kronberg Academy Cello Meisterkurse, Sarasota Music Festival, Aspen Music Festival, Castleton Music Festival, Norfolk Music Festival and Pinchas Zukerman's Young Artists Program in Ottawa. In the Summer of 2013, Richard attended Music@Menlo as an International Program Artist and returned in March 2014 as an artist for their annual Winter Residency, which included presentations and performances for various academic classes at Menlo School as well as fundraising and benefit events for the Menlo program. More recently, he performed as part of the resident contemporary ensemble at the Aspen Music Festival, premiering dozens of new works.
Born in 1991, Richard pursued his cello studies from an early age, enjoying tutelage from Hans Jensen, David Finckel, Susan Blake and Takao Mizushima. A graduate of both the Juilliard School and the Bienen School of Music at Northwestern University, currently he is pursuing a Doctoral degree with Richard Aaron at the University of Michigan.
Deeply committed to community engagement and innovation, he takes a particular interest in devising projects that bring classical music to a wider audience. Currently he is working on a video project involving the twelve Piatti Caprices, periodically uploaded for the public on Youtube. He is also co-founder and artistic director of Chamber Music Michigan, an organization that is committed to bringing high-quality chamber music to various communities around the state of Michigan. In 2015 he collaborated with the Mark Morris Dance Group's Dance for PD (a project offering dance classes for people with Parkinson's disease) to produce a recording of the Bourrées from Bach's Cello Suite no. 3 as part of a global repertory project to be used by the 100 Dance for PD classes around the world. In the same year, Richard embarked on a multi-state tour around Australia performing and presenting the complete Bach suites as well as a selection of contemporary Australian compositions in an effort to share the music through concerts, educational workshops and various events. Aside from the artistic and educational components of this project, Richard was also interested in bringing attention to Australia's natural landscapes and cultural history. He highlighted this perspective by recording distinctly Australian works in unique settings around the country. His recording of Bach's cello suites will be released on the Sono Luminus label in September 2017.


Booklet für Bach: 6 Cello Suites, BWV 1007-1012