---
Album Info
Album Veröffentlichung:
2020
HRA-Veröffentlichung:
03.03.2020
Das Album enthält Albumcover Booklet (PDF)
Robert Schumann (1810 - 1856): Märchenerzählungen, Op. 132:

1

Märchenerzählungen, Op. 132: I. Lebhaft, nicht zu schnell

03:09

2

Märchenerzählungen, Op. 132: II. Lebhaft und sehr markiert

03:13

3

Märchenerzählungen, Op. 132: III. Ruhiges Tempo, mit zartem Ausdruck

03:47

4

Märchenerzählungen, Op. 132: IV. Lebhaft, sehr markiert

04:53

György Kurtág (b. 1926): Hommage à R. Sch., Op. 15d:

5

Hommage à R. Sch., Op. 15d: I. Merkwürdige Pirouetten des Kapellmeisters Johannes Kreisler

00:45

6

Hommage à R. Sch., Op. 15d: II. Eusebius. Der begrenzte Kreis...

00:36

7

Hommage à R. Sch., Op. 15d: III. (...und wieder zuckt es schmerzlich Florestan um die Lippen)

00:52

8

Hommage à R. Sch., Op. 15d: IV. Felhö valék, már süt a nap... Töredék - töredék

00:23

9

Hommage à R. Sch., Op. 15d: V. In der Nacht

00:57

10

Hommage à R. Sch., Op. 15d: VI. Abschied. Meister Raro entdeckt Guillaume de Machaut

07:04

Wolfgang Amadeus Mozart (1756 - 1791): Trio in E-Flat Major, K 498 "Kegelstatt Trio":

11

Trio in E-Flat Major, K 498 "Kegelstatt Trio": I. Andante

05:24

12

Trio in E-Flat Major, K 498 "Kegelstatt Trio": II. Menuetto

05:39

13

Trio in E-Flat Major, K 498 "Kegelstatt Trio": III. Allegretto

08:48

Christof Weiß (b. 1986): Drittes Klaviertrio für Klarinette, Viola und Klavier:

14

Drittes Klaviertrio für Klarinette, Viola und Klavier

17:09

Total Runtime

01:02:39
Info zu Homage and Inspiration
Eine "kommunikative und freundschaftliche Grundhaltung" sieht das Trio Iris in Mozarts bekanntem Kegelstatt-Trio; deshalb und wegen der ungewöhnlichen Besetzung für Klarinette, Viola und Klavier bildet das Werk den Nukleus des aus zwei einzigartigen Werkpaaren bestehenden Programms Hommage und Inspiration. Als erster Komponist ließ sich 1853 Robert Schumann von Mozarts Trio inspirieren – insbesondere die "höchst romantische" Besetzung begeisterte ihn, wobei sich das Romantische wohl auf die geheimnisvolle Grundstimmung seiner wenig später entstandenen Märchenerzählungen op. 132 bezieht. Für diese wiederum begeisterte sich im Jahr 1990 György Kurtág, der sein Werk in gleicher Besetzung Hommage a R. Sch nannte. Wiederum direkt auf Mozart und seine erwähnte Haltung bezieht sich Christoph Weiss in seiner Auftragskomposition aus dem Jahr 2013 – damit schließt sich ein faszinierender Beziehungskreis durch die Jahrhunderte.
Christine Carter, Klarinette
Molly Carr, Bratsche
Anna Petrova, Klavier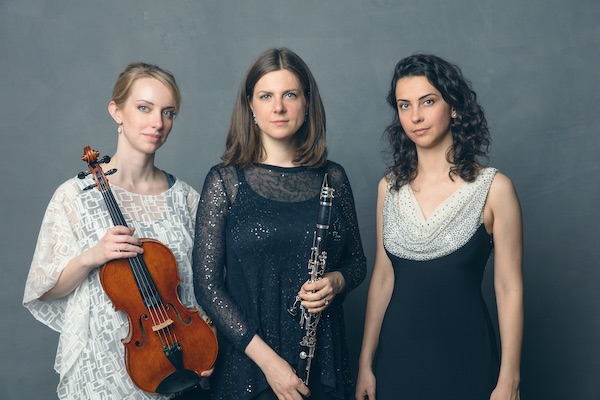 Iris Trio
Praised for their "beauty of sound and striking expression" (Bremen Weser Kurier), the Iris Trio (clarinetist Christine Carter, violist Molly Carr, and pianist Anna Petrova), began working together during their years at the Juilliard School and the Manhattan School of Music. They performed their debut in 2013 at the German Consulate in New York City to a sold-out audience and were immediately invited to appear at the prestigious Mozartfest in Würzburg, Germany. The Trio subsequently gave the world premiere of Christof Weiß's Conversation Among Friends at the UNESCO World Cultural Heritage Residence Palace and were featured in Michael Wende & Andreea Varga's documentary, "MozartLabor." They have since performed extensively across North America and Europe.
The Iris Trio's most recent project, Homage and Inspiration, pairs works by Schumann and Mozart with modern tributes to these masterpieces by György Kurtág and Christof Weiß. In April 2018, the Trio toured Homage and Inspiration across Germany to much critical acclaim. ​The Bremen Wester Kurier commented on the ensemble's "tremendously expressive, exciting and pointed performance" and the Amberger Zeitung remarked that "their ensemble playing is simply fabulous, perfectly balanced, admirable in its rhythmic security and virtuosity." The Augsburger Allgemeine offered "...a musical and lively performance, strong in the technical nuances, and with an exquisite balance of sound." The final concert of the tour took place at the renowned Sendesaal in Bremen, where their debut album was recorded.
Combining works from the standard trio repertoire alongside commissions by contemporary artists is a concept that the Trio continues to explore and champion. Their recent commissions include two new works for the clarinet, viola, and piano trio instrumentation by Canadian jazz artist, Florian Hoefner (with poetry by Giller Poetry Prize winner, Don McKay), and the Brooklyn-based American composer, Randall Woolf.
The Iris Trio's upcoming engagements include residencies at the University of Louisville, Kentucky and Memorial University in St. John's, Canada, as well as concert tours in Canada and Europe.The three members of the Trio are each active recitalists and educators in their own right. Collectively they hold faculty positions at the Juilliard School, University of Louisville, and Memorial University, and have performed around the world on many of the major concert stages from Lincoln Center and Carnegie Hall to the Amsterdam Concertgebouw and Sydney Opera House.


Booklet für Homage and Inspiration