---
Telemann: 12 Fantasias for Solo Violin, TWV 40:14-25 Iryna Gintova
Album Info
Album Veröffentlichung:
2021
HRA-Veröffentlichung:
23.07.2021
Das Album enthält Albumcover Booklet (PDF)
Georg Philipp Telemann (1681 - 1767): Fantasia for Solo Violin No. 1 in B-Flat Major, TWV 40:14:

1

Telemann: Fantasia for Solo Violin No. 1 in B-Flat Major, TWV 40:14: I. Largo

02:19

2

Telemann: Fantasia for Solo Violin No. 1 in B-Flat Major, TWV 40:14: II. Allegro - III. Grave - IV. Si replica l'allegro

05:13

Fantasia for Solo Violin No. 2 in G Major, TWV 40:15:

3

Telemann: Fantasia for Solo Violin No. 2 in G Major, TWV 40:15: I. Largo

02:07

4

Telemann: Fantasia for Solo Violin No. 2 in G Major, TWV 40:15: II. Allegro

01:53

5

Telemann: Fantasia for Solo Violin No. 2 in G Major, TWV 40:15: III. Allegro

00:48

Fantasia for Solo Violin No. 3 in F Minor, TWV 40:16:

6

Telemann: Fantasia for Solo Violin No. 3 in F Minor, TWV 40:16: I. Adagio

01:47

7

Telemann: Fantasia for Solo Violin No. 3 in F Minor, TWV 40:16: II. Presto - Grave

01:51

8

Telemann: Fantasia for Solo Violin No. 3 in F Minor, TWV 40:16: III. Vivace

01:09

Fantasia for Solo Violin No. 4 in D Major, TWV 40:17:

9

Telemann: Fantasia for Solo Violin No. 4 in D Major, TWV 40:17: I. Vivace

01:41

10

Telemann: Fantasia for Solo Violin No. 4 in D Major, TWV 40:17: II. Grave

00:56

11

Telemann: Fantasia for Solo Violin No. 4 in D Major, TWV 40:17: III. Allegro

02:08

Fantasia for Solo Violin No. 5 in A Major, TWV 40:18:

12

Telemann: Fantasia for Solo Violin No. 5 in A Major, TWV 40:18: I. Allegro

02:09

13

Telemann: Fantasia for Solo Violin No. 5 in A Major, TWV 40:18: II. Andante

00:42

14

Telemann: Fantasia for Solo Violin No. 5 in A Major, TWV 40:18: III. Allegro

02:21

Fantasia for Solo Violin No. 6 in E Minor, TWV 40:19:

15

Telemann: Fantasia for Solo Violin No. 6 in E Minor, TWV 40:19: I. Grave - II. Presto

03:37

16

Telemann: Fantasia for Solo Violin No. 6 in E Minor, TWV 40:19: III. Siciliana

01:53

17

Telemann: Fantasia for Solo Violin No. 6 in E Minor, TWV 40:19: IV. Allegro

02:16

Fantasia for Solo Violin No. 7 in E-Flat Major, TWV 40:20:

18

Telemann: Fantasia for Solo Violin No. 7 in E-Flat Major, TWV 40:20: I. Dolce

02:28

19

Telemann: Fantasia for Solo Violin No. 7 in E-Flat Major, TWV 40:20: II. Allegro

03:04

20

Telemann: Fantasia for Solo Violin No. 7 in E-Flat Major, TWV 40:20: III. Largo

02:22

21

Telemann: Fantasia for Solo Violin No. 7 in E-Flat Major, TWV 40:20: IV. Presto - Grave

00:59

Fantasia for Solo Violin No. 8 in E Major, TWV 40:21:

22

Telemann: Fantasia for Solo Violin No. 8 in E Major, TWV 40:21: I. Piacevolmente

02:00

23

Telemann: Fantasia for Solo Violin No. 8 in E Major, TWV 40:21: II. Spirituoso

02:53

24

Telemann: Fantasia for Solo Violin No. 8 in E Major, TWV 40:21: III. Allegro

00:56

Fantasia for Solo Violin No. 9 in B Major, TWV 40:22:

25

Telemann: Fantasia for Solo Violin No. 9 in B Major, TWV 40:22: I. Siciliana

01:43

26

Telemann: Fantasia for Solo Violin No. 9 in B Major, TWV 40:22: II. Vivace

02:45

27

Telemann: Fantasia for Solo Violin No. 9 in B Major, TWV 40:22: III. Allegro

01:48

Fantasia for Solo Violin No. 10 in D Major, TWV 40:23:

28

Telemann: Fantasia for Solo Violin No. 10 in D Major, TWV 40:23: I. Presto - Grave

01:40

29

Telemann: Fantasia for Solo Violin No. 10 in D Major, TWV 40:23: II. Largo

02:06

30

Telemann: Fantasia for Solo Violin No. 10 in D Major, TWV 40:23: III. Allegro

00:56

Fantasia for Solo Violin No. 11 in F Major, TWV 40:24:

31

Telemann: Fantasia for Solo Violin No. 11 in F Major, TWV 40:24: I. Un poco vivace - II. Soave - III. Un poco vivace

04:37

32

Telemann: Fantasia for Solo Violin No. 11 in F Major, TWV 40:24: IV. Allegro

00:57

Fantasia for Solo Violin No. 12 in A Minor, TWV 40:25:

33

Telemann: Fantasia for Solo Violin No. 12 in A Minor, TWV 40:25: I. Moderato

02:41

34

Telemann: Fantasia for Solo Violin No. 12 in A Minor, TWV 40:25: II. Vivace - III. Presto

02:13

Total Runtime

01:10:58
Info zu Telemann: 12 Fantasias for Solo Violin, TWV 40:14-25
Ukrainian violinist Iryna Gintova performs Telemann's 12 Fantasias for Solo Violin, one of the pinnacles of the Baroque repertoire for the instrument. Telemann's 12 Fantasias embrace an array of European styles fashionable at the time, including Italianate concerto-style movements inspired by Corelli, contrasted with pieces in the French style. Telemann was an able, self-taught violinist and relished showcasing the instrument's varied colours and techniques in these works, including multiple stopping, implied counterpoint, improvisatory lines, and tussles between traditional Baroque intricacy with newer, lighter and more forward-looking virtuoso melodies. Iryna Gintova performs these wide-ranging works with the nuance and fluidity for which she is increasingly known in performances that have taken her to major venues, competitions and festivals around the world.
Iryna Gintova, violin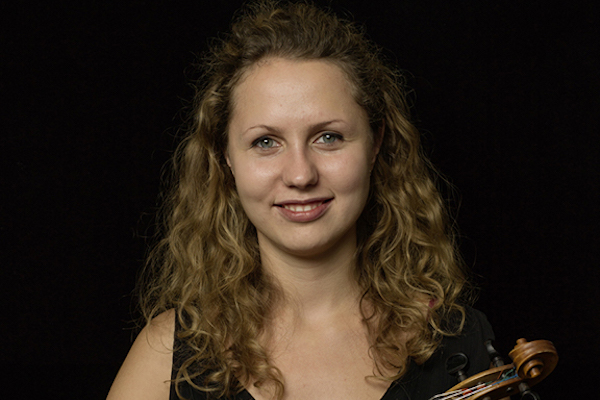 Iryna Gintova
Ukrainian violinist Iryna Gintova was born in Kyiv in 1988. At the age of 5 she began her studies at the Kyiv Central Music School under the guidance of Lyudmila Ovcharenko. When she was 9, Iryna won her first international competition in Zaporizhia, Ukraine.
Ms. Gintova currently resides in Zurich. She graduated from the Zurich University of the Arts, where she studied with Zakhar Bron and Ilya Gringolts.
Iryna has won numerous international violin competitions and awards, including the Pierre Lantier International Competition in Paris, France (2001), the Gnesin International Competition in Moscow, Russia (2003), and the "Citta di Brescia" XI International Violin Competition in Brescia, Italy (2007). She is a recipient of the Migros Culture Percentage Scholarship, Switzerland (2011).
A passionate chamber musician, has collaborated with such distinguished artists as Eldar Nebolsin, Frans Helmerson, Alexander Bonduriansky, Lawerence Power, Orfeo Mandozzi and many others.
She has performed at "Gidon Kremer's chamber music festival in Lockenhaus" (Austria), "Herbst in der Helferei" (Switzerland), "October with great violinist" (Italy), Jeunesses Musicales International Chamber Music Campus for Ensembles (Germany) and "Encuentro de música y academia de Santander" (Spain).
Since 2013 Iryna Gintova is one of the concertmasters of Sinfonieorchester St. Gallen, Switzerland.
Ms. Gintova regularly performs solo and chamber music recitals in the major concert halls of Ukraine, Switzerland, Germany, Italy, France, and the USA.


Booklet für Telemann: 12 Fantasias for Solo Violin, TWV 40:14-25