---
Album Info
Album Veröffentlichung:
2022
HRA-Veröffentlichung:
10.02.2023
Das Album enthält Albumcover
Wolfgang Amadeus Mozart (1756 - 1791): Sonata for Piano and Violin in C Major, K. 296, No. 17:

1

Mozart: Sonata for Piano and Violin in C Major, K. 296, No. 17: I. Allegro Vivace

09:00

2

Mozart: Sonata for Piano and Violin in C Major, K. 296, No. 17: II. Andante Sostenuto

06:07

3

Mozart: Sonata for Piano and Violin in C Major, K. 296, No. 17: III. Rondeau, Allegro

04:57

Sonata for Piano and Violin in F Major, K. 376, No. 24:

4

Mozart: Sonata for Piano and Violin in F Major, K. 376, No. 24: I. Allegro

07:35

5

Mozart: Sonata for Piano and Violin in F Major, K. 376, No. 24: II. Andante

05:29

6

Mozart: Sonata for Piano and Violin in F Major, K. 376, No. 24: III. Rondeau, Allegretto Grazioso

06:41

Sonata for Piano and Violin in F Major, K. 377, No. 25:

7

Mozart: Sonata for Piano and Violin in F Major, K. 377, No. 25: I. Allegro

06:07

8

Mozart: Sonata for Piano and Violin in F Major, K. 377, No. 25: II. Andante

08:52

9

Mozart: Sonata for Piano and Violin in F Major, K. 377, No. 25: III. Tempo di Menuetto

06:24

Sonata for Piano and Violin in B-Flat Major, K. 378, No. 26:

10

Mozart: Sonata for Piano and Violin in B-Flat Major, K. 378, No. 26: I. Allegro Moderato

09:23

11

Mozart: Sonata for Piano and Violin in B-Flat Major, K. 378, No. 26: II. Andantino Sostenuto e Cantabile

06:23

12

Mozart: Sonata for Piano and Violin in B-Flat Major, K. 378, No. 26: III. Rondeau, Allegro

04:34

Sonata for Piano and Violin in G Major, K. 379, No. 27:

13

Mozart: Sonata for Piano and Violin in G Major, K. 379, No. 27: I. Adagio-Allegro

12:26

14

Mozart: Sonata for Piano and Violin in G Major, K. 379, No. 27: II. Tema e Variazioni

10:39

Sonata for Piano and Violin in E-Flat Major, K. 380, No. 28:

15

Mozart: Sonata for Piano and Violin in E-Flat Major, K. 380, No. 28: I. Allegro

09:58

16

Mozart: Sonata for Piano and Violin in E-Flat Major, K. 380, No. 28: II. Andante con Moto

09:16

17

Mozart: Sonata for Piano and Violin in E-Flat Major, K. 380, No. 28: III. Rondeau

04:35

Total Runtime

02:08:26
Info zu Mozart: Sonatas for Piano and Violin, Vol. 2
Recording Mozart's sonatas for violin and piano requires, however, intense preparation, detailed study of the stylistic peculiarities, besides, unquestionably, a solid experience and artistic maturity of the musicians. These are qualities that the duo, who are internationally recognized musicians, are not lacking.
Even so, the challenge is remarkable: divided in several volumes, chronologically separated, the sonatas will contemplate the composer's childhood and mature phases, with 36 works to be recorded over a period of two years.
Claudio Cruz, violin
Olga Kopylova, piano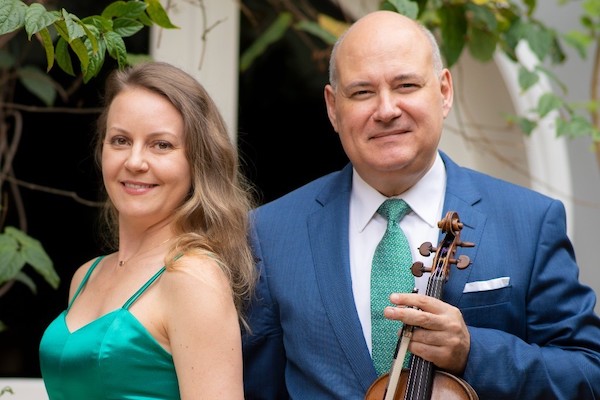 Claudio Cruz
He began his violin studies in childhood, under the tutelage of his father, the luthier João Cruz. Later, under the guidance of Erich Lenninger and Maria Vischnia in the technical improvement of the instrument, and of George Olivier Toni, in music theory and conducting, he established himself as one of the great musicians of his generation.
He was a titular maestro of the Municipal Theater Orchestra of Rio de Janeiro, the Ribeirão Preto Symphony Orchestra, and the Campinas Symphony Orchestra. He has been honored in awards such as the Latin Grammy, Associação Paulista de Críticos de Artes (APCA), Prêmio Carlos Gomes, Prêmio Bravo, and nominated for the 2012 Grammy Awards.
He was spalla of the São Paulo State Symphony Orchestra (OSESP) for twenty-four years. He is currently first violin of the Carlos Gomes Quartet, conductor and musical director of the Youth Orchestra of the State of São Paulo, and guest conductor of important orchestras in Brazil, Europe, Asia, and the United States.
Olga Kopylova
Born in Uzbekistan, Olga Kopylova entered the Uspensky Special Music School in Tashkent at the age of six. She continued her studies in Moscow, at the Music College of the Conservatory, and graduated from the Tchaikovsky Conservatory, where she studied with Tatiana Galitzkaya, Liudmila Roshina, and Mikhail Kollontai.
In 2000 he moved to Brazil, where he became the titular pianist of the Orquestra Sinfônica do Estado de São Paulo (OSESP), a position he holds to this day. In 2003, he released his first solo album MORNING STAR, performing works by Russian composers.
Since then, she has participated in several symphonic recordings and performed as soloist with several orchestras, such as OSESP, Orquestra Sinfônica de Campinas, Orquestra de Câmara de Curitiba, and North State Symphony, among others. Kopylova develops activities with different chamber groups and participates in socio-cultural projects, focused on audience development. She is a professor at the OSESP Music Academy.


Dieses Album enthält kein Booklet