---
Album Info
Album Veröffentlichung:
2017
HRA-Veröffentlichung:
31.03.2017
Das Album enthält Albumcover
1

Running

03:36

2

Put It on the Line

04:11

3

Disconnected

05:27

4

Ticking Boxes

03:32

5

Whatever

05:43

6

Watch Out

02:38

7

Nicotene

03:34

8

Lobby Call

04:33

9

Hungover

05:15

10

Blame Jerry

03:02

11

Breaking Point

05:00

Total Runtime

46:31
Info zu Nightintales
They say the night conceals many stories. China Moses is the narrator of the night; her new album Nightintale" shines a fascinating light on her journey through night time's terrain. She conjures up images and moods with her warm, astonishingly flexible alto voice, as figures and places take shape in the listener's imagination. Eleven expressive songs recount the intoxication of love (Hang Over) and its bitter ending (Whatever), of vices (Nicotine) and passions (Put It On The Line), of awakenings and courage (Running). It's a sparkling kaleidoscope that blends jazz, soul, R & B, blues and pop into a multi-faceted whole. Her 2008 debut album This One's For Dinah, a tribute to the legendary Dinah Washington, established China Moses as a major voice. Now recognized as a jazz and soul diva with her own style, Moses has no need to hide behind her idol. On her new album Nightintales, China sings her own compositions. Chapeau! For the listener, many a pleasurable evening enjoying this rich, multi-hued jewel of an album lie ahead.
Nightintales – tales from 1001 Nights? Not quite. China Moses and the British R&B and hip hop producer Anthony Marshall needed just five days (in particular, nights!) for the new songs, but they provide the fabric for a thousand and one listening pleasures. Great songwriting – inspired, mysterious, captivating. The many reflective moments of such nightly narratives as Breaking Point, Ticking Boxes, Whatever, and the melancholy Lobby Call are mesmerizing. And then there are playful songs; for instance, Hungover, which verges on slapstick as it illustrates the intoxication of love. Thanks to China Moses' amazing voice, it's great cerebral cinema! Eclectic music thrillingly transformed into a tingling cocktail of deep soul, impulsive blaxploitation quotes, lounge jazz, and grooving R&B, seasoned with a healthy pinch of pop. The songs are full of life, and yet they remain self-contained. They sound mature, exude passion, dedication and determination. "Much of this album came out of the moment," explains China Moses; "That's why it sounds so fresh. We wanted to make timeless music, something you could still listen to years later. It should sound as live as possible, and yet as compact as the classic jazz songs of the past. They were usually only two to three minutes long. Our album lasts only 50 minutes, but there is everything in it. We do the long version in concert." China is supported by a strong band out of London, with Luigi Grasso on alto and baritone saxophone, pianist Joe Armon Jones, Luke Wynter on bass and Marijus Aleksa on drums. They form a foundation on which China can build. She's a soul diva with a distinctive musical personality and a vocal presence that's pure energy. On stage, this captivating entertainer has long since become an established name at major jazz festivals. With this new record in the bag, new fans and more gigs are a certainty, and you can now look forward to the upcoming Nightintales tour in the spring of 2017.
But who is this woman with the mysterious name China Moses? She is the daughter of jazz singer and multiple Grammy award winner Dee Dee Bridgewater. Her father was the legendary theater, film and television director Gilbert Moses. So the apple didn't fall so far from the tree. Music has played an important role in her life, as well as acting, as her concerts prove. China Moses dared to take her first steps as a singer while still a teenager (the video clip of her first single, Time (1996) on YouTube is well worth watching!). In 1997 she released her debut album, China, which included a guest appearance by hip hop legend GURU. With two more acclaimed albums as well as numerous feature engagements, she has established herself as a much-sought-after vocalist in the emerging R&B scene of her chosen home town, Paris. She also worked as a presenter on MTV France. The international breakthrough came in 2008 with the jazz album This One's For Dinah (2008), a declaration of love for her musical idol Dinah Washington, in collaboration with the French pianist Raphaël Lemonnier. 2012 followed with Crazy Blues, another mix of jazz, blues and pop hits. Suddenly, China was thought of as a singer of jazz and blues standards. With Nightintales China proves she can do more. For the first time, her own songs are in the spotlight. China pushes aside the aggravation of record companies and producers, of recording dates limited to music that was not of her own choosing; On Nightintales, China Moses demonstrates for the first time what she is really made of. In times of radical changes, this power-woman takes her stand.
China Moses, vocals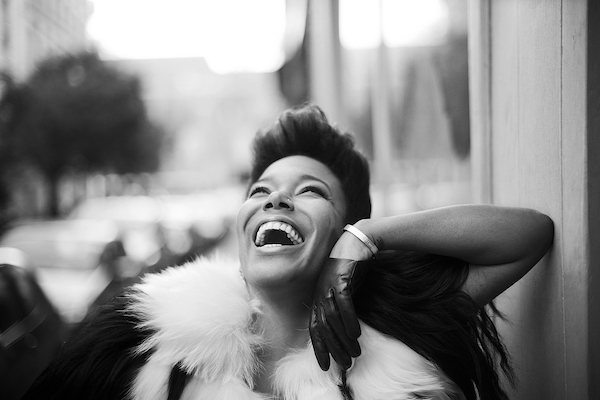 China Moses
is a woman of the new millennium. Born in the United States and raised in France, she is multi-dimensional in her pursuits. As a professional vocalist, songwriter, music producer, television and radio host, China recently released her fifth studio album, "Crazy Blues", in conjunction with a licensing deal between Universal Music Group International and her own production company, MadeInChina Productions.
Balancing an international tour schedule with her other professional interests, she has produced documentaries and radio programs through her production company. Additionally, China co-founded Notorious Communication, a full-service public relations firm focusing on Fashion, Culture and entertainment, whose campaigns service top-tier clients, including Vans, Etnies, Nike and New Look among others.
Having signed her first contract with Virgin Records France at the age of fifteen, China has since navigated the French media world while developing her artistic career. In 1999, she launched her TV career on French music channel MCM, then joined the ranks of MTV International, in 2004, as "On Air" talent and music journalist for MTV France, where she worked until this year.
She spent a year appearing on France's prime-time TV talk show, "Le Grand Journal," airing on Canal+ and hosted a daily on-air show on JazzRadio. Out of these projects, China created a music sponsorship program for the ERDF group, for which she serves as an advisor.
Beyond her professional ventures, China is an active philanthropist. She is developing an ambassadorship program with UNESCO partner, International Music Council, to promote musical diversity and open access to culture. She routinely lends her participation to charitable ventures, such as "Solidarité Sida" (AIDS Solidarity) and "Tout le Monde Chante Contre le Cancer" (Everyone Sings Against Cancer) and is an advocate of the arts in education.


Dieses Album enthält kein Booklet