---
Album Info
Album Veröffentlichung:
2023
HRA-Veröffentlichung:
10.02.2023
Das Album enthält Albumcover Booklet (PDF)
Joaquin Turina (1882 - 1949): La oración del torero, Op. 34:

1

Turina: La oración del torero, Op. 34

07:42

String Quartet, Op. 4 "De la guitarra":

2

Turina: String Quartet, Op. 4 "De la guitarra": I. Prélude. Andantino

04:38

3

Turina: String Quartet, Op. 4 "De la guitarra": II. Allegro moderato

06:43

4

Turina: String Quartet, Op. 4 "De la guitarra": III. Zortzico. Assez vif, mais dans un sentiment tranquille

05:48

5

Turina: String Quartet, Op. 4 "De la guitarra": IV. Andante quasi lento

05:34

6

Turina: String Quartet, Op. 4 "De la guitarra": V. Finale. Allegro moderato

06:17

Serenata, Op. 87:

7

Turina: Serenata, Op. 87

08:56

Mario Castelnuovo-Tedesco (1895 - 1968): Guitar Quintet, Op. 143:

8

Castelnuovo-Tedesco: Guitar Quintet, Op. 143: I. Allegro, vivo e schietto

05:52

9

Castelnuovo-Tedesco: Guitar Quintet, Op. 143: II. Andante meso

06:29

10

Castelnuovo-Tedesco: Guitar Quintet, Op. 143: III. Scherzo. Allegro con spirito, alla marcia

05:09

11

Castelnuovo-Tedesco: Guitar Quintet, Op. 143: IV. Finale. Allegro con fuoco

05:58

Total Runtime

01:09:06
Info zu Turina, Castelnuovo-Tedesco: Souvenir d'Espagne
Joaquin Turina und Mario Castelnuovo-Tedesco tragen beide Spanien in sich - ersterer, weil er dort geboren wurde, letzterer durch seine spanischen Vorfahren, die lange vor ihm ins Exil gingen.
Das Byron Quartett bringt vier ihrer Werke zusammen, die von hispanischen musikalischen Reminiszenzen durchdrungen sind - Turinas jugendliches Quartett de la guitarra, seine Oración del torero (das Gebet des Stierkämpfers") und seine reife Serenata, an der Seite von Castelnuovo-Tedesco sein Quintett mit Gitarre und dessen Satz Souvenir d'Espagne" (Ein spanisches Souvenir").
Wie das Land, das sie inspiriert hat, steht jedes dieser Stücke an der Kreuzung verschiedener Einflüsse: d'Indy, Franck, Debussy, Schubert, Ravel, andalusische Musik, Flamenco... und natürlich die Gitarre, deren Geist sich durch das gesamte Programm, einschließlich des Quintetts, zieht.
Quatuor Byron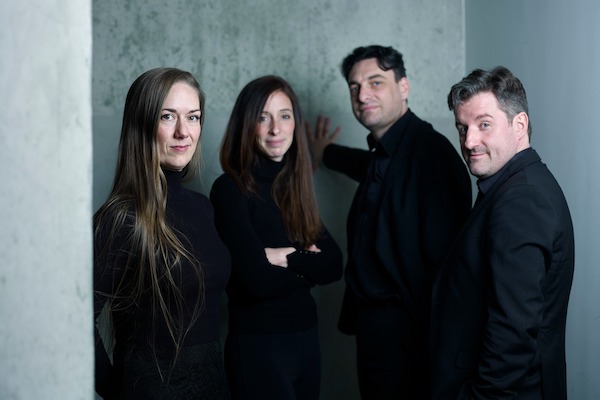 Quatuor Byron
Native of different countries of Europe, the four musicians of the Byron Quartet have met around the Lemanic Basin, thanks to the impetus of Gábor Takács-Nagy. This is why they naturally have wanted to pay tribute to Lord Byron, who was, by his acts and writings, the first great modern European.
The Byron Quartet have started their training at the "Haute Ecole de Musique" in Geneva, in the class of Gábor Takács- Nagy. They obtained there the String Quartet Master Diploma in 2010. In parallel, the Byron Quartet studied in the class of the Ysaÿe Quartet in the "Conservatoire National de Région" of Paris from 2006 to 2008. They also continue their training within the "Proquartet-CEMC" European program. They have had the opportunity to take part to the master classes of members of the Berg, Hagen, Cleveland and Belcea Quartets, as well as the master classes of Eberhard Feltz and György Kurtág.
For several years, the Byron Quartet have been engaged in numerous concerts: Guildhall Ensemble Festival of London, "Promenades Musicales de Fontainebleau", Festival of Bellerive, "Schubertiades", "Salle Paderewski" in Lausanne, Tonhalle in Zürich, Concertgebouw in Amsterdam... They can regularly be heard on the French-speaking Swiss radio Espace 2, and the German-speaking Swiss radio DSR 2.
In parallel with their activity as performers, The Byron Quartet is actively involved in the musical pedagogy, by organizing numerous training courses.
In 2009, the Byron Quartet won the Audience Prize of the Chamber Music Contest of the "Pour-cent culturel Migros", having thus the benefit of their support for two years. The Byron Quartet also benefits from the active support of Proquartet-CEMC, of the Sacem, of the Spedidam, as well as of the Swiss Global Artistic Foundation.


Booklet für Turina, Castelnuovo-Tedesco: Souvenir d'Espagne