---
Album Info
Album Veröffentlichung:
2021
HRA-Veröffentlichung:
10.09.2021
Das Album enthält Albumcover Booklet (PDF)
Johann Strauss II (1825 - 1899): Waldmeister:

1

II: Waldmeister: Ouverture

09:52

Waldmeister, Act I:

2

II: Waldmeister, Act I Scene 2: Introduction. Die Donnerschläge dröhnen (Chorus, Pauline, Erich)

05:00

3

II: Waldmeister, Act I Scene 3: Lied. Im Walde, wo die Buchen rauschen (Botho)

03:51

4

II: Waldmeister, Act I Scene 4: Couplet: Das Wetter war so scheene (Erasmus)

03:26

5

II: Waldmeister, Act I Scene 6: Auftritts-Couplet: Das ist ja nicht mehr zu ertragen (Jeanne)

02:12

6

II: Waldmeister, Act I Scene 6: Dialog. Das muß die Waldmühle sein (Jeanne, Erasmus)

01:05

7

II: Waldmeister, Act I Scene 7: Dialog. Wie wir aussehen! (Pauline, Botho)

00:08

8

II: Waldmeister, Act I Scene 7: Ensemble: Wir sind brave Müllersknechte (Chorus, Pauline, Botho)

02:38

9

II: Waldmeister, Act I Scene 9: Dialog. Miserable Racker! (Tymoleon, Pauline)

02:17

10

II: Waldmeister, Act I Scene 9: Duett: Denkt doch nur, ich sitze hier (Pauline, Tymoleon)

04:21

11

II: Waldmeister, Act I Scene 9: Dialog. Hol' der Kukuk die Junker! (Tymoleon, Pauline, Erasmus)

01:01

12

II: Waldmeister, Act I: Finale. Du Müller in fein (Chorus, Tymoleon, Pauline, Erasmus, Botho, Erich, Jeanne)

10:45

13

II: Waldmeister, Act I: Einlage N. 1 zum Finale des Ersten Aktes

02:56

Waldmeister, Act II:

14

II: Waldmeister, Act II: Entr'acte

02:04

15

II: Waldmeister, Act II Scene 1: Lawn - Tennis Chor: Stellt Euch an (Chorus)

02:10

16

II: Waldmeister, Act II Scene 1: Terzett: Herein! Nun ja, herein! (Pauline, Heffele, Danner)

06:38

17

II: Waldmeister, Act II Scene 2: Sortie: Immer nur frisch, fort, los! (Pauline)

01:08

18

II: Waldmeister, Act II Scene 3: Ensemble und Arietta. Wir gratuliren dem jungen Paar (Chorus, Malwine, Tymoleon, Freda, Botho)

04:38

19

II: Waldmeister, Act II Scene 4: Dialog. Ich danke Ihnen, meine lieben Freunde! (Tymoleon, Malwine, Botho, Heffele, Freda)

01:13

20

II: Waldmeister, Act II Scene 5: Dialog : Nun? Haben Sie gefunden? (Malwine, Sebastian, Botho, Heffele, Freda)

00:33

21

II: Waldmeister, Act II Scene 6: Dialog. Abscheulich (Freda, Botho)

00:37

22

II: Waldmeister, Act II Scene 6: Duett: Nur eine rasche Sekunde (Freda, Botho)

03:55

23

II: Waldmeister, Act II Scene 6: Dialog. Nur Dir allein will ich fortan gehören! (Botho, Freda, Erasmus, Tymoleon)

00:14

24

II: Waldmeister, Act II Scene 7: Dialog. Spurlos verschwunden! (Botho, Freda, Tymoleon)

00:45

25

II: Waldmeister, Act II Scene 8: Dialog. Den Ueberrock hängen Se mir gietigst separat! (Erasmus)

00:45

26

II: Waldmeister, Act II Scene 8: Couplet: Die Hausfrau äußerst sparsam (Erasmus)

02:26

27

II: Waldmeister, Act II Scene 8: Dialog. Verdeixelte Maschinerie!? (Erasmus)

00:14

28

II: Waldmeister, Act II Scene 10: Dialog. Ich muß den Herrn Oberforstrath sprechen (Jeanne, Pauline, Tymoleon, Sebastian)

00:26

29

II: Waldmeister, Act II Scene 10: Terzett: Tymoleon - Auf ewig Dein! (Pauline, Tymoleon, Jeanne)

03:17

30

II: Waldmeister, Act II Scene 10: Dialog. Tymoleon liebst Du mich noch? (Pauline, Tymoleon, Freda)

00:34

31

II: Waldmeister, Act II Scene 11: Dialog. Das ist Pauline (Pauline, Tymoleon, Freda)

01:03

32

II: Waldmeister, Act II Scene 12: Dialog. Der reinste Tantalus! (Erasmus, Tymoleon)

01:26

33

II: Waldmeister, Act II Scene 13: Dialog. Mein lieber Freund? (Malwine, Tymoleon, Erasmus, Pauline, Jeanne, Botho)

02:04

34

II: Waldmeister, Act II Scene 14: Dialog. Jetzt werde ich fürchterlich ehrbar thun! (Pauline, Jeanne, Botho)

00:11

35

II: Waldmeister, Act II: Finale. Du Müllerin fein (Botho, Pauline, Jeanne, Chorus, Erasmus, Tymoleon, Freda, Malwine, Heffele, Danner)

17:29

Waldmeister, Act III:

36

II: Waldmeister, Act III: Entr'acte

01:01

37

II: Waldmeister, Act III Scene 1: Melodram: Was haben denn heute die Pölster? (Tymoleon)

01:41

38

II: Waldmeister, Act III Scene 1: Marsch-Couplet: Die ganze Nacht durchschwärmt (Tymoleon)

02:00

39

II: Waldmeister, Act III Scene 3: Dialog. Ich weiß nicht (Erasmus, Tymoleon)

01:33

40

II: Waldmeister, Act III Scene 4: Dialog. O - Wir stören (Botho, Tymoleon)

00:36

41

II: Waldmeister, Act III Scene 5: Dialog. O Tymoleon (Erasmus, Tymoleon)

00:51

42

II: Waldmeister, Act III Scene 6: Dialog. Wenn ich nur wüßte (Jeanne, Erasmus)

01:00

43

II: Waldmeister, Act III Scene 6: Couplet: Die Liebe kommt, die Liebe geht (Erasmus)

03:02

44

II: Waldmeister, Act III Scene 7: Dialog. Guten Morgen, Professor (Malwine, Erasmus)

01:10

45

II: Waldmeister, Act III Scene 7: Tanz Motiv: Trau, schau wem

00:38

46

II: Waldmeister, Act III Scene 8: Dialog. Malwine! (Malwine, Erasmus, Heffele, Freda, Botho, Pauline)

00:30

47

II: Waldmeister, Act III Scene 9: Dialog. Frau Professor (Malwine, Pauline)

00:17

48

II: Waldmeister, Act III Scene 9: Ensemble (Septett) Wir stehen in Sachsen [Pauline, Erasmus, Freda, Jeanne, Malwine, Botho, Tymoleon, Heffele]

04:19

49

II: Waldmeister, Act III Scene 9: Dialog. Was sehe ich? Freda! (Malwine, Botho, Freda, Tymoleon, Erasmus, Pauline, Sebastian)

00:45

50

II: Waldmeister, Act III Scene 10: Dialog. Gefunden! Gefunden! (Malwine, Pauline)

00:36

51

II: Waldmeister, Act III: Finale. Trau', schau', wem? (Pauline, Freda, Jeanne, Malwine, Botho, Tymoleon, Chorus)

00:58

Total Runtime

02:04:19
Info zu J. Strauss II: Waldmeister
Die Operette Waldmeister von Johann Strauss II wurde im Dezember 1895 zum ersten Mal aufgeführt. Die Handlung – eine Verwechslung, die ein wenig an »Die Fledermaus« erinnert – ist lebhaft, aber das Libretto selbst erwies sich als wenig zufriedenstellend. Die temperamentvolle und makellos instrumentierte Musik mit mehreren später berühmt gewordenen Stücken, darunter der Walzer Trau, schau, wem und die Polka Klipp-Klapp-Galopp, brachte Strauss jedoch große Bewunderung ein. Der führende Wiener Kritiker Eduard Hanslick, der bei der Uraufführung zusammen mit Johannes Brahms anwesend war, lobte das neue Werk mit der Feststellung, dass "Mozarts goldener Klang in [Strauss'] Orchester regiert".
Robert Davidson, Bassbariton
Dorothe Ingenfeld, Alt
Simeon Pilibosyan, tenor
Annika Egert, Sopran
Friedemann Büttner, Tenor
Nikolai Ivanov, Tenor
Daniel Schliewa, Tenor
Andrea Chudak, Sopran
Sofia Philharmonic Chorus
Sofia Philharmonic Orchestra
Dario Salvi, Dirigent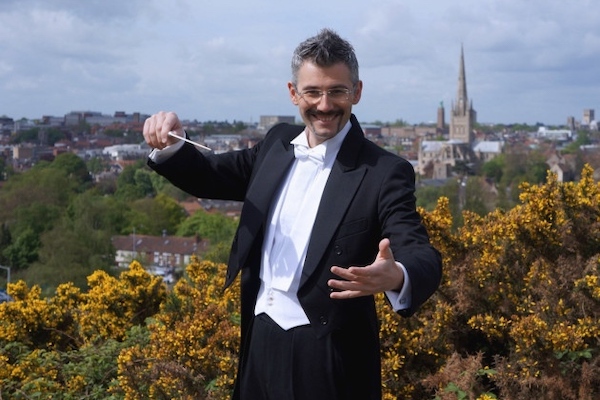 Dario Salvi
is a British-Italian conductor, researcher and musicologist. He is widely regarded as a fast-rising name in opera and operetta, and is known for his expressive gestures and precision of style. ​
A specialist in the restoration, recording and performance of rare Viennese works, comic opera, ballet and orchestral music—particularly the works of the Strauss family and their contemporaries such as Czibulka, Ziehrer, Suppè, Millöcker, Genèe, Kàlmàn and Mont—he is a busy recording artist with Naxos, and has completed projects documenting forgotten works by J. Strauss II, Auber, Meyerbeer, Humperdinck and more. He has been awarded a Lifetime Honorary Member of the Johann Strauss Society of Great Britain for his extensive contribution to Viennese music. ​
Salvi has guest conducted and recorded opera and operetta across the USA, the Middle East and Europe, including the closing concerts of the Zagreb Philharmonic's 2018/19 Season, for which he received outstanding reviews: ​
'[Salvi] is certainly the most astonishing phenomenon that has emerged recently with us. A real ballet master of the conductor's baton, with big gestures, very expressive, sometimes with theatrical mimicry in communication with the orchestra, he was excellent in transferring his ideas to the orchestra. And these ideas were clearly dictated by his own taste, but also closely to the taste of the audience.' (Jutarnji list, Croatia, 2019) ​
Other recent performance highlights include: his work with Willy Bietak Productions as music director and consultant on an opera ice skating show, commissioned by Royal Opera House Muscat in 2018; concerts with Katia Guerreiro, one of the world's leading Fado singers, and the Zagreb Philharmonic; and his guest performances for the closing of Winter Opera St Louis' 2019/20 Season, "La Fanciulla del West". ​
Maestro Salvi is guest conductor and partner of Metamorphosis Chamber Orchestra in New York, and principal guest conductor for Concert Operetta Theater in Philadelphia. He has worked, amongst others, with Prague Philharmonia (CZ), Czech Chamber Orchestra (CZ), Sofia Philharmonic Orchestra and Chorus (BG), Malmö Opera (SE), Moravian Philharmonic Orchestra (CZ), Neue Preußische Philharmonie (DE), Orchestra Al Chiaro di Luna (IT) and Ruse State Opera (BG). He has also worked with singers such as Markus Werba, Jorge Pita Carreras, Andrea Chudak, Gaia Petrone, Francisco Brito and Ira Lauren. ​
Born in Northern Italy and currently residing in Scotland, Salvi has received musical training in both Italy and the UK. After studying soprano saxophone with S. Cecilia Philharmonia, he became an in-demand saxophonist and alto clarinet player and worked with many bands as a performer and arranger, also holding the position of Director of Music in the Alpine Troops of the Italian Army. He is a professional bass guitarist and has toured the world playing for bands and orchestras. He received a Bachelor of Science degree in Applied Psychology from the University of Derby (UK) in 2011, followed by a Master of Music in Conducting from the University of East Anglia (UK) in 2012 under the tutelage of Sharon Choa (currently Chair of the School of Music at the HK Academy of Performing Arts). During this time, he worked as Assistant Conductor and Arranger for Chamber Orchestra Anglia and founded the Imperial Vienna Orchestra, specialising in the authentic reproduction of Viennese music. ​
Salvi has published three books on Viennese operetta on Cambridge Scholars Publishing, and his musical arrangements are available on Musica Mundana, DaVinci Publishing and Marcato Brass. His orchestral arrangements, including opera and ballet, have been commissioned by the Royal Philharmonic Orchestra (UK), Moscow State Symphony Orchestra (RU), Düsseldorf Symphoniker (DE), Las Colinas Symphony Orchestra (US), The Salvation Army Orchestra (UK) and the Original C.M. Ziehrer Orchester (AT).


Booklet für J. Strauss II: Waldmeister