---
Album Info
Album Veröffentlichung:
2018
HRA-Veröffentlichung:
11.05.2018
Das Album enthält Albumcover Booklet (PDF)
Sergei Rachmaninoff (1873-1943):

1

Piano Concerto No. 3 in D Minor, Op. 30: I. Allegro ma non tanto

17:39

2

Piano Concerto No. 3 in D Minor, Op. 30: II. Intermezzo. Adagio - Un poco più mosso

11:09

3

Piano Concerto No. 3 in D Minor, Op. 30: III. Finale. Alla breve

14:46

4

Variations on a Theme of Corelli, Op. 42

18:11

Total Runtime

01:01:45
Info zu Rachmaninoff: Piano Concerto No. 3 - Variations on a Theme of Corelli
Rachmaninov's Piano Concerto No. 3 is a complex, epic narrative that moves from a simple opening melody to the triumphant apotheosis at its conclusion. The composer ingeniously links motifs, melodies and at times whole sections between the movements, unifying the concerto into a single overarching storyline. In the Variations on a Theme of Corelli, Rachmaninov reworks the original theme using his unique harmonic language until there is no trace left of its Baroque or Renaissance origins.
"The second of three discs that will contain a complete cycle of Rachmaninov's Piano Concertos comes from the Russian-born Israeli virtuoso, Boris Giltburg. As with his much critically proclaimed recording of the Second concerto, the very opening bars set the scene for a very different approach to the ones we have already on disc. It's not just a case of picking out specific points where he takes his own viewpoint, the whole performance gives us a totally new approach where the choice of tempos is a very personal, at times they are unusually relaxed, while at other times are charging headlong. The first movement cadenza is almost improvisatory in every respect, and sets out his credentials as one of today's most outgoing virtuosos. Then his return to the orchestral accompaniment is one of the most beautiful I have encountered on disc. And so the performance continues, with an affectionate view of the central Intermezzo, and then, often taking dynamics to the extremes, his finale is full of white-heat moments. The work's closing section heard in the concert hall would have generated tumultuous applause, aided-and-abetted by the orchestra's cymbal player. Throughout the conductor, Carlos Miguel Prieto, has been at one with his soloist, while the Royal Scottish National are on fine form. The not overly-generous coupling is a very attractive account of the Variations on a Theme of Corelli. The recorded quality of the concerto is excellent, the balance between soloist and orchestra perfectly gauged. Strange idea then to move to another venue for the filler." (David's Review Corner)
Boris Giltburg, piano
Royal Scottish National OrchestraCarlos Miguel Prieto, conductor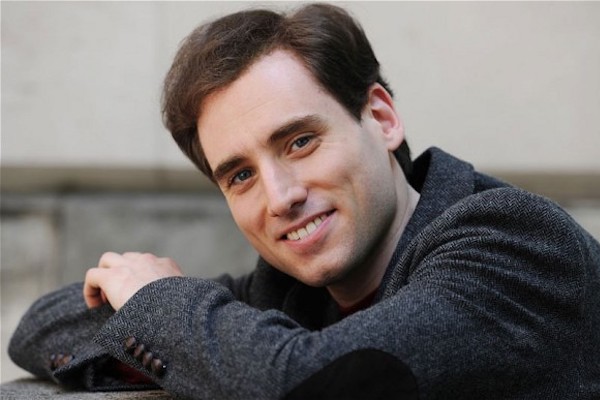 Boris Giltburg
The young Moscow-born, Israeli pianist is lauded across the globe as a deeply sensitive, insightful and compelling interpreter. Critics have praised his "singing line, variety of touch and broad dynamic palette capable of great surges of energy" (Washington Post) as well as his impassioned, narrative-driven approach to performance: "the interplay of spiritual calm and emphatic engagement is gripping, and one could not wish for a more illuminating, lyrical or more richly phrased interpretation" (Suddeutsche Zeitung). At home in repertoire ranging from Beethoven to Shostakovich, in recent years he has been increasingly recognized as a leading interpreter of Rachmaninov: "His originality stems from a convergence of heart and mind, served by immaculate technique and motivated by a deep and abiding love for one of the 20th century's greatest composer-pianists." (Gramophone).
Giltburg has appeared with many leading orchestras such as the Philharmonia Orchestra, Israel Philharmonic Orchestra, NHK Symphony, DSO Berlin, Frankfurt Radio Symphony Orchestra, London Philharmonic Orchestra, Oslo Philharmonic Orchestra, St Petersburg Philharmonic and Baltimore Symphony Orchestra. He made his BBC Proms debut in 2010, his Australia debut last season (with the Adelaide and Tasmanian Symphony orchestras) and has frequently toured to South America and China, also touring Germany with the Orchestre National du Capitole de Toulouse. He has played recitals in leading venues such as Hamburg Elbphilharmonie, Carnegie Hall, Southbank Centre, Louvre and Concertgebouw.
This season Giltburg is Resident Artist in Brussels at both Flagey & Bozar, performing in recital and with the Deutsche Kammerphilharmonie and Paavo Järvi and Brussels Philharmonic and Stéphane Denève; he is also Artist in Residence in The Hague with the Residentie Orkest under Nicholas Collon, with whom he appears at the Amsterdam Concertgebouw. In North America he plays for the first time with the Pacific Symphony and Ben Gernon, Utah Symphony and Thierry Fischer and NAC Ottawa Alexander Shelley. Engagements in the UK include his debut with the Hallé Orchestra and returns to the Royal Liverpool Philharmonic, City of Birmingham Symphony and Bournemouth Symphony orchestras. Recital appearances this season include the Southbank Centre's International Piano Series, Radio France, Bilbao Philharmonic Society, and Liszt Raiding Festival. He also tours Europe with the Pavel Haas Quartet, and was featured on their acclaimed 2017 Supraphon Dvořák quintets release.
In 2017 Naxos released Rachmaninov's Piano Concerto No.2 with the Royal Scottish National Orchestra and Carlos Miguel Prieto, coupled with the Études-Tableaux Op.33. This followed Giltburg's first concerto release which won him a Diapason d'Or for the Shostakovich concerti with Vasily Petrenko and the Royal Liverpool Philharmonic Orchestra, coupled with his own arrangement of Shostakovich's String Quartet No.8. His Schumann, Beethoven and Rachmaninov solo discs for Naxos have been similarly well received. His 2012 Orchid release of the Prokofiev Sonatas was shortlisted for the critics' award at the Classical Brits, and was closely followed by a Romantic sonatas disc (Rachmaninov, Liszt, Grieg).
Born in 1984 in Moscow, Boris Giltburg moved to Tel Aviv at an early age, studying with his mother and then with Arie Vardi. He went on to win numerous awards, most recently the second (and audience) prize at the Rubinstein in 2011, and in 2013 he won first prize at the Queen Elisabeth Competition, catapulting his career to a new level. In 2015 he began a long-term recording plan with Naxos Records.


Booklet für Rachmaninoff: Piano Concerto No. 3 - Variations on a Theme of Corelli