---
Album Info
Album Veröffentlichung:
2023
HRA-Veröffentlichung:
05.05.2023
Das Album enthält Albumcover
1

Jingles

06:34

2

Canadian Sunset

06:01

3

Twisted Blues

02:18

4

Mr. Walker

04:09

5

The Trick Bag

04:09

6

West Coast Blues

06:15

7

Four on Six

04:28

8

Fried Pies

04:58

9

Polkadots & Moonbeams

08:03

Total Runtime

46:55
Info zu Remember Wes
A journey into the universe of the great Wes Montgomery. This is the new album by guitarist Giuseppe Cistola, entitled 'Remember Wes', to be released on 6 March by the Emme Record label, on the very day of the centenary of the Indianapolis maestro's birth. The band that took part in this project, dedicated to one of the greatest masters of jazz guitar, is completed by Fabrizio Ginoble on the hammond organ and Michele Sperandio on drums, and retraces the poetics and typical sounds of the organ trio, a formation very dear to the great Wes. The repertoire consists of the guitarist's great classics and represents an act of love towards the music of an artist who was a source of inspiration for countless epigones thanks to his revolutionary approach to the six strings.
One of the most significant tracks on the setlist could not be without "Mr Walker", which retains the Latin poetics, albeit with a rhythmic reinterpretation that adds new freshness to a great classic. "The Trick Bag" acquires new vitality with an ever-bright guitar and more open and dynamic drums. Lastly, 'Polka dots & Moon beams', a ballad that retains the flavour of the original track, albeit with a more modern sound.
'Remember Wes,' explains Giuseppe Cistola, 'is a tribute due to the guitarist of my childhood. In fact, Wes has always been the soundtrack in my daily life, Wes's records played every day in the house, so much so that from a very young age, unlike other children, instead of singing the songs that were on at the time, I had memorised and sang several solos by 'Uncle' Wes'.
"It was natural, therefore, to put my hands on the guitar and try from the very first to emulate Wes's phrasing; I was so into Wes's sound that I never used a plectrum and having always listened to his records, I internalised his language not through the didactics of books, which levels musical creativity, but through his sound," concludes the guitarist.
Giuseppe Cistola, guitar
Fabrizio Ginoble, Hammond organ
Michele Sperandio, drums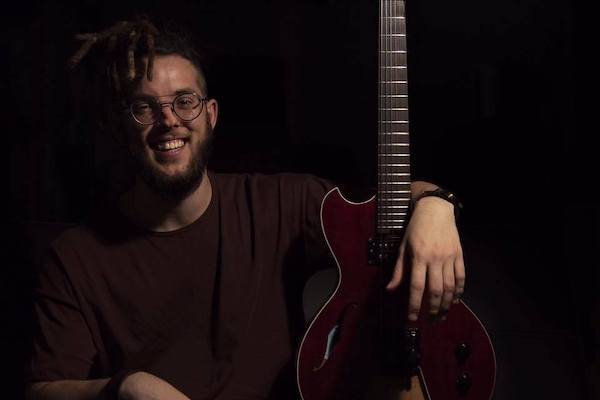 Giuseppe Cistola
He began cultivating a passion for music at a very young age, playing with the guitars he had at home. His studies were essentially self-taught and his first sources of inspiration were Wes Montgomery (from whom he inherited the exclusive use of the thumb instead of the plectrum) and Bill Evans. His encounter with the records of these two giants got him hooked on jazz, thus skipping the rock parenthesis, which is generally the gymnasium of young musicians. His strong predisposition towards music led him to make rapid progress on the instrument and led him to win a scholarship to the Arcevia Jazz seminars in 2010. In 2014, he won second place in the Bottega Jazz Contest and a prize of 10 hours of recording time, which he will use for his first demo. In 2016 he enrolled in the three-year jazz guitar course at the Pergolesi Conservatory in Fermo. In 2017, during his stay in Argentina, he met some local musicians who organised a series of concerts for him. He thus came into contact with Argentinian music and drew inspiration from it for his compositions.
In 2019, he distinguished himself in the courses organised in Perugia by the prestigious American Berklee College of Music, for "Umbria Jazz", which led him to perform on the festival's main stage for the students' concert. He won the Berklee courses' scholarship and was selected as the best guitarist of the courses, so together with the best students of the other instruments he played at Umbria Jazz Winter 2019 (Orvieto's winter version of Umbria Jazz). With Lorenzo Scipioni on double bass and Michele Sperandio on drums they form the B - Side Trio, which for the recording of the album "Por la calle argentina" becomes the Giuseppe Cistola Quintet with the addition of Marco Postacchini on tenor and soprano sax and Simone Maggio on piano.
In 2020, the Giuseppe Cistola Quintet released 'Por La Calle Argentina' on the Emme Record Label. The album contains ten tracks entirely composed and arranged by the young guitarist. It was a very busy year for Giuseppe, who did not stop there, a finalist at the 'Massimo Urbani Prize', a prestigious competition in Italy. In the same summer, he participated several times in the prestigious Fara Music Festival, organised by Enrico Moccia. In September, he decided to give his second project a chance, in which he maintained the quintet and added the voice of Marta Giulioni. He took part in the 'All you have to do is play' competition organised by the Emme Record Label and presented his new project 'The Five Elements' (8 compositions all composed and arranged by Giuseppe).
On 6 March 2023, 100 years after Wes Montgomery's birth, his third album, 'Remember Wes', a tribute to the guitarist from Indianapolis, USA, one of the main jazz figures in the history of the 20th century, will be released.


Dieses Album enthält kein Booklet