---
Album Info
Album Veröffentlichung:
2023
HRA-Veröffentlichung:
10.02.2023
Das Album enthält Albumcover Booklet (PDF)
Joan Ambrosio Dalza (?-1508):

1

Dalza: Saltarello ala ferrarese (Intabulatura de lauto, Libro quarto)

03:40

Francesco Spinacino (1485 - 1507):

2

Spinacino: Recercare 6 (Intabolatura de lauto, Libro primo, Libro secondo)

02:12

3

Spinacino: Recercare 13 (Intabolatura de lauto, Libro primo, Libro secondo)

02:24

Joan Ambrosio Dalza:

4

Dalza: Piva ala ferrarese (Intabulatura de lauto, Libro quarto)

02:17

5

Dalza: Caldibi castigliano (Intabulatura de lauto, Libro quarto)

01:48

6

Dalza, Smith: Caldibi saltarello (Intabulatura de lauto, Libro quarto)

03:05

Francesco Spinacino:

7

Spinacino: Recercare 23 (Intabolatura de lauto, Libro primo, Libro secondo)

03:33

8

Spinacino: Recercare 4 (Intabolatura de lauto, Libro primo, Libro secondo)

04:28

Joan Ambrosio Dalza:

9

Dalza: Pavana ala ferrarese (Intabulatura de lauto, Libro quarto)

04:28

Marchetto Cara (1465 - 1525):

10

Cara: Io non compro più speranza (Franciscus bossinensis, Libro primo)

03:03

Joan Ambrosio Dalza:

11

Dalza: Poi che volse la mia stella (Intabulatura de lauto, Libro quarto)

02:30

Francesco Spinacino:

12

Spinacino: Recercare 25 (Intabolatura de lauto, Libro primo, Libro secondo)

02:31

13

Spinacino: Recercare 15 (Intabolatura de lauto, Libro primo, Libro secondo)

03:20

Joan Ambrosio Dalza:

14

Dalza: Pavana ala venetiana (Intabulatura de lauto, Libro quarto)

03:53

15

Dalza: Saltarelloala venetiana (Intabulatura de lauto, Libro quarto)

01:51

16

Dalza: Piva ala venetiana (Intabulatura de lauto, Libro quarto)

03:13

Francesco Spinacino:

17

Spinacino: Recercare 12 (Intabolatura de lauto, Libro primo, Libro secondo)

03:24

18

Spinacino: Recercare 9 (Intabolatura de lauto, Libro primo, Libro secondo)

04:03

Joan Ambrosio Dalza:

19

Dalza: Poi che'l ciel contrario adverso (Intabulatura de lauto, Libro quarto)

02:15

20

Dalza: Calata ala spagnola ditto terzetti di zuan Ambroso Dalza (Intabulatura de lauto, Libro quarto)

05:18

21

Dalza: Tastar de corde (Intabulatura de lauto, Libro quarto)

01:18

Total Runtime

01:04:34
Info zu Bright & Early
Hopkinson Smith, gefeiert als der »oberste Poet der Laute« (Gramophone), schafft auf seinem neuesten Album einen subtilen, intimen Dialog zwischen Dalza und Spinacino, die mit ihren Werken die blühende Kultur des Instruments in Italien zu Beginn des 16. Jahrhunderts bezeugen. Seit über 40 Jahren der unermüdliche Pionier, erforscht er in dieser Einspielung, untermauert von seinem historisches Wissen und seiner profunden Intuition, die ersten Notendrucke für Laute.
In einem perfekt symmetrischen Programm verwebt der schweizerisch-amerikanische Lautenist Stücke von Joan Ambrosio Dalza, die vom Volkstanz inspiriert sind mit mehreren frei geformten Ricercari von Francesco Spinacino, entnommen aus Sammlungen von Tabulaturen, die in Venedig 1507 und 1508 veröffentlicht wurden. Hopkinson Smith nähert sich diesen geheimnisvollen Schätzen die an ferne Zeiten und Träumereien des Mittelalters erinnern, auf seiner sechsstimmigen Laute, die in der Tradition des späten fünfzehnten Jahrhunderts gebaut wurde. Mit der Bescheidenheit eines Menschen, der den unglaublichen Reichtum und die Ausdruckskraft dieser Werke zu schätzen weiß, ist er der einsame Lautenist, der ein Geschichtenerzähler durch sein Instrument geworden ist: wie ein wahrer Schöpfer!
Hopkinson Smith, Laute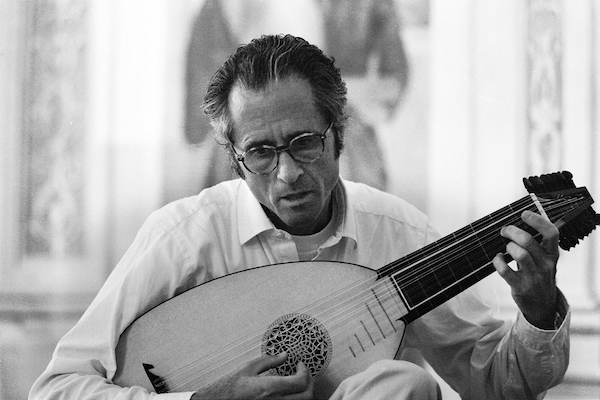 Hopkinson Smith
Born in New York in 1946, Swiss-American lutenist Hopkinson Smith graduated from Harvard with Honors in Music in 1972. His instrumental studies took him to Europe where he worked with Emilio Pujol, a great pedagogue in the highest Catalan artistic tradition, and with the Swiss lutenist, Eugen Dombois, whose sense of organic unity between performer, instrument, and historical period has had lasting effects on him. He has been involved in numerous chamber music projects and was one of the founding members of the ensemble Hespèrion XX. Since the mid-80's, he has focused almost exclusively on the solo repertoires for early plucked instrument, producing a series of prize-winning recordings for Astrée and Naïve, which feature Spanish music for vihuela and baroque guitar, French lute music of the Renaissance and baroque, English and Italian music of the 16th early 17th century and music from the German high baroque.
The recording of his lute arrangements of the Bach solo violin Sonatas and Partitas, released in the year 2000, has been universally acclaimed by the press. Gramophone magazine called it "the best recording of these works on any instrument". A Dowland recording, released in early 2005, won a Diapason d'Or and was called 'wonderfully personal' in a review in the New York Times. A recording with music from the world of Francesco da Milano, was awarded a Diapason d'Or de l'Année (the French equivalent of a Grammy award) in November 2009 and has been called "the first recording to do justice to Francesco's reputation." A CD with the first three Bach Cello Suites played on the German Theorbo was released in early 2013, has also won a Diapason d'Or and was called "totally riveting" in the BBC Music Magazine.
Hopkinson Smith has performed and given master classes throughout Eastern and Western Europe, North and South America, Australia, New Zealand, Korea and Japan sometimes combining the life-style of a hermit with that of a gypsy. In 2007 and 2009, he gave concerts and workshops in Palestine under the auspices of the Barenboim-Said Foundation and the Swiss Arts Council. In 2010, he received the music prize from the Italian Region of Puglia with the inscription "maestro dei maestri, massimo interprete delle musiche per liuto dell'antica Europa Mediterranea". He lives in Basel, Switzerland where he teaches at the Schola Cantorum Basiliensis.


Booklet für Bright & Early