---
Album Info
Album Veröffentlichung:
2018
HRA-Veröffentlichung:
29.07.2019
Das Album enthält Albumcover
Traditional:

1

Du bon du cueu à 3

01:30

Noel Bauldeweyn (1480 - 1513):

2

Missa "Du bon du cueu": I. Kyrie

03:48

3

Missa "En douleur en tristesse"

01:51

Adrian Willaert (1490 - 1562):

4

Missa "En douleur en tristesse" à 6

02:55

Noel Bauldeweyn:

5

Missa "Du bon du cueu": II. Gloria

07:28

François Le Cocq (1685 - 1729):

6

Si par souffrir à 5

01:46

Tielman Susato (1500 - 1561):

7

Danserye: Si par souffrir

01:33

Noel Bauldeweyn:

8

Missa "Du bon du cueu": III. Credo

11:47

Jean Mouton (1459 - 1522):

9

Adieu mes amours

01:37

10

Qui ne regrettoit le gentil Févin

02:25

Noel Bauldeweyn:

11

Missa "Du bon du cueu": IV. Sanctus

07:22

Traditional:

12

Petite camusette

01:19

Adrian Willaert:

13

Petite camusette

02:41

Noel Bauldeweyn:

14

Missa "Du bon du cueu": V. Agnus Dei

02:18

Jean Mouton:

15

Du bon du cœur, ma chère dame

04:12

Total Runtime

54:32
Info zu Du bon du coeur
Du bon du cueur is a courtly chanson of the early 16th Century. The poem hearkens back to 15th Century life, but the melody that resonates throughout this recording was first set by Jean Mouton, a contemporary of Josquin DePrez and court composer to the French Kings. Capella Alamire was formed in 1984 in Cambridge, Massachusetts, for the purpose of exploring the repertoire of the Renaissance. The word Alamire is a solmization term for the pitch A, sung as la, mi, or re; it was also the pseudonym of a Flemish music scribe employed by the Habsburg court at the beginning of the 16th century in the region of present-day Belgium and northern France, an area that produced many of the greatest composers and singers of the time.
Eric Swartzentrube, tenor
Andrew Sokol, tenor
Melinda McMahon, mezzo-soprano
Capella Alamire
Peter Urquhart, direction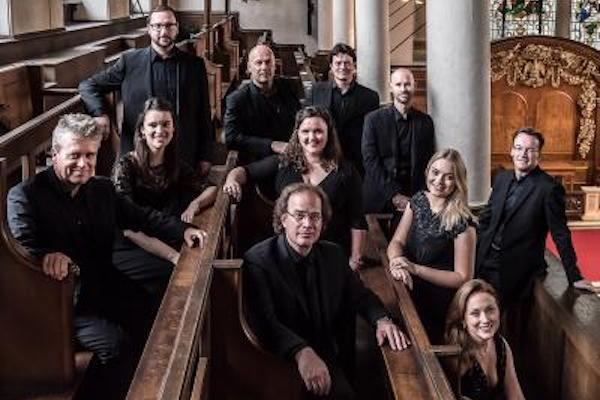 Alamire
boasts some of the finest consort singers in the world under the directorship of David Skinner. Inspired by the great choral works of the medieval and early modern periods, the ensemble expands or contracts according to repertoire and often combines with instrumentalists, creating imaginative programmes to illustrate musical or historical themes. The ensemble was formed in 2005 by three friends and early music experts: David Skinner, Rob Macdonald and Steven Harrold.
Performing extensively throughout Europe and the USA, the consort recorded a number of award-winning CDs for Obsidian Records. In 2015 they received the coveted Gramophone Award (Early Music) for 'The Spy's Choirbook', while 'Anne Boleyn's Songbook was nominated for a BBC Music Award, and was CD of the Year (Choral & Song) in Australia's Limelight Magazine. 'Thomas Tallis: Songs of Reformation' highlighted new fascinating discoveries about a musical collaboration between the composer and Queen Katherine Parr, and was widely covered by the UK media including BBC Breakfast television.
Alamire now record for the Inventa label, the first release being the polychoral works of the northern German composer Hieronymus Praetorius.
Peter Urquhart
is a musicologist and conductor. He studied composition, performance and music history and received degrees in musicology and conducting from Westminster Choir College and Smith College, and a Ph.D. from Harvard University. His academic research centers on problems of pitch and structure in Franco-Flemish music of the 15th and 16th centuries. He is an associate professor at UNH where he teaches history and theory, and runs the T-Hall Carillon; he is also the director of Capella Alamire, an ensemble specializing in the performance of Renaissance music, and the UNH-based ensemble Alamire Consort. For the work behind the first of Capella Alamire's eight recordings, he won the American Musicological Society's Noah Greenberg Award. He is also one of the editors of the New Josquin Edition (Utrecht). Sabbatical grants from the NEH and from the Institute for Advanced Study in Princeton have resulted in a book about non-notated accidentals in music, c.1500, the so-called "musica ficta" problem, in press in 2019 (Peeters).


Dieses Album enthält kein Booklet