---
Album Info
Album Veröffentlichung:
2021
HRA-Veröffentlichung:
03.02.2023
Das Album enthält Albumcover Booklet (PDF)
Joseph Haydn (1732 - 1809): The Seven Last Words of Our Saviour on the Cross, Op. 51, Hob.III/50-56:

1

Haydn: The Seven Last Words of Our Saviour on the Cross, Op. 51, Hob.III/50-56: Introduzione in D Minor (Maestoso ed Adagio)

04:56

Dominique Vellard (b. 1953): Les Sept Dernières Paroles du Christ en croix:

2

Vellard: Les Sept Dernières Paroles du Christ en croix: Pater, dimitte illis

02:36

Joseph Haydn: The Seven Last Words of Our Saviour on the Cross, Op. 51, Hob.III/50-56:

3

Haydn: The Seven Last Words of Our Saviour on the Cross, Op. 51, Hob.III/50-56: Sonata I in B-Flat Major (Largo)

05:47

Dominique Vellard: Les Sept Dernières Paroles du Christ en croix:

4

Vellard: Les Sept Dernières Paroles du Christ en croix: Amen, dico vobis

01:18

Joseph Haydn: The Seven Last Words of Our Saviour on the Cross, Op. 51, Hob.III/50-56:

5

Haydn: The Seven Last Words of Our Saviour on the Cross, Op. 51, Hob.III/50-56: Sonata II in C Minor (Grave e cantabile)

07:49

Dominique Vellard: Les Sept Dernières Paroles du Christ en croix:

6

Vellard: Les Sept Dernières Paroles du Christ en croix: Mulier, ecce filius tuus

01:10

Joseph Haydn: The Seven Last Words of Our Saviour on the Cross, Op. 51, Hob.III/50-56:

7

Haydn: The Seven Last Words of Our Saviour on the Cross, Op. 51, Hob.III/50-56: Sonata III in E Major (Grave)

08:36

Dominique Vellard: Les Sept Dernières Paroles du Christ en croix:

8

Vellard: Les Sept Dernières Paroles du Christ en croix: Eli, Eli, lama sabachthani ?

01:37

Joseph Haydn: The Seven Last Words of Our Saviour on the Cross, Op. 51, Hob.III/50-56:

9

Haydn: The Seven Last Words of Our Saviour on the Cross, Op. 51, Hob.III/50-56: Sonata IV in F Minor (Largo)

07:27

Dominique Vellard: Les Sept Dernières Paroles du Christ en croix:

10

Vellard: Les Sept Dernières Paroles du Christ en croix: Sitio

02:10

Joseph Haydn: The Seven Last Words of Our Saviour on the Cross, Op. 51, Hob.III/50-56:

11

Haydn: The Seven Last Words of Our Saviour on the Cross, Op. 51, Hob.III/50-56: Sonata V in A Major (Adagio)

08:52

Dominique Vellard: Les Sept Dernières Paroles du Christ en croix:

12

Vellard: Les Sept Dernières Paroles du Christ en croix: Consummatum est

01:12

Joseph Haydn: The Seven Last Words of Our Saviour on the Cross, Op. 51, Hob.III/50-56:

13

Haydn: The Seven Last Words of Our Saviour on the Cross, Op. 51, Hob.III/50-56: Sonata VI in G Minor (Lento)

07:15

Dominique Vellard: Les Sept Dernières Paroles du Christ en croix:

14

Vellard: Les Sept Dernières Paroles du Christ en croix: Pater, in manus tuas…

01:47

Joseph Haydn: The Seven Last Words of Our Saviour on the Cross, Op. 51, Hob.III/50-56:

15

Haydn: The Seven Last Words of Our Saviour on the Cross, Op. 51, Hob.III/50-56: Sonata VII in E-Flat Major (Largo)

07:04

16

Haydn: The Seven Last Words of Our Saviour on the Cross, Op. 51, Hob.III/50-56: Il terremoto in C Minor (Presto e con tutta la forza)

01:38

Total Runtime

01:11:14
Info zu Haydn, Vellard: The Seven Last Words
Haydn composed The Seven Last Words in 1786 to accompany the liturgy of the long Good Friday ceremony in Cádiz. Later, he adapted this cycle of seven sonatas, all with a slow tempo for string quartet, which is the version presented here.
The intensity of this work expressing the final agony of Christ enables the listener to ignore the absence of text in this music, yet purely instrumental.  On the other hand, Dominique Vellard undertook to set these texts to music, having unsuccessfully sought for any sort of musical setting of the Seven Last Words that might serve as an introduction to Haydn's work.
His Sept dernières paroles are strongly influenced by early music, while also being nourished by his attentive listening to music from other traditions.
The Ensemble Gilles Binchois and the Quatuor Debussy have come together to put these two works into perspective in a beautiful album, recorded in the crypt of Lagorce.
Quatuor Debussy
Ensemble Gilles Binchois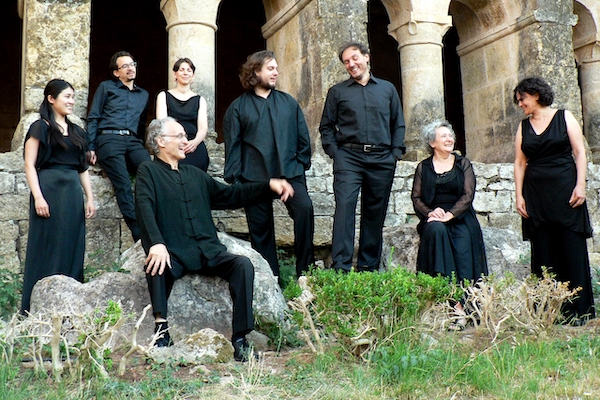 Quatuor Debussy
has built a reputation graced with international acclaim through their many recordings and live performances. Since its creation in 1990, they have enlivened the chamber music world with their stylish and stimulating performances. Based in Lyon and honored as Winners of the Evian International String Quartet Competition, the quartet performs about 120 concerts a year all around the world (Europe, Asia, Australia, North America…).
The quartet's recording schedule has included the release of more than 30 CDs in 30 years with works ranging from French Music (recently, around Debussy and Caplet which enriches its collection composed of Bonnal, Ravel, Fauré, Witkowski or Lekeu) to Weber or Shostakovich with the complete string quartets recorded by Arion. It includes the acclaimed Decca label release of the landmark Mozart Requiem recording, in the 1802 transcription by Peter Lichtenthal (about which a documentary film has also been made). The quartet's mixed chamber music repertoire includes its highly regarded CD of the Brahms and Webern clarinet quintets with clarinetist Jean Francois Verdier and a highly acclaimed collaboration with François Chaplin in several Mozart piano concertos.
Its members are the founders of "Les Cordes en Ballade" a chamber music festival and an academy of chamber music in the South of France, where they perform and teach each summer.
Ensemble Gilles Binchois
Since its creation in 1979, the Ensemble Gilles Binchois has striven to explore, cultivate, tame, sometimes reveal, and show off a whole period in the history of music that had not hitherto found its place in concert programmes, discographies, or even musical studies in conservatories. The Ensemble has not ceased to hone and refine its work on these repertoires, by approaching them in the light of the latest discoveries, leading to a better understanding of a musical notation that is often complex and imprecise. It takes possession of them, brings them to life. These four decades of familiarity with early repertoires have shaped interpretations and recordings that have continued over the years to be benchmarks for many teachers and musicologists in universities throughout the world. The Ensemble, which is considered to be "specialized", regularly performs 8 centuries of music, ranging from Gregorian chant to Monteverdi. It is above all the Ensemble's interactions and enthusiasms that determine its choices of this or that repertoire and which project it towards new paths. Could this be some sort of bulimic behaviour ? No, just a strong appetite for discovery, for shared musical pleasure, for making contemporary all the facets of our musical past.


Booklet für Haydn, Vellard: The Seven Last Words