---
Hovhaness: Talin-Concerto for Clarinet and String Orchestra / Diamond: Elegy for the Memory of Maurice Ravel / Barber: Serenade for String Quartet, Op. 1 Orchestra de Camera di Roma
Album Info
Album Veröffentlichung:
2022
HRA-Veröffentlichung:
07.12.2022
Das Album enthält Albumcover
1

Hovhaness: Talin-Concerto for Clarinet and String Orchestra: I. Chant

05:39

2

Hovhaness: Talin-Concerto for Clarinet and String Orchestra: II. Estampe

02:02

3

Hovhaness: Talin-Concerto for Clarinet and String Orchestra: III. Canzona

07:56

4

Wilson: Dedication

05:02

5

Barber: Serenade for Strings, Op. 1: I. Un Poco Adagio

04:24

6

Barber: Serenade for Strings, Op. 1: II. Andante con Moto

01:47

7

Barber: Serenade for Strings, Op. 1: III. Dance

04:21

8

Barlow: Winter's Passed

05:32

9

Diamond: Elegy for the Memory of Maurice Ravel

08:22

10

Kaufman: Pastorale for Strings

04:13

11

Hovhaness, Flagello: Adoration from "The Judgement of St Francis"

04:57

12

Berger: Short Overture for Strings

04:18

Total Runtime

58:33
Info zu Hovhaness: Talin-Concerto for Clarinet and String Orchestra / Diamond: Elegy for the Memory of Maurice Ravel / Barber: Serenade for String Quartet, Op. 1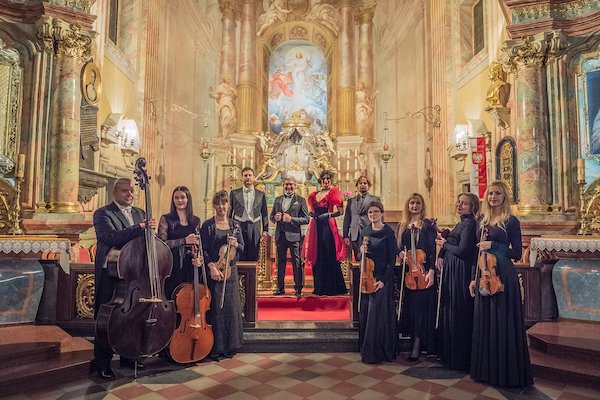 Opera da Camera di Roma
is an ensemble consisting of exceptional voices of Italian opera soloists accompanied by outstanding instrumental virtuosos. Our artists present a wonderful show, which is why they receive very often a standing ovation and positive audience feedback.
Alan Hovhaness
was born Alan Vaness Chakmakjian in the affluent Boston suburb of Somerville, Massachusetts on March 8, 1911. His Armenian father, Haroutioun Hovanes Chakmakjian, came from Adana (now in Turkey) and was a chemistry professor at Tufts College. His mother Madeleine Scott, was of Scottish ancestry, and did not especially approve of young Alan's learning about Armenian culture from his father. She ensured he was known simply as Alan Scott Vaness, which is the name seen on his earliest music. After her death in 1931, the composer used the surname Hovaness (after his paternal grandfather) later adding an 'h' after the 'v' around 1942, and so becoming Hovhaness with the accentuation on the second syllable.
Without any special encouragement, Hovhaness was drawn to music by the age of 4 and received his first piano lessons around the age of 7, by which time he was already improvising and composing with his own notation. He claimed to have sometimes composed secretly at night in his early years, and nocturnal creativity was certainly the norm for much of his life. In interview he once said "My family thought writing music was abnormal, so they would confiscate my music if they caught me in the act. I used to compose in the bathroom and hide the manuscripts under the bathtub." Hovhaness said he never "wanted to become" a composer, but that the act of composing just seemed natural to him. Growing up without any siblings and a somewhat shy nature, he thrust his energies into solitary but creative pursuits, such as reading, writing and painting. Another boyhood interest was astronomy. By age 14 however, he had decided firmly on a musical path. In conjunction with a high school librettist, Hovhaness penned his earliest operas Lotus Blossom, Bluebeard and Daniel.
As a boy, he acquired a love of mountains through long walks and apparent metaphysical experiences in the hills of New England. Such landscapes were the frequent subjects of his paintings and drawings. Mountains always remained important to him, determining the locales in which he chose to live, such as Lucerne in Switzerland and Seattle on the Pacific Coast, and would prove to be a lifelong inspiration for many evocatively-titled works, such as Mountain of Prophecy and Vision From High Rock.
Hovhaness' collegiate education began at Tufts College and his musical training was in the normal academic fashion. Although his upbringing seems to have been a relatively conventional one for a Bostonian, Hovhaness early on possessed a keen interest in matters of a spiritual nature.


Dieses Album enthält kein Booklet