---
1

1000hp

03:46

2

FML

03:38

3

Something Different

04:42

4

What's Next?

04:20

5

Generation Day

06:11

6

Locked & Loaded

04:12

7

Living In The Gray

04:07

8

I Don't Belong

03:33

9

Nothing Comes Easy

05:38

10

Turning To Stone

05:16

11

Life Is Good

04:04

Total Runtime

49:27
Info zu 1000hp
Since the release of their self-titled debut in 1998, Boston hard rock quartet Godsmack have notched up a remarkable set of facts 'n' stats in the US and beyond: these include 4 Grammy nominations. 4 Platinum Awards. 20 million records sold. 3 consecutive US #1 albums, unmatched airplay records at radio, and many more, In fact, few bands have so consistently and successfully championed the cause of hard rock as Godsmack.
Now, in 2014, The 'Smack are back with both a new single. "1000hp", plus a rekindled desire to take their signature sound to the international arena, with the single a potent point of attack on their new studio album of the same name.
"I think you can hear a real hunger in the sound." says frontman Sully Erna. "We're all pretty fired up at the moment, and that extends to taking our music overseas, It's time to give some real focus to our touring activities outside of North America, and we think this new single will make our intentions clear, It's one for the fans, and that means our fans everywhere."
'1000hp' sees Godsmack in fifth gear right from the start a raw, thrashy, punked-up call-to-arms that documents the band's journey from the Boston clubs, promoting a debut album recorded over a weekend for $2600, to the arenas of the world.
Produced & mixed by Dave Fortnam (Slipknot, Evanescene, etc) working closely with Erna. '1000hp' was recorded in Godsmack's new HQ just 30 minutes from the heart of Boston, and the band's calling-card weight, groove, power and spiritual tone are in evidence throughout, tempered here and there by more reflective moments, and in certain cases something of a new drift.
"The eleven-track album is primed and ready to cut it with the best of them. Those metal and hard rock influences are evident throughout, however Godsmack deliver their specific brand that sits at the core of their sound. It is edgy, angry and in your face, yet is full of tone, musicality and an evident sense of craftsmanship. 1000hp definitely lies near the top in the Godsmack back catalogue, and serves nicely as a glance back to the past, but with a foot firmly pointing to the future." (Andy Walsh, renownedforsound.com)
Sully Erna, lead vocals, rhythm guitar, production
Tony Rombola, lead guitar, backing vocals
Robbie Merrill, bass, backing vocals
Shannon Larkin, drums, percussion, backing vocals
Additional musicians:
Chris Decato, additional keyboards and MIDI samples
Irina Chirkova, cello on "Something Different"
Tim Theriault, acoustic guitar on "Generation Day"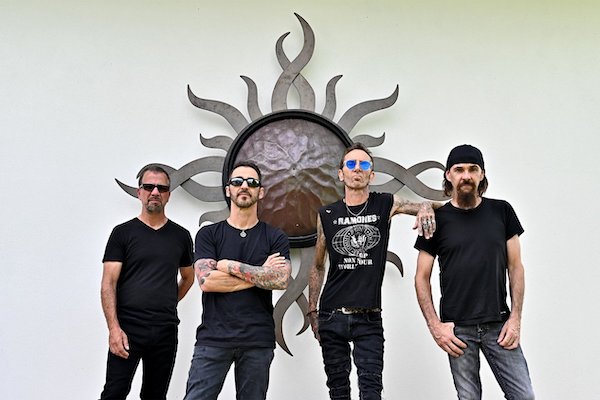 Godsmack
has more Top 10 Rock Songs than Foo Fighters or their hometown heroes, Aerosmith. Stretching back to their four-times platinum self-titled debut, initially recorded in 1996 for $2500, the veteran band's catalog of hits is enough to fill a marathon set without running out. Songs like "I Stand Alone," "Awake," and "Voodoo" are certified anthems deeply encoded into hard rock's DNA.
Like the antiheroes of a heist movie planning one last score, the Lawrence, Massachusetts-bred quartet takes a victory lap with Lighting Up the Sky, dropping one more classic album as they ascend into the celebratory portion of their career. Sully Erna, Robbie Merrill, Tony Rombola, and Shannon Larkin climbed the creative mountain over and over. They are consummate rock fans themselves, so they refuse to finish as one of those bands where fans hit the beer line during "the new stuff".
"Let's look at Godsmack. This isn't coming from an egotistical point of view. But we can play 15 songs a night and still not play all of our Top 10 singles," Erna points out. "When most people go see their favorite band, they don't care about the new records. We want to start our sunset years at some point and honor the 'greatest hits' portion of our career. Let's create the biggest and best show we can."
Lighting Up the Sky is undoubtedly a stunning swan song, should it truly prove to be the final studio album of new music from Godsmack. "Surrender," the first new song in four years, earned well over a half million streams on Spotify alone in its first two weeks of release. Songs like "What About Me" and "Soul On Fire" stand up to anything in the band's rich multi-platinum catalog. "Lighting Up the Sky is packed with melodies", assures the frontman. The band's body of work includes eight albums, four Grammy nominations, two iHeartRadio Music Awards noms, and a Billboard Music Award.
Godsmack self-released their debut album, All Wound Up…, in 1997. Republic/Universal Records signed the band to a multi-record deal and re-released a remixed version of the debut as 1998's Godsmack. The sophomore set Awake (2000) debuted at No. 5 on the Billboard 200 and was later certified double platinum. Faceless (2003), Godsmack's first with drummer Shannon Larkin, topped the Billboard 200 and went platinum the same year. Both IV (2006) and The Oracle (2010) debuted at No. 1 as well. 1000hp (2014) topped the Hard Rock Chart and opened at No. 3 on the Billboard 200.
When Legends Rise debuted atop Billboard's Top Rock Albums chart in May 2018. Two years later, Godsmack tied Van Halen and Shinedown for the second-most top ten singles in the 40-year history of Billboard's Mainstream Rock Songs airplay chart, with 26 songs. When Legends Rise produced three No. 1 singles back-to-back, including the title track, "Bulletproof," and "Under Your Scars".
The continued creative and commercial achievement with When Legends Rise accelerated the momentum into Lighting Up the Sky, even as the Covid-related lockdowns temporarily stopped live events.
"We knew nothing except grinding, sitting in a studio for months, then back on the road, and repeat", Erna explains. "We wanted to make this one at a more relaxed pace, more about quality than speed. This will probably be the last full body of work you ever get from Godsmack, so we wanted it to be important, meaningful, and packed. We worked at it off and on for almost two years."
As the compositions came together, a theme took shape organically. "I promised myself I wouldn't give myself the stress of the workload, lyrically. I'd let the record come to me. I'm a fan of sequencing and how songs flow together. I like when a record takes you on a journey from front to back. I realized there's a whole story here about one man's journey, the ups, and downs. I believe it's a story everyone will connect to, on a human level, because we've all gone through things in life."
Erna arranged for a unique recording experience, combining veteran Godsmack collaborators. He produced the album together with Andrew Murdock aka "Mudrock" (Avenged Sevenfold, Alice Cooper), who produced the first two albums, Godsmack and Awake. Dave Fortman (Slipknot, Mudvayne), who previously produced The Oracle and 1000HP, mixed Lighting Up the Sky.
"Since the theme of this album was about reliving the entire journey, it just felt right to bring back the original team and get the best production we could", Erna explains.
The powerful storytelling of Lighting Up the Sky covers boy-meets-girl, obstacles in relationships, the polarized political climate and the state of the world, betrayal, connection, rebounds, and more. It also gets into the idea of legacy, what we leave behind; fitting for what could be a "final" album.
"I don't know if there's another record after this. I feel this is very final for us", Erna says. "All these stories came together, and when I put them in order, I realized it's one whole story. It's a very emotional album for all of us. And the people who won't care about the intricacies of the story, the emotional depth, will still be able just to listen and enjoy. Because every song could be a single."
Even if this turns out to be their last album, Erna emphasizes that this isn't the end of Godsmack.
"We are in the best place we've ever been in our lives. Somehow, I feel like we were guided like the band was important enough to stay together. We learned to love each other as brothers. We climbed the highest mountains and got over them without breaking. It was an emotional moment when we got to that realization. We actually shed a few tears and gave each other big hugs. 'Let's go enjoy our lives.' This isn't the end. This is just a new beginning because the best of times is still to come."


Dieses Album enthält kein Booklet