---
Album Info
Album Veröffentlichung:
2017
HRA-Veröffentlichung:
03.11.2017
Das Album enthält Albumcover Booklet (PDF)
Entschuldigen Sie bitte!
Sehr geehrter HIGHRESAUDIO Besucher,
leider kann das Album zurzeit aufgrund von Länder- und Lizenzbeschränkungen nicht gekauft werden oder uns liegt der offizielle Veröffentlichungstermin für Ihr Land noch nicht vor. Wir aktualisieren unsere Veröffentlichungstermine ein- bis zweimal die Woche. Bitte schauen Sie ab und zu mal wieder rein.
Wir empfehlen Ihnen das Album auf Ihre Merkliste zu setzen.
Wir bedanken uns für Ihr Verständnis und Ihre Geduld.
Ihr, HIGHRESAUDIO
1

Bridge Into The New Age

06:47

2

Fatisha

04:08

3

Warriors Of Peace

08:03

4

Forces Of Nature

08:40

5

The Beautiful And Omnipresent Love

10:08

Total Runtime

37:46
Info zu Bridge Into The New Age (Remastered)
What do Miles Davis, McCoy Tyner, Elvin Jones, Horace Tapscott, Earth, Wind & Fire, Frank Zappa, Busta Rhymes, Billy Higgins, Chuck Jackson and the lost funk group Chameleon all have in common? Los Angeles saxophonist Azar Lawrence, that's what.
Released in 1974 on Prestige, Bridge Into The New Age was the first of three albums Lawrence recorded as a leader for Prestige -- all before he was 25 (this one when he was a pup of 21). But Lawrence had logged some serious time with Tyner (getting the first notices for his work on the pianist's classic Enlightenment set from 1973). He had also played on Davis's freaky live funk date at Carnegie Hall, released in 1974 as Dark Magus. Beatheads and crate-diggers, the true cultural archeologists of our age, God bless them, have been onto this maddeningly out-of-print licorice pizza for years.
Hardcore jazz fans were hip to Lawrence and excited about him as a leader. The lineup here is enough to make your mouth drop open in an extended "Whooooooaaaaaaa": besides the leader playing soprano and tenor saxophones, this date hosts Julian Priester (trombone), Woody Shaw (trumpet), Hadley Caliman (flute), Arthur Blythe (alto saxophone), Joe Bonner (piano), John Heard, Woody Murray, and Clint Houston (variously on bass), Billy Hart (drums), Leon Chancler, Mtume or Kenneth Nash (percussion), and on two tracks, the title and "The Beautiful And Omnipresent Love," the beguiling Jean Carn appears to grace them with her gloriously soulful vocals. Lawrence, despite his deep debt to John Coltrane (along with every other tenor and soprano player in the 1970s), uses it to take the music to a different level. Here one will find the true roots of post-bop jazz, spiritual soul jazz, Latin Jazz, Afro Cuban jazz, funky acoustic modal jazz, and much more. The set has a complete identity for all of its ambition, which makes it even more impressive; it is as worthy as anything on the highly collectible Strata East Or Black Jazz labels. It is as balanced and nearly perfect an album as one is likely to find. The aforementioned beatheads are drawn to the furious jazz dance jam "Force Of Nature" that combines Afro-Cuban and Nuyorican salsa rhythms and melodies in a wide harmonic spread that makes it compositionally enthralling as well as rhythmically driven. But this is one of five flawless cuts. "Fatisha" is one of the more beautiful ballads of the spiritual jazz era with gorgeous work by Bonner, and "Warriors Of Peace," contains some of the most focused incendiary horn work by the saxophonists driven by a rhythmic pulse that combines Yoruba drumming, salsa beats, and hardcore Cuban son time signatures.
Besides his two other excellent leader dates for Prestige (People Moving and Summer Solstice, which are also great"- and currently unavailable), he wrote songs with Chuck Jackson, played on Earth, Wine and Fire's Powerlight set, formed Chameleon with Patrice Robinson (a.k.a Chocolate from Graham Central Station) and recorded for Elektra, played with Zappa, Tapscott, and Higgins and appeared in Busta Rhymes™ "In the Ghetto" video wailing on his tenor. Lawrence is out there on the bandstand almost every night in the greater Los Angeles area and he is still a monster of a player. (Thom Jurek, AMG)
Azar Lawrence, soprano saxophone, tenor saxophone
Woody Shaw, trumpet (tracks 1 & 5)
Julian Priester, trombone (track 4)
Black Arthur, alto saxophone (tracks 3 & 4)
Hadley Caliman, flute (track 4)
Ray Straughter, wood flute (track 5)
Joe Bonner, piano (tracks 2-4)
Woody Murray, vibraphone (tracks 1 & 5)
John Heard, bass (tracks 3 & 4)
Clint Houston, bass (tracks 1 & 5)
Billy Hart, drums (tracks 1 & 5)
Ndugu, drums (tracks 3 & 4)
Mtume, congas, percussion (tracks 3 & 4)
Guilherme Franco, percussion (tracks 1 & 5)
Kenneth Nash, percussion (tracks 2 & 5)
Jean Carn, vocals (tracks 1 & 5)
Recorded May–September, 1974 at Fantasy Recording Studios, Berkley, California
Produced by Jim Stern, Orrin Keepnews
Digitally remastered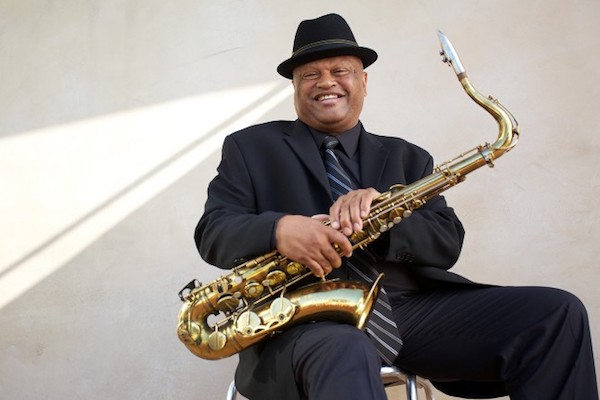 Azar Lawrence
grew up during an era of prolificacy and transcendence in Jazz music that to this day has stood the test of time. He's composed, produced and performed with acclaimed jazz luminary McCoy Tyner for over five years and Elvin Jones for many years. While very young Azar began playing with many jazz legends and at such an early age his first professional gigs abroad were when he was seventeen with Clarke Terry and Muddy Waters.
It is said that music is of a pure nature all around us and within us as well. This music is from the tones produced by every vibration. Throughout the universe every atom everywhere produces a tone whether we can hear it or not. This is commonly referred to as the music of the spheres. When we as musicians dedicate our lives to a certain daily practice in order to try to produce the purest vibration tones we can often send those tones onto and into others like laser beams. Whether one on one or in groups music can and does cause an uplifting or healing effect. Our vibrations are lifted and we feel better and we are better.
I received this great understandingas inspiration in words of guidance and musical encouragement early on from legendary masters whom I have had the honor and privilege to humbly study, learn from, and perform with all along the way. McCoy Tyner's reply to me when I asked him how could he play with me just having turned 19 years old after being with the incomparable John Coltrane, was "I think you feel the same way about the music that John did."
The great Elvin Jones told me that he thought that I had the "same kind of energy" that Mr. Coltrane had and "that was what was needed from me."
Miles Davis told me when I was asked to join his band in the mid 70's that the reason he wanted me to come aboard was because he "had not heard tenor sax since John Coltrane until me."


Booklet für Bridge Into The New Age (Remastered)