---
Album Info
Album Veröffentlichung:
2023
HRA-Veröffentlichung:
03.02.2023
Label: BIS
Genre: Classical
Subgenre: Chamber Music
Interpret: David Brutti & Nicola Lamon
Komponist: Giovanni Battista Fontana (1571-1631), Girolamo Frescobaldi (1583-1643), Annibale Padovano (1527-1575), Dario Castello (1590-1631), Giovanni Gabrieli (1554-1612), Giovanni Girolamo Kapsberger (1580-1651), Francesco Rognoni (1570-1626), Angelo Notari
Das Album enthält Albumcover Booklet (PDF)
Giovanni Battista Fontana (1589 - 1630): Violin Sonata in C Major, F 1475.03 (Arr. for Cornetto & Continuo):

1

Fontana: Violin Sonata in C Major, F 1475.03 (Arr. for Cornetto & Continuo)

04:33

Girolamo Frescobaldi (1583 - 1643): Canzon Terza detta "La Lucchesina" (Arr. for Cornetto & Continuo):

2

Frescobaldi: Canzon Terza detta "La Lucchesina" (Arr. for Cornetto & Continuo)

04:07

Annibale Padovano (1527 - 1575): Toccata VI tono:

3

Padovano: Toccata VI tono

04:28

Dario Castello (1602 - 1631): Sonate concertate in stil moderno, Book 2:

4

Castello: Sonate concertate in stil moderno, Book 2: No. 1, —

04:33

Andrea Gabrieli (1533 - 1585): Canzoni alla francese:

5

Gabrieli: Canzoni alla francese: No. 7, Qui la dira

05:39

Girolamo Kapsberger (1580 - 1651): Sinfonia No. 13 (Arr. for Cornetto & Continuo):

6

Kapsberger: Sinfonia No. 13 (Arr. for Cornetto & Continuo)

02:07

Andrea Falconieri (1585 - 1656): La monarca (Arr. for Cornetto & Continuo):

7

Falconieri: La monarca (Arr. for Cornetto & Continuo)

03:00

Riccardo Rognoni (1550 - 1620): Ung gay Berger (Arr. for Cornetto & Continuo):

8

Rognoni: Ung gay Berger (Arr. for Cornetto & Continuo)

03:21

Angelo Notari (1566 - 1663): Ahi, che s'acresce in me (Arr. for Cornetto & Continuo):

9

Notari: Ahi, che s'acresce in me (Arr. for Cornetto & Continuo)

02:18

Anonymous: Canzona su partimento:

10

Anonymous: Canzona su partimento

01:43

Girolamo dalla Casa: Susanne un jour (Arr. for Cornetto & Continuo):

11

Casa: Susanne un jour (Arr. for Cornetto & Continuo)

04:25

Giovanni Salvatore (1620 - 1688): Toccata seconda del nono tono naturale:

12

Salvatore: Toccata seconda del nono tono naturale

03:35

Giovanni Martino Cesare (1590 - 1667): La foccarina (Arr. for Cornetto & Continuo):

13

Cesare: La foccarina (Arr. for Cornetto & Continuo)

04:07

Francesco Rognoni Taeggio (1570 - 1626): Diminutions on "Pulchra es anima mea", SVP 1.28 (Arr. for Cornetto & Continuo):

14

Taeggio: Diminutions on "Pulchra es anima mea", SVP 1.28 (Arr. for Cornetto & Continuo)

04:45

Giovanni Battista Fontana: Violin Sonata in D Major, F 1475.02 (Arr. for Cornetto & Continuo):

15

Fontana: Violin Sonata in D Major, F 1475.02 (Arr. for Cornetto & Continuo)

06:40

Biagio Marini (1594 - 1663): Sonata for Organ & Cornetto, Op. 8 No. 2:

16

Marini: Sonata for Organ & Cornetto, Op. 8 No. 2

03:38

Total Runtime

01:02:59
Info zu Seicento stravagante: Music for Cornetto & Keyboard
Wie kann man Gefühle durch Musik ausdrücken, in der keine Worte vorkommen? Dieses Album versucht, eine Antwort auf diese Frage zu geben. Anhand von Werken italienischer Komponisten aus dem späten 16. und frühen 17. Jahrhundert demonstrieren die beiden Mitglieder von Seicento Stravagante, David Brutti und Nicola Lamon, die extravaganten Stile der frühen Barockmusik. In den Jahrzehnten um 1600 wurde die Dominanz der menschlichen Stimme und des Textes durch die unbändige Fantasie der Komponisten/Instrumentalisten ersetzt, die es den Instrumenten erlaubten, selbst zu sprechen" und nicht nur einen gesungenen Text zu unterstützen.
Zunächst wurde die Polyphonie des ursprünglichen Vokalstücks lediglich durch Verzierungen ergänzt, um das Fehlen des Textes zu kompensieren, doch später, als die Grenzen zwischen Vokal- und Instrumentalmusik fließend wurden, verwandelten sich die Gesangslinien in virtuose Instrumentalsoli. Im dritten Jahrzehnt des 17. Jahrhunderts entwickelten Komponisten und Interpreten einen neuen, eigenständigen Instrumentalstil, der es ihnen ermöglichte, komplizierte Polyphonie, tänzerische Passagen und emotional aufgeladene musikalische Phrasen frei zu kombinieren. Brutti spielt diese Auswahl von Werken, die zwischen 1584 und 1650 veröffentlicht wurden, auf drei verschiedenen Arten von Cornetto, während Lamon abwechselnd eine Cembalo-Kopie von 1681 und nicht weniger als zwei historische Orgeln von 1578 bzw. 1660 spielt.
Seicento Stravagante
David Brutti, Kornett
Nicola Lamon, rgel, Cembalo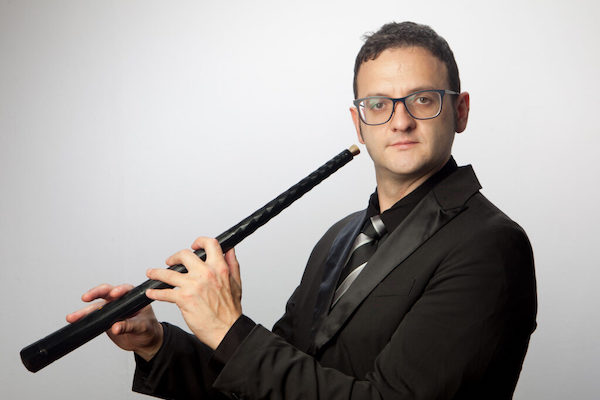 David Brutti
studied saxophone with Jean Marie Londeix and Marie Bernadette Charrier at "Conservatoire de Bordeaux" where he got the "Medaille d'Or" and Chamber Music with Pier-Narciso Masi at "Accademia Pianistica Internazionale – Imola" were he got his "Master Diploma".
From 2000 to 2008 David Brutti was awarded in more than fifteen international and national competitions including the Gaudeamus Interpreters Competition 2007 – Amsterdam, and "What's Next 2006" – Nuova Consonanza (Rome).
He collaborates with many contemporary music ensembles as Ensemble L'Itinéraire, Algoritmo Ensemble, Divertimento Ensemble, Prometeo Ensemble, Ensemble Nuovo Contrappunto, Ensemble International de Saxophones and with many musicians such Marco Angius, Mario Caroli, Francesco Dillon, Sandro Gorli, Gabriele Mirabassi, Enrico Rava, Michele Rabbia, Gianluca Petrella.
David Brutti regularly appears in the greatest concert halls and festivals of the world, including IRCAM (Paris), Traiettorie 2010, Auditorium Parco della Musica (Roma), Akademie der Künste Berlin, Sant Cecilia Hall (Rome), Muziekgebouw Aan T'ij (Amsterdam), Royal Festival Hall – Southbank (London), Universität der Künste (Berlin), Teatro Regio (Turin), Saint-Petersburg Philarmonic (Saint-Petersburg), Oleg Kagan Musik Fest (Munich), Traiettorie 2010 (Parma), Umbria Jazz 2007 and 2010, Sagra Musicale Umbra, Automne Musicale a Chatellerault (Poitiers), Amici della Musica, Compositori a Confronto 2004 (Reggio-Emilia), Yamaha Music 2003-2004 (Milano), Jazzfestival Saalfelden 2004 (Salzburg), Nuova Consonanza (Rome), Grenoble Jazz Festival 2004 etc…
Since he is interested in researching and developing new musical languages, he regularly plays odds and unusual saxophones as soprano, bass and contrabass saxophones, the slide sax, the c-melody and c-soprano, the F mezzo-soprano, the EWI often in combination with electronic audio devices. He commissioned and premiered more than 30 original works and collaborates with many composers like Marco Momi, Andrea Manzoli, Ivan Fedele, Mauro Lanza, Andrea Agostini, Fabio Cifariello-Ciardi, Michael Edlund, Giorgio Magnanensi, Bernhard Lang, Terry Riley, Paul Dolden, Stefano Trevisi, Paolo Marzocchi, Christina Athinodorou, Paolo Baioni, etc…
In 2001 with the pianist Filippo Farinelli he formed the "Duo Disecheis" an ensemble devoted to contemporary and XX century music.
He has given masterclasses at the Royal College of Music – London, Konservatorium Wien, Conservatorio Superior de las Islas Baleares – Palma de Mallorca, Conservatorio Statale di Musica – Latina, Conservatorio "Licino Refice" – Frosinone and Conservatorio "Gesualdo da Venosa" – Potenza.
He has recorded for Radio France, Radio 3, Rai Trade, Cam Jazz, Artesuono, Materiali Sonori, Warner Chappell, Parco della Musica Records, Label Bleu, and since 2010 he is a Brilliant Classics artist; in 2012 has been released a triple CD: "Charles Koechlin – Complete Works for Saxophone". Upcoming for 2014 a new box set: "Entartete Musik for saxophone and piano" including works by Erwin Schulhoff, Paul Dessau, Viktor Ullmann, Paul Hindemith, Hans Gal.
David Brutti plays Rampone & Cazzani R1-Jazz saxophones, Légère synthetic reeds, Drake mouthpieces and Rovner ligatures; he collaborates with Rampone & Cazzani to develop their products.
Nicola Lamon
studied organ with Elsa Bolzonello Zoja and harpsichord with Sergio Vartolo and Marco Vincenzi at the Conservatorio 'B. Marcello' in Venice. He also obtained a diploma in Gregorian Chant with full marks with Lanfranco Menga. He perfected his studies with H. Davidsson, W. Porter, J. L. Gonzalez Uriol and at the Accademia Chigiana in Siena with Cristophe Rousset, obtaining a diploma of merit. He has been awarded several prizes in various national and international competitions: in organ the third prize in Borca di Cadore in 2001 and 2005, the first prize in Viterbo in 2003 and the third prize in Fano Adriano (TE) in 2006; in harpsichord the first prize in Fusignano (RA) in 2003 and the first prize in Pesaro in 2005. He follows and studies with particular interest the relationship between Gregorian chant, organ, liturgy, vocal music and basso continuo, serving as organist at the prestigious St. Mark's Basilica in Venice. He also works as an organist and harpsichord continuist in various ensembles, collaborating as such in masterclasses and master classes. He has taught keyboard practice and vocal repertoire reading at the Conservatorio 'C. Pollini di Padova'. He currently works as harpsichord accompanist at the conservatories Arrigo Pedrollo in Vicenza and Agostino Steffani in Castelfranco Veneto (TV). He is also involved in the monumental performance of the two books of J. S. Bach's Well-Tempered Clavier.


Booklet für Seicento stravagante: Music for Cornetto & Keyboard