---
Album Info
Album Veröffentlichung:
2023
HRA-Veröffentlichung:
10.03.2023
Das Album enthält Albumcover
1

What's Trending

03:31

2

Keep It Wild

03:26

3

When the Mask Comes Off

03:58

4

It's Alright

04:13

5

Everybody's Faking

03:07

6

Crazy People

03:34

7

Hanging by a Thread

03:16

8

There Was a Fire

04:03

9

1982

04:47

10

Spin

03:31

11

Nobody Kisses Anymore

04:12

12

After Summer's Gone

03:27

13

Sleepwalking

04:00

Total Runtime

49:05
Info zu What's Trending
What's Trending is Leo Sidran's eighth solo record. In many ways it picks up where his celebrated 2021 release The Art Of Conversation left off. If The Art was a "hymn to empathy" (El Pais, Spain) and "a treasure chest of intimate and introspective portraits of family life during the pandemic" (West Coast Soul, Germany), this latest release is a hip, deeply personal exploration of how music can make life more livable in difficult times.
He does it with easy humor, great grooves and a vocal delivery - direct, approachable, conversational – that leaves the impression he is singing only to you, telling your story while he tells his own. Being a multi-instrumentalist (he plays most of the instruments on the record) gives him the advantage of crafting songs of detailed yet lush subtlety. They are small universes that explore ideas of identity, history, social discourse, and the richness of every-day life. He draws from jazz, r&b, lofi hiphop, singer-songwriter and even pop, yet always lands on his own two feet. His songs, as pop musician Steve Miller once said, "stand and deliver".
The title track "What's Trending" was inspired by Leo's 11 year-old daughter, Sol, who he says "is the ultimate trend follower, always showing me some new meme, dance or internet phenomenon, and always armed with the phrase 'look at this, it's trending.'" The irony of today's trend becoming tomorrow's fad is not lost on Leo. And Sol, who appears on the track as well as a handful of others on the record, sings with a maturity that belies her youth. Leo himself began recording professionally when he was in his teens (Steve Miller recorded four of his songs when Leo was only 15), so there is something of a sense of continuity coursing through the project.
That continuity is there in the song "There Was A Fire" which features both Leo's daughter and his father, jazz musician Ben Sidran. In fact "There Was A Fire" is inspired by the elder Sidran's book of the same name, which explored the Jewish contribution to popular music in America. The title is based on a legend of Jewish origin from the 18th century about the importance of remembering who you are and where you came from.
And where Sidran comes from is a place of great music and great musicians. As on his previous projects, here he counts on the collaboration of a select handful of friends as featured guests, including Janis Siegel (of the Manhattan Transfer), Louis Cato (bandleader of The Late Show with Stephen Colbert), Jon Lampley (of The Huntertones), Jake Sherman, Lauren Henderson, and Michael Leonhart (of Steely Dan) among others. And once again, almost all of the collaborators on the project have also been guests on Sidran's celebrated podcast The Third Story.
Some of the songs on What's Trending respond to the turmoil of modern life, in one moment hopeful ("It's Alright") in another humbled ("Hanging By A Thread"), in yet another introspective ("Sleepwalking"), and finally celebratory ("When The Mask Comes Off"). "Keep It Wild", "Nobody Kisses Anymore" and "After Summer's Gone" all channel Sidran's devotion to classic love songs. We hear it in "Nobody Kisses Anymore" when he laments: "Nobody takes the time to write, nobody's using punctuation", a nod to the slippery slope of informality in modern life.
"Everybody's Faking", "Crazy People", and "Spin" likewise explore the place of truth, or lack thereof, in today's world, while "1982," is a nostalgic look-back, constructed using only the titles of popular songs released during that year. Huey Lewis, Michael McDonald, Toto, The Police, Hall and Oates, Stevie Wonder, Steve Miller - the iconic artists of Leo's childhood - all come through clearly in the music.
As Leo Sidran proves, the exploration of 'what's trending' doesn't have to simply be a jaundiced look at today's social circus. It can be fun, funny, warm, wishful and downright inspirational, just like the songs he produces.
Leo Sidran, drums, percussion, bass, guitars, keyboards, piano. vibraphone, lead and backing vocals
Louis Cato, guitar and scat solo (track 4)
Max Darmon, bass (track 6)
Mark Dover, clarinet solo (track 8)
Joy Dragland, vocals (tracks 2, 5, 6)
Angela Faith, vocals (track 4)
Ben Flocks, saxophone solo (track 3)
Michael Hearst, theremin, saw, strings, effects (track 7)
Lauren Henderson, vocals (track 11)
Peter Hess, woodwinds (track 8)
Jon Lampley, brass (track 6)
Michael Leonhart, trumpet, (track 1)
Orlando LeFleming, acoustic bass (track 12)
Jake Sherman, harmonica solo (track 11)
Janis Siegel, vocals (track 4)
Ben Sidran, vocals (track 8)
Sol Sidran, vocals (tracks 1, 4, 7)
Zelta Sils, ghost vocals (track 7)
John Sneider, trumpets (track 8)
Rich Stein, percussion (tracks 5, 7, 13)
Michael Thurber, bass & vocals (track 3)
Nina Zeitlin, vocals (tracks 8, 9, 10)
Produced, Recorded and Arranged by Leo Sidran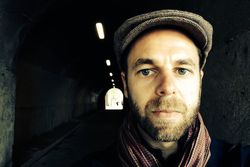 Leo Sidran
Brooklyn based multi-instrumentalist, composer, producer Leo Sidran was born and raised in Madison, Wisconsin, which is sometimes referred to as 70 square miles surrounded by reality. His father, Ben, another multifaceted music man, provided his early musical sustenance. His mother, a weaver and travel agent, provided texture and safe passage.
Leo is releasing his fourth solo record in April. 2015. The appropriately titled "Mucho Leo" is his first in a decade, and when we say 'solo,' well, Sidran not only sings and plays everything on this new effort, he could also take credit for recording and mixing the album.
It makes complete sense, says Sidran, 'It's a very personal project, and after a long period of working behind the scenes, it's an important creative statement for me, but I also have a larger story to tell.'
We will tell at least some of it right now...
Sidran got his start writing songs professionally as a teenager when the Steve Miller Band recorded four of his songs for their 1993 Wide River album. Leo's father, Ben Sidran — a producer and jazz musician — was working with Miller at the time, which is how Leo made the connection, but even then, at the ripe old age of 15, he was interested in production. So, Steve invited him to play keyboards, guitars and drums on the record.
Subsequently, Leo attended the University of Wisconsin to study History and Spanish. During a year abroad living in Spain, he fell in love with Spanish music, and after college he spent quite a bit of time back and forth between his hometown of Madison, WI, and Madrid. During that time, Sidran developed a strong relationship with several Madrid-based 'Latin alternative' artists like Jorge Drexler and Ana Laan. Years later, Sidran would co-produce the Academy Award Winning song, 'Al Otro Lado Del Rio' from the film The Motorcycle Diaries for Jorge Drexler in 2005.
After the Oscar win, Leo made a move to Brooklyn and not only started producing records for other artists, but also composed music for film and television commercials amassing a catalog of over 100 major TV ads for clients like Coca-Cola, Visa, McDonalds, Stella, Ford, Garnier and a dozen film scores for outlets such as ESPN, Discovery, IFC, Sundance, and PBS.
In addition, around this time, Leo started a small label called Nardis Music with his father releasing solo projects by father and son, as well as some projects that the two produced for other artists, like Clyde Stubblefield (James Brown's original funky drummer). Leo has produced all of his dad's records for the last decade.
As a drummer, Sidran has played and recorded with jazz luminaries including Phil Woods, Howard Levy, David Fathead Newman, Clark Terry and Dave Grusin, and as an engineer he's recorded projects ranging from jazz great Mark Murphy to British duo Massive Attack.
To round out his penchant for curating the music he loves, earlier this year, Leo launched a podcast called The Third Story (www.third-story.com) in which he interviews musicians, producers, songwriters, and other friends in the creative class about their personal stories and professional journeys.
Mucho Leo is an important recording in the canon of Leo Sidran precisely because it pulls together and crystalizes Sidran's influences and passions, as one can hear strains of Leonard Cohen, Randy Newman, Michael Franks and Manu Chao, among others, but is also struck by the reality of a distinctive 'voice' and an illustrious history that has remained, to some extent, unsung up until now.

Dieses Album enthält kein Booklet