---
Alessandro Scarlatti (1660 - 1725): Il Martirio di Santa Teodosia, Prima Parte:

1

Il Martirio di Santa Teodosia, Prima Parte: Sonata a 4 in do minore. Fuga Andante - Grave - Presto

06:42

2

Il Martirio di Santa Teodosia, Prima Parte: Sinfonia

00:55

3

Il Martirio di Santa Teodosia, Prima Parte: Se il mio dolore (Arsenio)

02:21

4

Il Martirio di Santa Teodosia, Prima Parte: Rasserena le luci, asciuga il viso (Urbano)

00:21

5

Il Martirio di Santa Teodosia, Prima Parte: E quando felice (Urbano, Arsenio)

01:16

6

Il Martirio di Santa Teodosia, Prima Parte: Troppo severa hà per gl'affetti, ahi lasso (Arsenio)

00:27

7

Il Martirio di Santa Teodosia, Prima Parte: O lieto quel core (Arsenio)

02:28

8

Il Martirio di Santa Teodosia, Prima Parte: Lascia, lascia Signor (Decio)

00:45

9

Il Martirio di Santa Teodosia, Prima Parte: Bella perchè disprezzi (Decio, Teodosia)

02:07

10

Il Martirio di Santa Teodosia, Prima Parte: Non provocar più Decio (Teodosia)

00:50

11

Il Martirio di Santa Teodosia, Prima Parte: Son costante e amante fedele (Teodosia)

02:23

12

Il Martirio di Santa Teodosia, Prima Parte: Alma di te più dura (Arsenio)

00:15

13

Il Martirio di Santa Teodosia, Prima Parte: Mà ben l'empia punir saprò ! (Urbano, Teodosia, Decio, Arsenio)

00:26

14

Il Martirio di Santa Teodosia, Prima Parte: Se vuoi crudel tu puoi (Arsenio, Teodosia)

02:54

15

Il Martirio di Santa Teodosia, Prima Parte: Stelle deh concedete (Arsenio, Urbano)

01:25

16

Il Martirio di Santa Teodosia, Prima Parte: Già d'ira m'accendo (Urbano)

01:34

17

Il Martirio di Santa Teodosia, Prima Parte: A presagi si crudi (Decio)

00:21

18

Il Martirio di Santa Teodosia, Prima Parte: Son pronta all'offese (Teodosia)

00:49

19

Il Martirio di Santa Teodosia, Prima Parte: Non racchiudo nel seno alma codarda (Teodosia)

01:11

20

Il Martirio di Santa Teodosia, Prima Parte: Se il Cielo m'invita (Teodosia)

07:39

21

Il Martirio di Santa Teodosia, Prima Parte: Ed io sempre dolente (Arsenio, Decio)

01:01

22

Il Martirio di Santa Teodosia, Prima Parte: Si si spera (Decio)

01:35

23

Il Martirio di Santa Teodosia, Prima Parte: Ogni speme deponi (Teodosia)

00:54

Il Martirio di Santa Teodosia, Seconda Parte:

24

Il Martirio di Santa Teodosia, Seconda Parte: Farò paghe tue voglie (Urbano, Teodosia)

00:41

25

Il Martirio di Santa Teodosia, Seconda Parte: All'armi ò constanza (Teodosia)

03:53

26

Il Martirio di Santa Teodosia, Seconda Parte: Si pur fidi guerrieri (Teodosia, Arsenio, Decio)

01:55

27

Il Martirio di Santa Teodosia, Seconda Parte: Non è fierezza (Decio)

02:37

28

Il Martirio di Santa Teodosia, Seconda Parte: Non funestar più con il duol la fronte (Urbano, Arsenio)

01:27

29

Il Martirio di Santa Teodosia, Seconda Parte: Mi piace il morire (Teodosia)

02:37

30

Il Martirio di Santa Teodosia, Seconda Parte: Dunque se tanto grata (Urbano)

00:26

31

Il Martirio di Santa Teodosia, Seconda Parte: L'offendere un Rege (Urbano)

01:06

32

Il Martirio di Santa Teodosia, Seconda Parte: E tu Figlio dolente (Urbano, Decio, Teodosia)

01:50

33

Il Martirio di Santa Teodosia, Seconda Parte: Soccorretemi Cieli fideli (Teodosia)

03:54

34

Il Martirio di Santa Teodosia, Seconda Parte: Moltiplicate pure (Urbano)

00:55

35

Il Martirio di Santa Teodosia, Seconda Parte: Costanza, fierezza, ci vuol per combattere (Teodosia, Arsenio, Urbano)

01:00

36

Il Martirio di Santa Teodosia, Seconda Parte: Da Ferro micidiale (Teodosia)

02:09

37

Il Martirio di Santa Teodosia, Seconda Parte: Spirti beati (Teodosia)

06:44

38

Il Martirio di Santa Teodosia, Seconda Parte: Di Teodosia il Martir chiaro t'addita (Tutti)

02:45

Total Runtime

01:14:38
Info zu Alessandro Scarlatti: Il Martirio di Santa Teodosia
Alessandro Scarlatti's oratorio is an exciting drama of life, love and death, set in the 4th century Roman Empire. Preferring to devote her life to God, Teodosia rejects the love of Arsenio, the son of the Roman governor, and welcomes death. St. Theodosia of Tyre died at the age of 18, in the year 308. One cannot help but be struck by the dramatic strength and the vocal beauty of this work, performed here by a very talented cast, including Emmanuelle de Negri, Emiliano Gonzalez Toro, Anthea Pichanick, Renato Dolcini and the fiery orchestra, Les Accents, led by Thibault Noally.
Emmanuelle de Negri, soprano
Emiliano Gonzalez Toro, tenor
Anthea Pichanick, contralto
Renato Dolcini, baritone
Les Accents
Thibault Noally, direction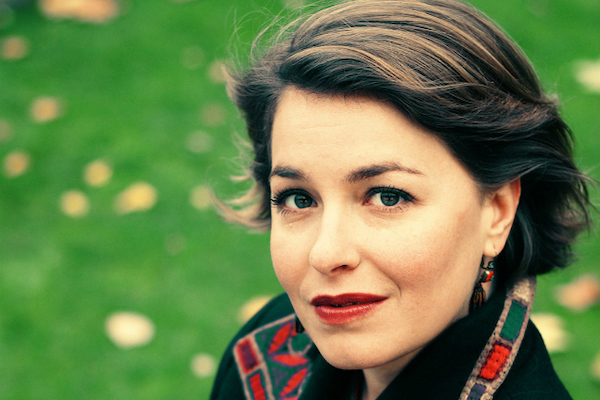 Emmanuelle de Negri
When the noble and pompous Paris Opera decided to renew itself in the Age of Enlightenment, it adopted comedy. Comedy, that is to say intrigue, chivalry, the diversity of tone and the modernity of language: all that which made a work livelier for its contemporaries.
Dance, which had always been part of French operas, rose to prominence. Opéra-ballet emerged, magnificent and pleasing to the eye, and won audiences with its succession of entrées: autonomous and indefinitely combinable plots.
The dazzling and lasting success of Les Fêtes vénitiennes was instrumental in the advent of this new form of entertainment. André Campra, who prevailed over French music since Lully's death, displayed all his art in these gallant and witty intrigues against a background of unbridled carnival. William Christie and Robert Carsen are reunited after their 2014 Platée so as to revive the splendor of opéra-ballet.
After l'Opéra Comique and The Théâtre de Caen, Emmanuelle de Negri will perform with great pleasure as La Raison, Lucile and Lucie in Théâtre de Capitole (Toulouse) on February 23rd, 25th, 26th and 28th 2016.
During this season 2015/2016, soprano Emmanuelle de Negri continues her international tours with Les Arts Florissants, under the baton of William Christie : she will be part of Les Fêtes Vénitiennes in Toulouse as well as the european tour of Airs sérieux et à boire. We see her in Lille, Caen and at the Theater an der Wien, under the baton of Emmanuelle Haïm, as Amastre (Xerse by Cavalli). Furthermore, we had the opportunity to discover her as Susanna during a french tour of Le Nozze di Figaro with the Co(Opéra)tive Opera.
Emiliano Gonzalez Toro
The son of Chilean parents, Emiliano Gonzalez Toro was born in Geneva, where his first musical experiences were singing in the children's choir Les pueri de Genève. He later completed his degree in oboe in Geneva and Lausanne, attaining the first-prize level before he switched to voice and undertook training with Marga Liskutin, Anthony Rolfe Johnson, and Ruben Amoretti. From the beginning of his career, Baroque music has been a repertoire focus, and Gonzalez Toro has worked with William Christie and Les Arts Florissants, Marc Minkowski and Les Musiciens du Louvre, Christina Pluhar and L'Arpeggiata, Hervé Niquet and Le Concert Spirituel, Christophe Rousset and Les Talens Lyriques, and Raphaël Pichon and the Ensemble Pygmalion. He has appeared in Cavalli's La Callisto at the Bavarian Staatsoper, Rameau's Platée at the Opéra National du Rhin in Strasbourg, and Verdi's La traviata at the Festspielhaus Baden-Baden in the staging by Rolando Villazón. In the United States he has been seen in Félicien David's opéracomique Lalla Roukh, which he performed in Washington, D.C., and New York. In the fall and winter of the 2015-16 season Emiliano Gonzalez Toro sang Eumene in Cavalli's Xerse in performances with Emmanuelle Haïm and Le Concert d'Astrée in Lille, Vienna, and Caen; in February 2016 he appeared as the title hero in Leonardo Vinci's Catone in Utica in Amsterdam under the direction of Andrea Marcon. Along with a variety of Baroque operas, his discography includes Monteverdi's Vespers, Lully's Grands Motets, works for organ and voice by C.sar Franck, and Bach's B minor Mass. Gonzalez Toro additionally can be seen as Arnalta on a live DVD recording of Monteverdi's L'incoronazione di Poppea under Emmanuelle Haïm from Lille.
Thibault Noally
Born in 1982, Thibault Noally began his musical studies with Maurice Talvat, Yuko Mori and Irina Medvedeva. In 2000 he entered the class of Lydia Mordkovitch at the Royal Academy of Music in London. He also studied ancient music and began to perform with Margaret Faultless, Micaëla Comberti and Sir Trevor Pinnock.
He has worked with the Ensemble Baroque de Limoges, Concerto Köln, Ensemble Matheus, Orfeo 55 and Opus 5, amongst other ensembles.
Since 2006, he has been concertmaster with Les Musiciens du Louvre-Grenoble under Marc Minkowski. He also works with cellist Ophélie Gaillard and the ensemble Pulcinella, and guests as concertmaster with the Sinfonia Varsovia Orchestra.
Thibault Noally performs regularly with renowned singers such as Cecilia Bartoli, Anne Sofie von Otter, Jennifer Larmore and Philippe Jaroussky, and appears as a soloist at prestig- ious international venues (Paris Salle Pleyel, Madrid Auditorio Nacional, Vienna Staatsoper, Berlin Staatsoper, Concertgebouw Amsterdam, Shanghai Concert Hall, Hong Kong Arts Centre, Tokyo Opera City Concert Hall, Aix-en-Provence Festival, Salzburg Mozartwoche, etc.).
At the Salzburg Mozartwoche in January 2011, he conducted Les Musiciens du Louvre-Grenoble in a programme with the countertenor Philippe Jaroussky.
Thibault Noally's projects include various recitals with the harpsichordist Francesco Corti. In January 2013, during the Salzburg Mozartwoche, they began a concert cycle played on Mozart's original instruments.
He has taken part in various recordings for Deutsche Grammophon and Naïve.


Booklet für Alessandro Scarlatti: Il Martirio di Santa Teodosia