---
Biography Ethan Iverson Quartet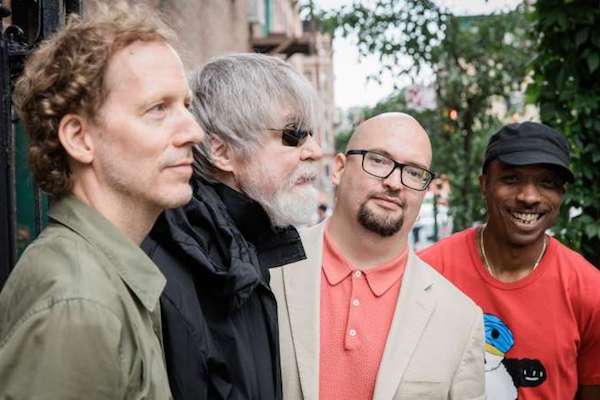 Ethan Iverson
(born February 11, 1973 in Menomonie, Wisconsin) is a pianist and composer best known for his work in the post-modern piano trio, The Bad Plus, with bassist Reid Anderson and drummer Dave King.
Prior to the forming of TBP, he was the musical director for the Mark Morris Dance Group and a student of both Fred Hersch and Sophia Rosoff. He has worked with artists such as Dave Douglas, Bill McHenry, Dewey Redman, Mikhail Baryshnikov, Billy Hart, Kurt Rosenwinkel, Mark Turner, Yo-Yo Ma, Mark Padmore, and Charlie Haden.
Ben Street
is a New York-area jazz double-bassist. He has played with many great jazz artists, notably Kurt Rosenwinkel on the Album "Next Step," Ben Monder on the Album "Dust" and the legendary Sam Rivers on the Album "Violet Violets."
He studied the Acoustic Bass with the former Weather Report bassist Miroslav Vitous.
He is the son of Saxophonist and Saxophone mouthpiece maker Bill Street and is native of Maine.
He has an appreciation of New Zealand white wines, amongst others.
Eric McPherson
A native of NYC, Eric McPherson came to prominence apprenticing with legendary saxophonist and educator, Jackie Mclean, and innovative pianist and composer Andrew Hill. Those foundational experiences cultivated Eric into one of the leading drummers in contemporary creative music. Eric continues the legacy of the musical giants who came before him. As well as performing and teaching internationally with an array of today's leading contemporary creative musicians, Eric teaches privately and at the University of Hartford's, Jackie Mclean institute.
Dayna Stephens
Recent recipient of the number-two spot for the 2017 DownBeat Critics Poll in the category "Rising Star—Tenor Saxophone", Dayna Stephens has garnered critical acclaim over the years for his playing, compositions and arrangements. DownBeat's James Hale describes Gratitude, the saxophonist/composer's eighth release as a leader, as a "highly cinematic listening experience, full of roiling seas and shifting skies." Brad Faberman cites Dayna as the JazzTimes Editor's Pick, writing, "His big, warm lines are full of notes and intent but also gusts of wind, bodies of water." A review from JazzScene Magazine's Alex W. Rodriguez praises the record's distinctive personnel: "This album showcases some of today's finest musicians at the height of their craft, anchored by Stephens' humble magnetism. The musicians exude a patient, persistent quality in their collective exploration, with the melodies unfolding into searching improvisations throughout."
Playing with pureness of intention, Dayna admits he's always searching to find what's "singable." That search often results in live improvisations and written compositions that challenge traditional concepts of harmony, pushing phrasing and sending beautiful and unintentional melodies in unlikely directions. Dayna's soulful lines have resonated through the halls of such internationally renowned venues as the Village Vanguard, Blue Note Jazz Club, Dizzy's Club Coca-Cola, Birdland, Yoshi's, The Blue Whale, Marians Jazzroom in Switzerland, Blue Note Milano, Philharmonie de Paris, Le Duc des Lombards, Red Rocks and San Francisco Jazz Center—and recently earned him Rhythmic dialogue excites the Brooklyn-born Bay Area-raised artist, as both an improviser and a written composer. His creative expression leads him to uncover different rhythmic interpretations of harmonic ideas as part of a spontaneous interchange with other players. These evolving interpretations help serve Dayna's commitment to authenticity of the moment, whether he's playing live or in the studio. And his rhythmic inquiry has earned him the attention and admiration of some of the music's most beloved drummers—many of whom have collaborated with him on recordings, on the bandstand and on the road, including Brian Blade, Al Foster, Idris Muhammad, Jeff "Tain" Watts, Billy Hart, Marcus Gilmore, Bill Stewart, Marvin "Boogaloo" Smith, Eric Harland, Matt Slocum, Johnathan Blake, Jaimeo Brown, Victor Lewis, Lewis Nash, Jorge Rossy, Jeff Ballard and Justin Brown.
Dayna has traveled and recorded with a cross section of such distinctive voices, including pianists Brad Mehldau, Fred Hersch, Billy Childs, Geoffrey Keezer, Taylor Eigsti, Muhal Richard Abrams, Kenny Barron, Theo Hill, Gerald Clayton and Aaron Parks; trumpet players Roy Hargrove, Tom Harrell, Sean Jones, Terell Stafford, Brian Lynch, Ambrose Akinmusire and Michael Rodriguez; saxophone players Wayne Shorter, Jaleel Shaw, Ben Wendel, Chris Potter, John Ellis and Walter Smith III; bass players Ben Street, Rufus Reid, Kiyoshi Kitagawa, Joe Sanders, Linda Oh, Doug Weiss, Larry Grenadier and Harish Raghavan; vocalists Gretchen Parlato, Becca Stevens and Sachal Vasandani; and guitar players John Scofield, Julian Lage, Charles Altura, Mike Moreno, Lage Lund, Pete Bernstein and Carlos Santana.
To hear his music is to fall in love with whatever instrument Dayna uses to channel his ideas. Through a tendency toward experimenting with both tone and texture in a harmonic context, he embraces a range of instruments—and their varying degrees of warmth—including double bass. A master of tenor, soprano and baritone saxophones and, more recently, Nyle Steiner's EWI (electric wind instrument), Dayna's openness and sensitivity as an artist have allowed him to stretch as a composer and arranger. Through the years, he has earned opportunities to create and interpret pieces for, among other aggregations, San Francisco's Peninsula Symphony Orchestra, Berklee College of Music and the Oakland East Bay Symphony—the latter of which he wrote a wide-screen arrangement of Dave Brubeck's "The Duke" that premiered at Oakland's Paramount Theatre for its 2013 Celebration of the Music of Dave Brubeck Concert.
A graduate of the Thelonious Monk Institute of Jazz, where he studied under artistic icons Terence Blanchard, Wayne Shorter and Herbie Hancock, Dayna began his formal studies with a full scholarship at Berklee College of Music in Boston. As an undergraduate, he was diagnosed with the rare kidney disease focal segmental glomerulosclerosis (FSGS). In June 2009, Dayna began a course of dialysis that lasted for six years, grounding him in the New York area and preventing him from touring internationally until his aunt stepped in to donate her kidney for a transplant in October 2015.
And with the release from physical suffering, arrives the jubilation and humble awareness of an interconnected self that helped shape Gratitude, Dayna's first self-produced recording on his brand new label Contagious Music. Featuring compositions that share soulful and sophisticated melodies, including music from Aaron Parks, Pat Metheny and Dayna himself, Gratitude serves as a gentle and powerful awakening of a universal spirit in an era of division. Personnel includes Brad Mehldau, Julian Lage, Larry Grenadier and Eric Harland. Dayna's label Contagious Music will be releasing pianist/composer Eden Ladin's debut recording in October.