---
Album info
Album including Album cover Booklet (PDF)
1

Springendes Pferd

07:50

2

Rote Rehe II

03:49

3

Frau im Wind am Meer

03:56

4

Kleine Komposition IV

06:47

Total Runtime

22:22
Info for Klangbilder 2
'Klangbilder 2' (SOUND IMAGES 2) is wholeheartedly dedicated to the art of the Munich expressionist Franz Marc in a miraculous and wonderful way. The German pianist Martin Vatter had a close look at the paintings of the artist, comprehended them and turned them into acoustic art. It is his idea of colours and their characteristics that Vatter strove to express using timbres. Without doubt he succeeded in doing so in this artistically and acoustically impressive creation. He knows how to convey the same messages as Franz Marc and thus, on the one hand, shows his respect and, on the other hand, he created an album waiting to be discovered by the listener. There is a bit of Keith Jarrett in it, even if Martin Vatter of course has his own unique style on the piano. Cautiously and thoughtfully, he gently plays catchy and atmospheric sounds on the keys, with eyes closed you can virtually smell the air that Martin was breathing. In fact, you would immediately like to swim in this music and to produce paintings in your thoughts, concentrating on enjoying. I do not really belong to the target group of this genre, yet for a long time I have not listened to anything as devoutly and kept as calm as while I was listening intensely to this album for the first two or three times. Those who like to indulge completely in music will be highly entertained here. The excellent recording supports the pleasure even more. No limiter disturbs the feeling of inner dynamics.The recording by Jürgen Reis is perfect.' (einsnull 2/2012)
Martin Vatter, Piano
Recorded at: Augustinum Stuttgart-Sillenbuch on Steinway Sons Mod. D (273cm) from mbl-Chiefdeveloper Jurgen Reis
Dynamic Range 13dB (DR13)
Live to two track recording, without any overdubs or cuts.
Real stereo and original dynamic range without any use of compression or limiters.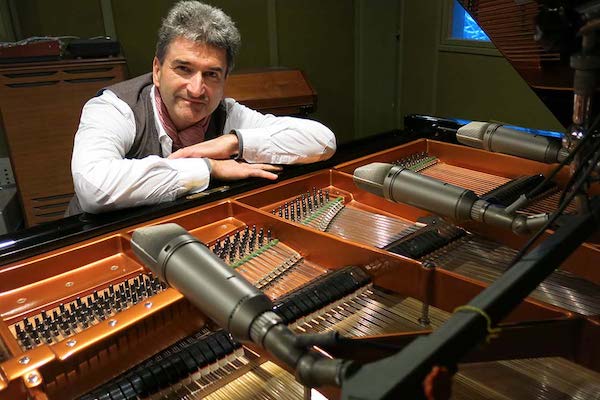 Martin Vatter
Discover piano music that touches your soul ...
Pianist Martin Vatter has developed the ability of merging his soul with that of his instrument. So it is no wonder that his music reflects both his passion for the piano and his highly individualistic nature. His entire personality is directly translated into an espressive, powerful, as well as sensitive and sensual style of playing. The elements of his music are just as diversified as the broad spectrum of the soul. A music that is not easy to classify, yet: The carisma or his passion can hardly elude the listeners, who will know that they are hearing something very special.
Martin Vatter comes from a musical family. His mother is an organist, his father plays the violin. He received his first piano lessons at the age of nine and played exclusively works by classical composers. He gets the decisive inspiration in 1985 from "The Köln Concert" by Keith Jarrett. In the following years Martin Vatter consistently develops, refines and perfects his musical "signature" on the piano until today.
Since 1994, the pianist has released numerous CD productions, which have received many awards from the specialist press. He has received portraits on radio and television. His compositions are stylistically located between Keith Jarrett, Tord Gustavsen and Ludovico Einaudi, but also contain many classical elements and thus do not fit into any genre pigeonhole.
Martin Vatter about his music: "I believe, that music from the innermost heart can only be a fusion of all that you have experienced and lived ..."

Booklet for Klangbilder 2