---
Album info
Album including Album cover Booklet (PDF)
1

Walchenseelandschaft

05:50

2

Walchensee, Gelbe Wiese

07:53

3

Walchensee, Mondnacht

09:16

Total Runtime

22:59
Info for Klangbilder 1
On the occasion of an exhibition at the Franz Marc Museum the pianist Martin Vatter created sound compositions in relation to the paintings by Lovis Corinth. In order to let the famous paintings of Lake Walchensee flow over him in their original, he spent some hours in the Corinth hall of the Franz Marc Museum amidst the special exhibition 'Landscapes of the Soul' with a concert grand.
Martin Vatter makes these intense sensual impressions melt into unique sound images. Experience of nature and perception of art blend into his extraordinary piano music to create a new listening experience. The sound of the painting seizes the room and turns into music.
'On the occasion of an exhibition about Lovis Corinth the pianist Martin Vatter was inspired to compose music relating to three of Corinth´s paintings of Lake Walchensee. The compositions in a sophisticated New Age style are not heavy going, but rather easy on the ear without becoming banal. He is accompanied on a flugelhorn in one piece of the 23-minute maxi CD. As the music was recorded in a room with excellent sound at Bauer studios by Jürgen Reis who developed MBL, the concert grand built in 1929 appears powerful, coloured, spatial and rich in nuances. An audiophile gem! 'HÖRERLEBNIS 69'
Music to relax to'
'Away from the beaten track of music industry mainstream marketing, one can find delicate musical plants that thrive and prosper, and which enchant listeners. Martin Vatter, composer and pianist, has gained a growing reputation in audiophile circles over the last few years. In the meantime American listeners have also acquired an appreciation for his music. As you will know, Vatter´s sound productions are outstanding. The album "KLANGBILDER", which has just been published, impressively demonstrates how much the artist´s musical style has developed. Wonderful arcs of melody, tentative yet charged, create pictures in the mind that are wonderful and authentic. "KLANGBILDER", also features effects that illustrate the possibilities and limitations of a hi-fi system. The pieces were performed on an excellent Steinway grand piano built in 1929 and recorded professionally at sound studio Bauer in Ludwigsburg..." (Joachim Pfeiffer(
Recorded: Bauer Studios in Ludwigsburg bei Jürgen Reis RE-MASTERED 2012
Dynamic Range 13dB (DR13)
Live to two track recording, without any overdubs or cuts.
Real stereo and original dynamic range without any use of compression or limiters.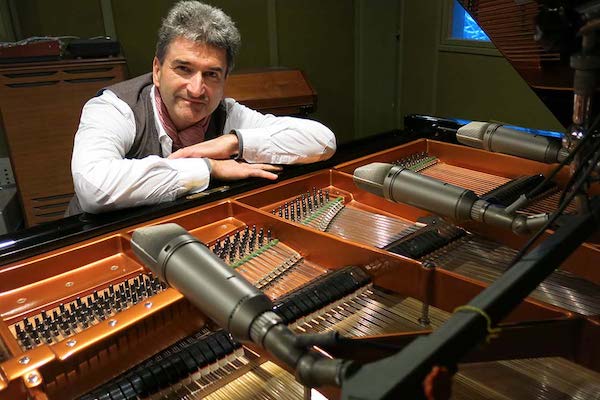 Martin Vatter
Discover piano music that touches your soul ...
Pianist Martin Vatter has developed the ability of merging his soul with that of his instrument. So it is no wonder that his music reflects both his passion for the piano and his highly individualistic nature. His entire personality is directly translated into an espressive, powerful, as well as sensitive and sensual style of playing. The elements of his music are just as diversified as the broad spectrum of the soul. A music that is not easy to classify, yet: The carisma or his passion can hardly elude the listeners, who will know that they are hearing something very special.
Martin Vatter comes from a musical family. His mother is an organist, his father plays the violin. He received his first piano lessons at the age of nine and played exclusively works by classical composers. He gets the decisive inspiration in 1985 from "The Köln Concert" by Keith Jarrett. In the following years Martin Vatter consistently develops, refines and perfects his musical "signature" on the piano until today.
Since 1994, the pianist has released numerous CD productions, which have received many awards from the specialist press. He has received portraits on radio and television. His compositions are stylistically located between Keith Jarrett, Tord Gustavsen and Ludovico Einaudi, but also contain many classical elements and thus do not fit into any genre pigeonhole.
Martin Vatter about his music: "I believe, that music from the innermost heart can only be a fusion of all that you have experienced and lived ..."

Booklet for Klangbilder 1