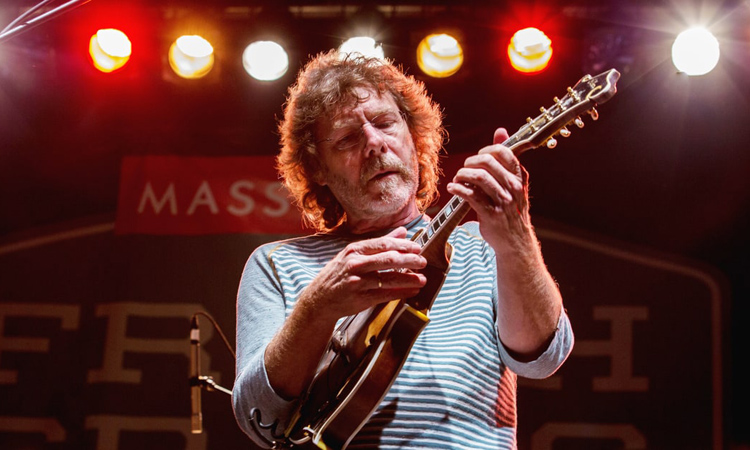 Die Zeiten sind hart. Da kommt ein Album wie Storyman gerade recht. Positive Stimmung tut der Seele gut. Auch in weniger harten Zeiten als heute. Dabei ist keineswegs alles Friede, Freude, Eierkuchen in den Songs von Sam Bush auf Storyman. Zumindest künden die Songs jedoch von Optimismus, und das auch im Falle des Songs Carcinoma Blues, im dem es heißt Cancer, you ain't rulin' me. Dieser Blues bezieht sich auf die soweit überstandene Kebserkrankung des 64-jährigen Multi-Instrumentalisten und Father of Newgrass und seines Koautors für diesen Song Guy Clark.
Guy Clark ist einer von jenen Freunden Sam Bushs, mit denen über 40 Jahre hinweg Songs entstanden, die Bluegrass und später Newgrass Geschichte geschrieben haben. Zu diesen befreundeten Co-Autoren gehören auch Jon Randall Stewart and Emmylou Harris. Zum engeren Freundeskreis gehören außerdem die langjährigen Mitglieder der Sam Bush Band Todd Parks (Bass), Stephen Mougin (Gitarre), Scott Vestal (Banjo) und Chris Brown (Schlagzeug). Ein instrumentales Highlight auf dem Album Storyman ist die Mandoline, meisterhaft gespielt wie immer von Sam Bush, der mehrmals zum Mandolinspieler des Jahres gekürt worden ist.
Zu hören gibt es auf Storyman nicht "nur" Newgrass, sondern auch Jazz, Folk, Blues, Reggae, Country Swing, und Bluegrass, die problemlos zum "Sam Bush Sound" verschmelzen. Wichtig ist für Sam Bush, dass die Songs eines Albums zusammenpassen, also ein Gesamtwerk und nicht etwa eine Abfolge loser Einfälle bilden. Um solch ein Gesamtwerk zu schaffen, also eine zusammenhängende Geschichte zu erzählen, braucht es seine Zeit, im Falle von Storyman ganze vier Jahre. Und was wichtig ist: Die Freude aller Beteiligten, zusammen Musik machen zu können.
Positive Stimmung verbreiten gleich einleitend Play By Your Own Rules im reinen Newgrass Stil und Everything Is Possible in Gestalt eines Reggae, der voll auf der Sunny Side of the Road daherkommt.
Bowling Green, gewissermaßen die Pastorale des Albums, entführt den Hörer mit stimmungsvollen, fröhlichen Fiddle Tunes mitten ins Farmleben und endet, ganz im Sinne Beethovens Pastorale mit einem "Lustigen Beisammensein der Landleute".
Zusammen mit Sam Bushs Freundin Emmylou Harris entstand Handmics Killed Country Music, ein Twin Fiddle angetriebener Countrysong der alten Schule. Rein instrumental geht es auf Greenbrier, einem Bluegrass Titel und dem von der Fiddle dominierten Jazz/Funk Titel It's Not What You Think, zur Sache.
Alison Krauss veredelt Lefty's Song mit ihrer Bluegrass Röhre, die mit der von Sam Bush virtuos gespielten Slide Dobro Mandoline prächtig harmoniert. Der Chicago-Blues Where's My Love lebt vom Sound des tiefgestimmten Banjo, bevor es nach It's Not What You Think mit I Just Want To Feel Something frohgestimmt in den Endspurt von Storyman geht.
Auch wenn auf dem Album Storyman ganz wie im richtigen Leben nicht durchgehend die Sonne scheint, transportiert es in Gestalt des hochaufgelösten Downloads soviel Lebensfreude, dass es als Elixier taugt, Licht ins Dunkel der Gegenwart und Freude unter die Menschen zu bringen.
---