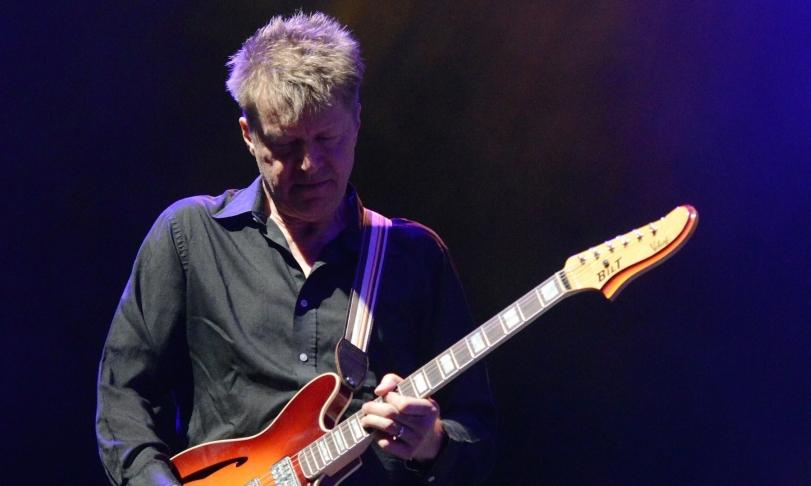 Nels Kline, der für seinen schon auch einmal garstigen Gitarren-Rock und progressivem Jazz berühmt und berüchtigt ist, läßt sich bei seinem Debut auf dem traditionsreichen Blue Note Jazz-Label von einem Kammerorchester begleiten. Darf das denn wahr sein? Bedient er damit nicht die höchst peinliche Kitschnische, in die sich schon die Jazzlegenden Louis Armstrong und Ella Fitzgerald des schnöden Mammons wegen in rosaroten Streichernebel gehüllt locken ließen? Dafür, dass Kline sich in diese Falle locken ließ, könnte sprechen, dass er auf Lovers neben Cline-Originalen nicht nur Titel von Jerome Kern und Rodgers & Hammerstein aus dem American Songbook, sondern auch Musik von Henry Mancini mit kammerorchetsraler Begleitung auf Samtpfoten daherkommend eingespielt hat. Dagegen spricht allerdings, dass Cline auf Lovers nicht nur Liebliches zum trauten Wisky zu zweit am abendliche Kaminfeuer oder zum trauten Frühstück im Bett abliefert, sondern auch immer wieder einmal die Krallen des Gitarren-Tigers ausfährt, als den man ihn als Mitglied verschiedener Avantgard-Jazzbands und der Indie-Band Wilco kennt. Dagegen spricht auch, dass der im Rolling Stone Magazin als einer der aktuellen Top-Gitarristen geführte Nels Cline innerhalb der Rock- und Jazzszene mächtig an Glaubwürdigkeit einbüßen würde, wäre Lovers ein reines Schmusealbum.
Als schlagendes Antischmus-Argument führt Cline Michael Leonhardt als Dirigent und Arrangeuer so hochkarätige Exponenten des Avantgard-Jazz wie den Cellisten Erik Friedländer, Yuka Honda am Keyboard und die Harfinistin Zeena Parkins ins Feld, die zu sehr dem experimentallen Musizieren vepflichtet sind, um rosaroter Unverbindlichkeit Vorschub zu leisten. No Way. Deshalb baut das Album Lovers bei aller Sanftheit seiner Gangart, und Liebe geht nun einmal nicht ohne Sanftheit, grummelnd und widerborstig auf den Grundfesten der Avantgarde, allerdings unter Verzicht auf ungebührlich ausgespielter Anarchie. Sozusagen Avangarde Light.
Glad to Be Unhappy aus der Feder von Rodgers & Hammerstein entgeht rosaroter Streicher-Unverbindlichkeit durch ein Arrangement mit gedämpftem Blech, fröhlich trällernden Klarinetten und stimmungsvollen Gitarenriffs. Gabor Szabos Lady Gabor schwebt auf Harfenwolken, von Gitarrensound duftig aufgemotzt, leichtfüßig am rosaroten Schmalz vorbei. Der Jim Hall Klassiker Secret Love profitiert von leicht schräg montierten, von der sechssaitigen Gitarre Clynes zum Schweben gebrachten Holzbläserkaskaden. It Only Has to Happen Once von Arto Lindsay geriert sich als Tango/Samba-Verschnitt. Filmmusik aus The Night Porter/Max, Mon Amour liefert Cline als schwarze Jazzadaption ab. Bevor Snare Girl ins Psychedelische abdriftet, wird dieser Titel mit Tom-Toms angerichtet von Clines Gitarre à la Americana serviert. Als Kontrast zu dem Titel Mancinis The Search for Cat gibt sich The Bond als rockige Ballade, vorgetragen vom Rockgitarristen Nels Cline, der sich mit Lovers in sanftes Gefilde wagt und sich damit als musikalisches Chamäleon erweist. Dabei gelingt ihm unterstützt vom makellos feinen Sound dieses Downloads eindrücklich der Spagat zwischen romantischem und avangardistischem Musizieren fern unverbindlicher Stimmungsmusik. Louis Armstrong und Ella Fitzgerald hätten das fern rosaroter Unverbindlichkeit sicherlich auch gerne so gemacht, wären die Zeiten nur andere gewesen.
Nels Cline, guitar
Michael Leonhart, conductor, trumpet
Carla Kihlstedt, violin
Marika Hughes, cello
JD Parran, woodwinds
Charles Pillow, woodwinds
Doug Wieselman, woodwinds
Sara Schoenbeck, bassoon
Steven Bernstein, trumpet
Taylor Haskins, trumpet, valve trombone
Alan Ferber, trombone
Julian Lage, guitar
Yuka C Honda, keyboards
Devin Hoff, bass
Alex Cline, drums, percussion
Kenny Wollesen, vibraphone, marimba, percussion
Recorder and mixed by Ron Saint Germain
Produced by David Breskin