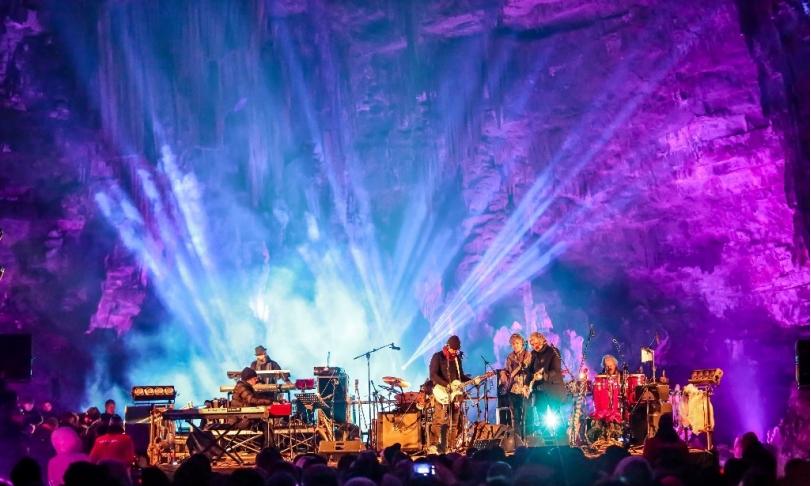 Der Fingerabdruck ist unverkennbar. Da muss Dire Straits im Spiel sein. Gleich der erste Titel "Epiphany" des Albums 3 Chord Trick der Band Legacy enthält deutlich erkennbar Dire Straits DNA. Und das nimmt auch nicht wirklich Wunder, sind doch zwei der Gründer von 3 Chord Trick, Alan Clark und Phil Palmer langjährige Mitglieder der Kultband Dire Straits. Wie der weitere Gründer, Marco Caviglia, waren die beiden auch in Projekten von Eric Clapton, Bon Dylan, Tina Turner, Elton John, Richard Bennett, usw. usw. aktiv. Alles alte Hasen, denen die unterschiedlichsten Spielarten des Pop zweite Natur sind. Mit bei der Partie sind last but not least Trevor Horn, Danny Cummings, Steve Ferrone, Mel Collins und Primiano Di Biase. Auf die Schiene gesetzt wurde das Legacy Projekt von 3 Chord Trick Ende 2016 im Studio von Steve Ferrone in Los Angeles und zu insgesamt elf Songs vervollständigt in den Forward Studios, Rom.
Der von knackigen elektrischen und akustischen Gitarrenriffs bestimmte Song "Epiphany", der auch im Gesangspart so unverhüllt den Geist von Dire Straits atmet, saugt den Zuhörer in den Strudel eines raffiniert gestalteten und höchst professionell verwirklichten, vielgestaltigen Musikuniversums, das den Hörer in "Epiphany" dank raffinierter Harmonik und spaciger Instrumentation direkt in die Weiten des Weltraums transportiert. In "Here and now" verharren wir in der Welt von Dire Straits. Allerdings tauchen wir hier in die Welt des von einem großen Chor gestalteten und von einer mächtig auftrumpfenden Orgel vorangetrieben Gospel ein, der den Frieden lautstark verherrlicht, wie er wohl nur jenseits unseres Planeten derart herrlich stattfinden kann. "Jesus Street" holt uns laut- und rhytmusstark zurück auf die Erde, nach dem vorausgehenden Ausflug in ferne und friedliche Weiten des Universums. Der Titelsong "3 Chord Trick" verströmt begleitet von herrlich transparentem Schlagzeugsound friedliche Country-Stimmung vom Feinsten mit rosa Dire Straits Wölkchen am ansonsten ungetrübt blauen Himmel. Weiter geht es mit "Looking for America" im Rock-Blues Stil, der sich nach kurzer orientalisch gefärbter Einleitung rasch und dann auch lautstark und schließlich martialisch donnernd materialisiert. Auch hier sorgen die Gitarren für eine Dire Straits abgeschaute spacige Stimmungslage. "Magdalene" entpuppt sich als vom Piano begleiteter schlichter, klangschöner, lyrischer Song des Albums. Auf diesen wohltuenden zentralen Ruhepol von The Chord Trick folgt mit "Bounty Hunter" ein auf einem südamerikanischen Tanzrhythmus dahin surfender lebensfroher Song, der vom ruhig dahinfließenden Song "Tell Me Why" abgelöst wird, dessen Vokalpart auf halber Strecke von einem beredten Saxophon-Orgel-Duo abgelöst wird. "Twisting the knife" führt uns raffiniert instrumentiert, zunehmend beschwingt zurück auf den bewährten Country Trail. Zurück im Hafen der Dire Straits Welt, die genau genommen in der Abfolge der Songs nie ganz aus dem Blickfeld geriet, finden wir uns wieder in "God's Land". Mit dem letzten Song "Two Days Off" ist zweimal von vollem instrumentalen Chorus lautstark unterbrochen an sich und final tatsächlich endgültig die vollkommene Entspannung angesagt.
3 Chord Trick ist ein auf sämtlichen Ebenen perfekt realisiertes gestaltetes Pop-Album in Dire Straits Nachfolge, das zum wiederholten Anhören einlädt. Die beiden höchstaufgelösten Formate 192 kHz, 24 Bit FLAC und DSD 128, unter denen das Album 3 Chord Trick wahlweise herunterladbar ist, schenken sich nichts an klanglicher Opulenz, mit denen das Album 3 Cord Tricks von den Aufnahmestudios beiderseits des Atlantiks üppig ausgestattet worden ist.
Alan Clark, piano, keyboard, vocals, orchestral arrangements
Phil Palmer, guitars, vocals
Marco Caviglia, guitars, vocals
Steve Ferrone, drums, percussions
Danny Cummings, percussions, vocals
Mel Collins, saxophone
Trevor Horn, bass
Primiano Di Biase, accordion, additional keyboards