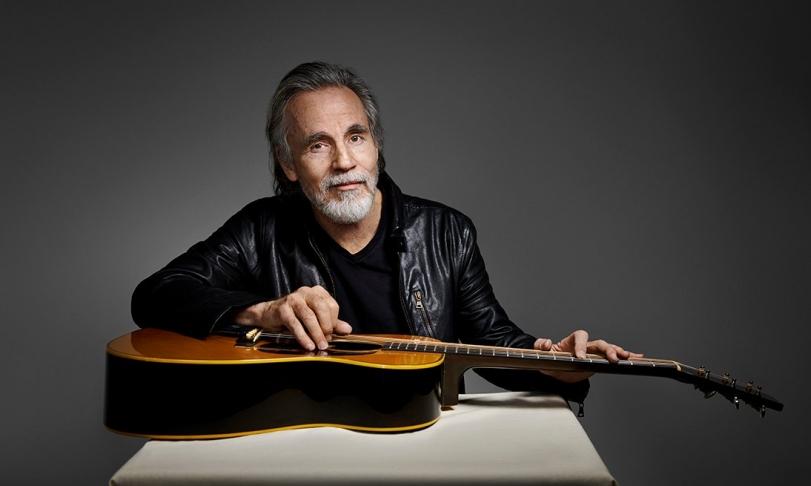 Jackson Browne, der am 9. Oktober diesen Jahres seinen 73. Geburtstag feiert, ist ein amerikanischer Rockmusiker und Singer-Songwriter, genauer einer der bekanntesten Rockmusiker und Singer-Songwriter der USA, der die Rockmusik beginnend in den 70er Jahren mitgeprägt hat. Hits wie Running On Empty und The Pretender sowie persönliche Balladen wie These Days und In the Shape of a Hear künden hiervon. Alleine in den USA haben sich mehr als 18 Millionen Exemplare seiner Alben verkauft und sowohl im Rock and Roll als auch als Songwriter wurde Jackson Brown in die Hall of Fame aufgenommen.
Downhill from Everywhere, sein erstes Album seit sieben Jahren setzt die Saga von Jackson Brownes Entwicklung vom jungen, sentimentalen Singer/Songwriter zum griesgrämigen Endzeitpropheten fort. Seine einst sanfte Stimme hat sich inzwischen zu der griesgrämigen Raspel eines Mannes gewandelt, der mehr gesehen hat, als ihm lieb ist. Das drohende Gespenst einer in Flammen stehenden Nation verfolgt selbst die fröhlicheren Stücke mit dem Gefühl dringlicher Verzweiflung wie bereits auf seinem Album Standing in the Breach , seinem letzten Album aus dem Jahr 2014.
Das neue Album wurde von Jackson Browne, der in Culver City im Los Angeles County zuhause ist, höchstselbst produziert und in Groove Masters, Santa Monica aufgenommen. Neben dem Piano, akustischen und elektrischen Gitarren und der Vihuela übernimmt er auf dem Album den Großteil des Gesangs und musiziert zusammen mit von Val McCallum, Gesang und elektrische und akustische Gitarren, Greg Leisz, ebenfalls akustische und elektrischen Gitarren sowie Lap- und Pedal-Steel, Bob Glaub , Bass, Mauricio Lewak, Pete Thomas und Russ Kunkel und Jay Bellerose, Schlagzeug, Mark Goldenberg, E-Gitarre, Jason Crosby, Piano, Jeff Young, Hammond-Orgel, Jennifer Condos , Bass, Patrick Warren Keyboards, Waddy Wachtel, E-Gitarre, Raul Rodriguez, Palmas, Chavonne Stewart, Aletha Mills, Leslie Mendelson und DeAnte Duckett, Gesang. Alles in allem verfügte er also für die Produktion sein neues Album über eine starke und stark besetzte Gruppe.
Einen guten Teil der Songs auf Downhill from Everywhere kündet in bester Jackson Browne Manier von der Sorge um unsere Umwelt, dem einen und andere politischen Aspekt und dem seiner Meinung nach unzureichenden Beitrag der jüngeren Generation zu den offenen Fragen unserer Zeit. Gerne wandelt Browne in der musikalischen Welt fern den USA. "Love Is Love" hat einen karibischen Einschlag und die Rhythmen des Schlussstücks "A Song for Barcelona" haben einen deutlichen lateinamerikanischen Einschlag. Schließlich findet sich auf dem Album in Gestalt des Songs "Minutes to Downtown" auch ein Liebeslied, das sich an eine sehr viel jüngere Frau richtet und die eigene Sterblichkeit unausgesprochen mit einbezieht: "The years I've seen that fell between my date of birth and yours / fade beyond the altered shore of a river changing course".
Das Stück für Stück überaus gekonnt gemachte und perfekt musizierte Album punktet graphisch mit einem ungewöhnlich liebevoll gestalteten Cover, das auf dem Foto von Edward Burtynsky aus seiner Serie Shipbreaking eines verlassenen, an die Küste gespülten Schiffes basiert. Dieses Cover passt optimal zu den auf dem Album versammelten, bezüglich ihrer Stimmung eher eingedunkelten Songs, denen es nicht gelingt und auch gar nicht gelingen kann, die Probleme der Welt zu lösen. Allerdings geben die Songs sehr wohl einen Anstoß, sich mit den Problemen zu befassen. Schließlich lassen die Songs einen bei aller Ernsthaftigkeit nicht im Jammertal stehen, sondern vermitteln zumindest am Horizont ein wenig Hoffnung, dass wir letztendlich mit unseren drängenden Problemen zurande kommen werden.
Jackson Browne, Gesang, Gitarre
Greg Leisz, Gitarre
Val McCallum, Gitarre
Bob Glaub, Bass
Jeff Young, Keyboards
Mauricio Lewak, Schlagzeug