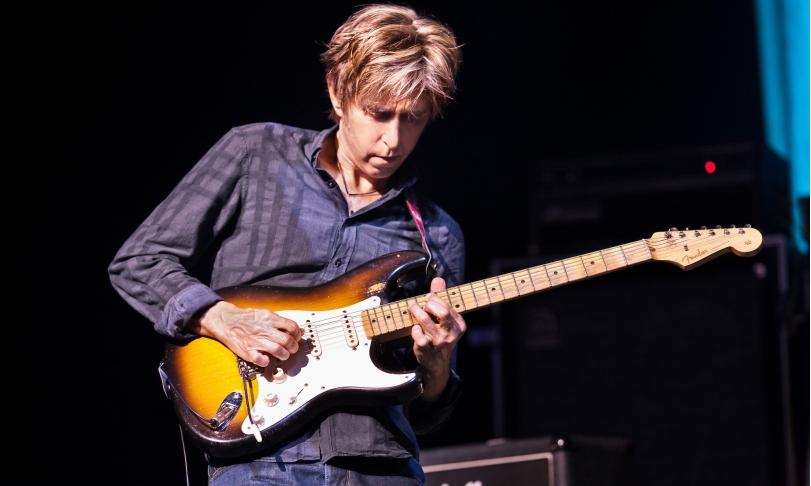 Eric Johnson solo auf der fallweise mit Stahl- oder Nylonsaiten bespannten akustischen Gitarre und am Klavier, produziert von Eric Johnson, herausgegeben unter dem kryptischen Albumtitel EJ - intimer geht's nicht. Abgerundet wird der intime Charakter der Produktion dadurch, dass nahezu alles auf EJ live eingespielt ist. Etwas Besonders ist die Produktion übrigens bereits deshalb, weil neue Alben mit Eric Johnson, der sich eines hervorragenden Rufs als Gitarrist erfreut, nicht häufiger als etwa alle drei Jahre erscheinen, von Soloalben ganz zu schweigen.
Eric Johnsons Karriere begann vor bald fünfzig Jahren: Nach der allerersten Aufnahme als gerade einmal Vierzehnjähriger im Jahr 1968 mit seiner damaligen Band Mariani – einer Demo – machte er sich unter anderem bei Aufnahmen mit Cat Stevens und Carole King zunächst einen Namen als Studiogitarrist, bevor er Anfang der siebziger Jahre zur Rock-Jazzband The Electromagnets stieß. Ende des Jahrzehnts spielte er sein erstes Soloalbum ein, das allerdings erst etliche Jahre später nach dem Album Tones im Jahr 1986 erschien. Sechs Jahre später ereilte ihn der Grammy Award für Cliffs Of Dover. Eric Johnsons Markenzeichen ist ein Gitarrensound, der dem ungebremsten Einsatz unterschiedlichster Effektgeräte geschuldet ist, und eine auf dem Bounce-Effekt fußende Spieltechnik zur Erzeugung eines vollen, runden Tons, die seinen melodiegeprägten, von raschen Skalenläufen durchsetzten Darbietungen entgegenkommt.
Für die Songs Once Upon a Time in Texas, All Things You Are, Song for Irene, und Mrs. Robinson kommt eine mit Stahlsaiten bespannte Gitarre zum Einsatz, während Johnson den Originalsong Serinidad einer mit Nylon bespannten Ramirez-Gitarre anvertraut. Die Originalsongs Wonder, Fatherly Downs und All Things You Are entstammen dem Soundspektrum einer Martin D-45. Am Piano finden wir Eric Johnson in Water Under the Bridge, November und Wrapped in a Cloud, einem Song, der durch eine Combo aus Bass, Cello und Schlagzeug Unterstützung findet, sowie im gesungenen Scarborough Fair. Jimi Hendrix' One Rainy Wish liefert Johnson in gedoppelter Funktion als Gitarrist und Pianist ab und im 1951er Song The World Is Waiting for the Sunrise von Les Paul und Mary Ford tritt er in Begleitung des Gitarristen Doyle Dykes auf.
Die Reise durch die abwechslungsreiche Welt des Albums EJ beginnt mit Simon and Garfunkels Mrs. Robinson in einer super-virtuosen Hochgeschwindigkeits-Version für Gitarre solo, die mitunter so unglaublich dicht daherkommt, dass man schier nicht glauben möchte, dass da nur ein einziger Gitarrist zugange ist. Atemberaubend. Gut, dass es auf dem Album auch Ruhezonen gibt, wie etwa in Gestalt der Songs Wrapped In A Cloud, Serenidad oder Scarborough Fair. Einen erneuten Stimmungsumschwung erlebt der Zuhörer mit dem jazzig arrangierten, für manche Überraschung dank der exotischen Kombination aus Klavier und Gitarre guten Jimi Hendrix Klassiker One Rainy Wish. Immer aufs Neue erstaunt der stark unterschiedliche Sound der verschiedenen, unterschiedlich bespannten und mit variierender Technik gespielten Gitarren. Dieser auf dem Download genial eingefangene Sound macht zusätzlich zum hochvirtuosen Gitarrenspiel Eric Johnsons geradezu süchtig nach einer Fortsetzung des Albums EJ. Ein absolutes Muss nicht nur für den Gitarrenfreak.
Eric Johnson, Gitarre, Gesang