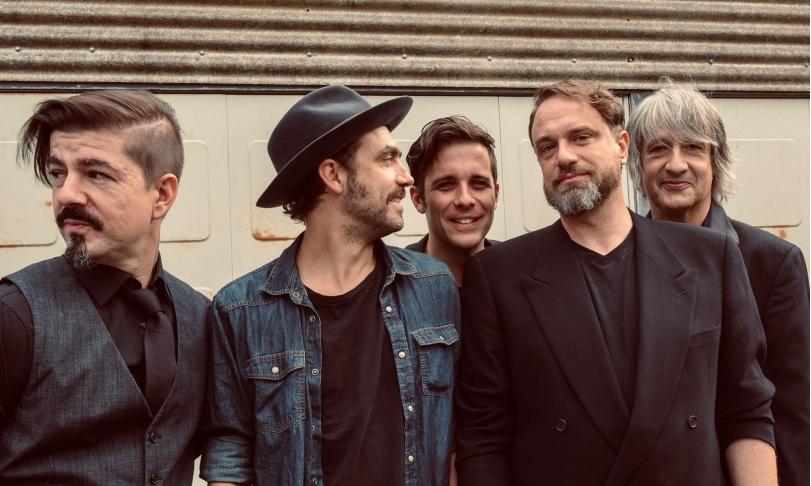 So wie die Schweizer Ellis Mano Band entstanden ist, entstehen Blus-Rock-Bands eher selten. Da haben sich nicht etwa junge Musiker zusammengetan und ihre ersten gemeinsamen Proben in die väterliche Garage oder den privaten Keller verlegt, vielmehr haben sich hier ausgewachsene und mit allen Wassern gewaschene Musiker nach zahlreichen Auftritten mit anderen Bands zusammengetan. Ambedo kündet nach drei vorausgehenden Singles und dem 2019 erschienen Album Here And Now erneut vom der exzellenten Musizieren und der hohen Qualität der Songs. Beeinflusst von Led Zeppelin, J.J. Cale, Tedeschi Trucks Band, Jimi Hendrix und in jüngster Zeit John Mayer, hat die Band dem Blues ihren eigenen, einzigartigen Stempel aufgedrückt. Aufgenommen wurde Ambedo mit Chris Ellis' rauer Stimme, Edis Manos Vintage-gestimmtem Gitarrenspiel und der ungebremst zupackenden Rhythmusgruppe um Schlagzeuger Nico Looser und mit dem Bassisten Severin Graf im Studio E10 von Edis Manos live mit viel instrumentalem Vintage-Equipment und lediglich dem einen und andere späteren Overdub, einschließlich Backing Vocals und Bläsern. Jeder Song spiegelt amerikanische Roots-Musik, vom frühen Blues des amerikanischen Südens bis hin zur Blues- und Rock-Revolution der 1960er Jahre in Großbritannien.
Eher selten trifft man auf ein Album rundherum derart perfekt gespielt und produziert ist wie Ambedo. "The Horrible Truth" zündet als erster Song des Albums ein Feuerwerk, das in voller Opulenz auf den Zuhörer hereinbricht und diesen angesichts der stampfenden Gewalt der Rhythmusgruppe, über der die Gitarre farbenfroh aufleuchtet und Chris Ellis' sängerisches Format brilliert mit offenem Mund zurücklässt. "Ambedo Mind" bindet die Stimme des beeindruckend tönenden Sängers, der sich hier vor den Gesangsgrößen der sechziger Jahre nicht zu verstecken brauch, in gefühlvollen Bläsersound ein. Das bluesgetränkte "The Fight For Peace" präsentiert die Band in einem atmosphärischen Sound, dessen gezielt eingesetzte Halligkeit optimal die Besetzung mit Hammond-Orgel und Background-Sängerinnen trägt, die das Gitarrensolo nostalgisch gefärbt umschmeicheln.
"Johnnie & Susie" entpuppt sich als Springsteen pur, und "Long Road" kreist mit herzergreifenden Vocals balladenhaft um Country-mäßig intoniertes anonymes Bedauern versäumter Gelegenheiten. "The Question" lebt in Anlehnung an Deep Purple nicht zuletzt von der genialen Hammond-Arbeit keines Geringeren als Lachy Doley, einer der legendären Größen dieses Tasteninstruments. "Breakfast" spiegelt in Gestalt eines langsamen Blues grundiert vom gekonnten Einsatz des Schlagzeugs und des Basses die Gangart von Fleetwood Mac. Das Album schließt emotionsgeladen und Springsteen-eingefärbt mit "Heart 'n' Mind".
Ambedo ist ein starkes Album, das die herausragenden Qualitäten der Ellis Mano Band nach dem geglückten Debutalbum Here And Now nachhaltig. demonstriert. Man darf gespannt sein, was diese Schweizer Band zukünftig noch an Alben abliefern wird.
Ellis Mano Band:
Chris Ellis, Gesang
Edis Mano, Gitarre
Severin Graf, Bass
Nico Looser, Schlagzeug
Weitere Musiker:
Manuel Halter, Keyboards
Leslie Bogart, Hintergrundgesang
Cathryn Lehmann, Hintergrundgesang