---
Ensemble Vocal de Lausanne, Orchestre de Chambre de Lausanne & Michel Corboz
---
Biographie Ensemble Vocal de Lausanne, Orchestre de Chambre de Lausanne & Michel Corboz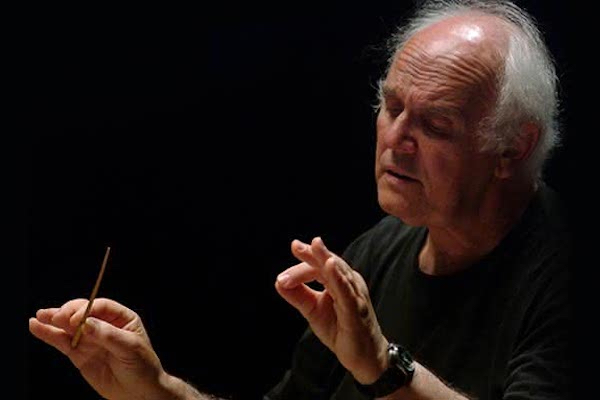 Michel Corboz
Corboz's entrance in the musical world was deeply connected to his interest in the human voice and the vocal music repertoire. Consequently, throughout his career he conducted all over the world a great variety of oratorios and other musical genres including chorus, soloists and orchestra.
After founding the Ensemble Vocal de Lausanne, in 1961, he was granted numerous distinctions and enjoyed the enthusiastic reception of the press, namely to his first recordings of Monteverdi's Vespers and Orfeo, held respectively in 1965 and 1966. This marked the beginning of a long career that has evolved naturally, without particular ambitions, enriching itself every year with a new work.
In 1969, Michel Corboz was appointed Principal Conductor of Coro Gulbenkian, a position which he has held since then with unsurpassed talent. With Coro Gulbenkian he conducted a large number of performances and recordings, which highlighted the fundamental and rare qualities of this vocal ensemble.
His discography includes over one hundred titles, which were often awarded prizes by several international disc academies. Among his recording achievements, the most notable include the great sacred works of Bach and Mozart, Monteverdi's La Selva Morale, Mendelssohn's oratorios and the Requiems by Brahms, Fauré, Duruflé and Verdi. In the Opéra de Lyon he recreated Cavalli's Ercole Amante, a work composed for the marriage of Louis XIV, as well as Charpentier's David et Jonathas. In the opera field, he conducted L'Incoronazione di Poppea, Il ritorno d'Ulisse in patria, as well as Orfeo by Monteverdi.
In December 1999, Michel Corboz was decorated by the President of the Republic of Portugal with the Great Cross of the Order of Infante Dom Henrique.
Among his many recordings with Coro e Orquestra Gulbenkian, highlights include Mozart's Requiem; Puccini's Messa di Gloria (Erato), Mendelssohn's Psalms, Lauda Sion and Lass' O Herr (2CD Erato) which was awarded a «Diapason d'Or»; Marc-Antoine Charpentier's Te Deum, Beatus Vir, Salve Regina and Tenebrae Factae Sunt (Erato); Mendelssohn's Elias (Erato); João de Sousa Carvalho's Te Deum (Cascavelle); Verdi's Requiem (Fnac Music) distinguished as «Classique d'Or RTL»; João Domingos Bomtempo's Requiem (Aria Music); Beethoven's Mass in C major, op. 86, and Schubert's Mass nº 2 in G major, D.167 (Erato), as well as Franz von Suppé's Requiem (Aria Music).