---
Fury In The Slaughterhouse
---
Biographie Fury In The Slaughterhouse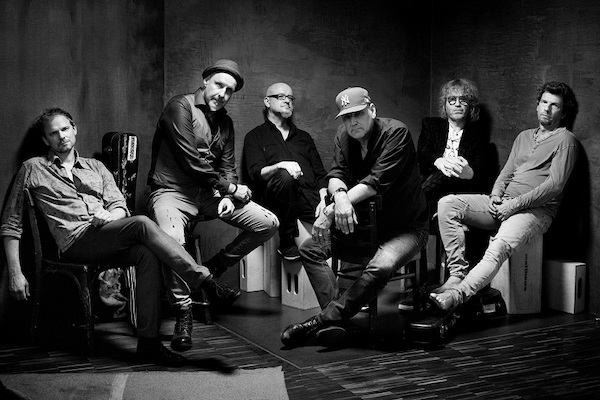 Fury In The Slaughterhouse
war/ist eine von 1987 bis 2008 bestehende Rockband aus Hannover, die mit ihren hymnischen Songs über die Jahrzehnte Legendenstatus erlangte und auch außerhalb Deutschlands große Erfolge feiern konnte.
Im Frühjahr 1987 gründeten die Brüder Kai Wingenfelder und Thorsten Wingenfelder zusammen mit Rainer Schumann, Christof Stein-Schneider und Hannes Schäfer in Hannover die Band Fury in the Slaughterhouse (dt.: Fury im Schlachthaus). Der Bandname ist eine Anspielung auf die weltweit bekannte US-Fernsehserie aus den 50er Jahren um ein Pferd namens Fury.
Fury in the Slaughterhouse war eine reine Rockband, die sich durch ihre Art und ihre englischen Texte klar von der damaligen auslaufenden Neuen Deutschen Welle unterschied. Die Band erspielte sich durch ihre außergewöhnlichen Live-Konzerte schnell einen bundesweiten Bekanntheitsstatus. Im Jahr 1989 stieß dann mit Gero Drnek ein wahrer Allround-Musiker zu der Band und komplettierte das bis heute legendäre Lineup von Fury. 1992 gründeten ihre Plattenfirma SPV GmbH und die BMG Ariola Hamburg GmbH mittels eines Joint Ventures das Plattenlabel "Slaughterhouse Music" um die Band international bekannt zu machen. Die Band wagte sich nun auch live in den europäischen sowie anglo-amerikanischen Raum, wo sie 1993 mit den Hits "Radio Orchid" und "Every Generation Got Its Own Disease" und dem Album "Mono" ihren internationalen Durchbruch schaffte und es bis auf #15 der Billboard Charts schaffte. Darauf folgten diverse große Tourneen, Preise & Echo-Nominierungen sowie diverse Goldauszeichnungen.
Seitdem brachte die Band in regelmäßigen Abständen etwa alle zwei Jahre ein neues Album auf den Markt und verkaufte in ihrer Bandgeschichte mehr als 4 Millionen Alben und erreichte mit Songs wie u.a. "Won´t Forget These Days" oder "Time To Wonder" einen Legenden-Status in der deutschen Musikgeschichte. Es gab im Rahmen der Bandgeschichte nur eine Besetzungsänderung – im Jahr 1996 wurde Bassist Hannes Schäfer durch Christian Decker ersetzt.
Im Jahr 2005 gründete die Band das Plattenlabel "Kick It Out". Hier werden sämtliche Alben in einer überarbeiteten Version mit teilweise bisher unveröffentlichten Zusatztracks neu publiziert.
Im September 2007 gab die Band ihre Auflösung zum 30. August 2008, dem Zeitpunkt des letzten Konzertes, bekannt. Von März bis Ende August 2008 fand eine sehr erfolgreiche Abschiedstournee quer durch Deutschland statt.
2013 fand die Band noch einmal in Hannover auf der EXPO – Plaza für ein Klassentreffen-Konzert zusammen. Das Konzert war in kurzer Zeit mit 25000 Karten ausverkauft.
Die Chöre von "Won`t Forget These Days" sind für Band und Konzertbesucher gleichermaßen unvergessen geblieben. Die Frage nach einer Wiederholung stand bis heute im Raum. Jetzt ist es offiziell: Fury In The Slaughterhouse rufen am 10., 11. & 12. März 2017 zum zweiten Klassentreffen und zur 30 Jahre-Fury-Party in die TUI Arena Hannover. Und wie sollte es anders sein – alle 3 Konzerte sind bereits ausverkauft.